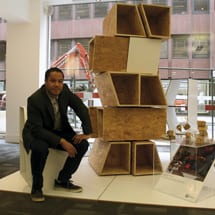 Now in its fourth year, the Smart Office project is not one to pay lip service to the idea of student-industry collaborations. Instead, it always guarantees to blow some cobwebs away from the idea of conventional workplace design. Eight MA and BA students from Bucks New University's furniture design course took part in the scheme, which was once again sponsored by KI and the Worshipful Company of Furniture Makers.
The university deserves credit for focusing on workplace design, an area often neglected at the expense of the more glamorous discipline that is domestic design. They spent a week at Chichester College over the summer, where they received an intense taster session on workplace design, looking at the difference between offices in education, healthcare and the creative industries; what goes on in specific parts of the office; how people sit; and issues relating to storage.
Having seen local offices first-hand and undertaken museum and factory tours, as well spending time with design industry figures such as SCP's Sheridan Coakley, Barry Jenkins of design practice BroomeJenkins, and architect and designer Attilio Cabianca of Pringle Brandon, the students then worked on their responses to a single word: "workspace".
"I worked with Jonathan Hindle [group managing director of KI Europe] and this year we decided to make it a more open brief – and the results are much less constrained," says MA course leader Dr Lynn Jones. "The students were really engaged in their work and the visit was full of contrasts: inspiration from the beach set against some harsh commercial reality."
Joe Earley: World's Wireless Workplace
Earley has a very definite vision of workplaces in the future as solar-powered Wi-Fi pavilions. "We will work anywhere, mostly in the space between buildings, freeing up the current office space to be converted into health, fitness and living areas," he says. "Transparent carpet-like structures will connect the high-rise buildings, creating great expanses of open space where meetings will take place."
He envisages a computerised "bird", which will swoop down and project 3D holographic imagery with which people can interact. The images will be projected using fog-screen technology, which already exists, and employs a fine dry-to-the-touch mist to display images.
Timothy Rumney: 20g office
Rumney's concept was a reaction to newer office elements such as touchdown areas and hotdesks, which take away the ownership of the space and almost dehumanise it. With 20g office, he wanted to reinstate personal identity. Using a layer of touch film technology, the office worker's personal images can be used across a thin digital panel.
"It is like having a poster or a virtual Post-it note," he says. "Plus, you can carry the images around with you on a USB stick. This allows people to regain ownership over their space even for brief moments of time, without having to carry heavy objects to and from the office."
Alex Mulligan: Inside Out
Mulligan has created a modular hive system that not only provides storage, but is also designed as a piece of sculpture for the office. "It encourages a self-built environment and the workforce to interact around it," he says.
The idea behind the system, which is inspired by architecture and uses sterling and aluminium composite board, is that the various sections can be pulled out to provide seating, which can then be returned to the structure to avoid unnecessary office clutter.
Fergal Costello: Serenity Now reception desk
Time spent working on an allotment provided the eureka moment for Costello, whose aim is to bring a little more greenery to reception areas. "When we got the brief, Lynn [Jones] said we should start with the ridiculous and work back from there," he says.
"The desk is a reaction to the hustle and bustle, the traffic and the pollution of the urban environment. It was motivated by the idea that working in an office is stressful enough, without the worker or visitor arriving stressed in the first place. As it is the first thing that greets us as we enter the building, the desk sets the tone for the workspace, providing serenity."
Caryn Moberly: Male Chair, Female Chair, Budge Up Chair and Deckchair
Moberly came up with a plethora of designs for this project. The Male Chair was inspired by Leonardo da Vinci's Vitruvian Man to liven up the traditional task chair base. Its opposite number, the Female Chair, with its wedding dress cover, is soft feminine and romantic, by contrast.
The Budge Up Chair is designed to be shared. "I noticed how often two of us sit down together to look at something on the computer, so we squash on to one chair, or bring another chair," says Moberly.
The Deckchair is also for sharing, but is designed for having fun on the computer at home.
Tamasine Osher: Clean Slate
Osher's concept may just provide the answer to the messy desk. "Your desk is the centre of your universe for the working day," she explains. "What seems like a muddle may have method in its apparent disorder and must not be disturbed. So bring in a clean slate."
The design consists of a pod, which attaches to the side of the desk and can be simply flipped over to provide an extra desk surface. This can be used as additional space for eating lunch at your desk, for impromptu meetings or simply to hide the mess and turn over a new leaf.
Ben Baker: Playtime! – social interaction at work
Baker's entire MA was concerned with evaluating sentiment and childhood memories. Playtime! was, in part, inspired by seeing Carsten Höller's slides at Tate Modern, and aims to bring more fun into the workplace by using the weight-balancing principles of a seesaw.
"Everyone might need a morale boost at some point during the day – and a chance to get excited and motivated is always welcome," says Baker. "Seesaws and roundabouts evoke childhood memories of
good times."
It is also intended to boost teamworking and collaboration, as only the correct number of people and the right distribution of weight will make it a comfortable experience for everyone.
Oscar Honeyman-Novotny: MyStool
Having looked at the creative industries such as architecture, design, graphics and advertising, focusing on group working areas and breakout zones where there is no longer a designated personal space or storage, Honeyman-Novotny wanted to create a seating solution that you could easily personalise, and at the same time have a lot of fun with.
"I wanted the stool to be inviting and easy to interact with," he says. "Using old clothes to upholster the seat, the design is simultaneously trying to inspire interaction and reduce the use of non-environmentally friendly upholstery fabrics."