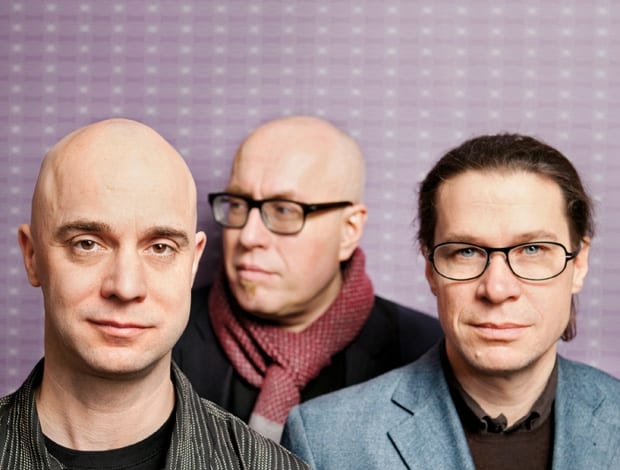 Power of three, left to right, Mårten Claesson, Eero Koivisto and Ola Rune|Isola, a new chair for Tacchini, is for balancing your laptop (and/or wine) on|Bowie, CKR's first stab at commercial furniture, for fellow Swedes David Design|Örsta art gallery; coloured light and a reflective render give it its eerie glow|The Brasilia table for Swedese, an angular loop of laminated veneer|Koivisto's Hockney seating for David Design is a sofa for bookworms||
Their first piece of commercial furniture was meant to be a one-off and they thought it was a practical joke when Cappellini came calling – but since then it's gone pretty well, really. Sweden's preeminent architecture and design firm talk about learning to embrace their Nordic roots
Every European country has its design royalty. You know the types – people who can pull in a decent crowd at a press conference. In Sweden, it's a trio of friends called Claesson, Koivisto and Rune. Since forming their multi-disciplinary design studio 17 years ago, they have collaborated with most of the major brands going, making them permanent fixtures on the international scene. Although, however global their client base becomes (around 50 companies at the last count), there is a persistently Scandinavian design DNA in the chairs, lights, bowls, shelves, tables, poufs, candleholders and jewellery in their portfolio, which is as remarkable as it is prolific. You name it, they've probably taken a stab at it.
On a blustery day in February we meet at the Nobis Hotel in central Stockholm, with interiors and furniture both designed by CKR, to discuss a new work chair they are launching with luxury Italian brand Tacchini during the city's annual design fair.
The burly, bespectacled Eero Koivisto, the group's unofficial spokesman, is giving a charismatic presentation in Swedish to a room of design buffs.
The chair, called Isola, is sitting off to the side – generously sized, big enough for someone to curl up inside it, but different from other lounge chairs in that the frame integrates a marble work-surface that pops up through the upholstery. It's not strictly for work – presumably the little table could be just as useful for a glass of wine. But Isola's flexibility is part of the reason why it is so well timed for the iPad, smart-worker generation. Its form is the new alcove sofa; a version will undoubtedly crop up in the collection of every manufacturer that doesn't want to be left out of the club.
The funny thing is, furniture design was never part of the plan for CKR; it happened by accident.
Mårten Claesson met Eero Koivisto and Ola Rune in the early 1990s while they were studying architecture in Stockholm. The three became fast friends, bonding over their desire to design buildings.
"During our training there were lots of parties and we were always the last ones standing in a huddle … discussing architecture," says Koivisto. "The hosts would say 'please leave so we can go home!'"
The recession of 1993-1995 set back CKR's newly formed architecture studio considerably, he explains. With no architecture work about, "we did, like, 140 interiors because you have to earn money."
For one of those interiors projects, the right chair couldn't be sourced. The trio decided to design it themselves and contact a small producer, David Carlsson of Swedish company David Design, to see if he would make it. He agreed and loved the birch lounge chair, Bowie (conceived as something Alvar Aalto and Arne Jacobsen might scribble on a napkin over a glass of wine), so much that he asked if he could keep it in his collection.
"And we thought sure, why not," Koivisto chuckles. "But then we went to our first furniture fair with him and a funny thing happened. Everybody published it. It was an instant hit. And we were like, wow, this is fun."
"We are different as people, but we've worked together for a long time and we are still really, really good friends"
After that, other Swedish companies like Offecct, Swedese and Skandiform came knocking. Eventually they got the call from Giulio Cappellini.
Koivisto recalls: "We had a tiny studio because it was cheap. One day the phone rang and this guy says, 'Hi, I'm Giulio Cappellini,' and I was like, 'Yeah and I'm Mickey Mouse'. I thought it was a joke. But he said, 'No, no I really am Giulio Cappellini. I'm in Stockholm; can I come see you in half an hour?' So I put the phone down and said to Ola and Mårten, 'Hey guys, we better clean this place.'"
Here Koivisto breaks into peals of laughter, and stops only when Rune walks into the room. "Hi Ola!" he says warmly.
Together they go on to explain how Cappellini eventually showed up at the freshly tidied studio 30 minutes late, "because he's Italian", with Piero Lissoni in tow, and how the three of them thought they had it made.
"But we showed him probably 80 things over the next few years and he was always like, 'no'," Koivisto says, amused. "And we thought, OK, maybe this is not for us. But finally he made one little fruit basket and we were so happy, it was like, weee! We made a fruit basket for Cappellini!"
They both laugh at the silliness of it. Since then CKR has gone on to make eight pieces for the brand, as well as developing other long-standing partnerships with top Italian companies like Living Divani and Tacchini.
"We've worked with Tacchini for so long now," says Koivisto. "At the start we'd get a brief and they'd say 'make a sofa' or 'make a chair'. But in the last years it's more been us going to them and saying, 'We have this idea, can we do it?'"
Apparently the idea for the Isola chair was born from Koivisto's annoyance that he couldn't work comfortably on a laptop while sitting on his couch.
"The way you sit and work isn't as rigid as it used to be," he says. The design is a progression from Hockney, a sofa with wide, flat armrests the trio did for David Design about ten years ago. "My girlfriend at the time was a researcher and she had lots of books and wrote a lot," says Koivisto. "She said, 'Can't you do a sofa where I can put my pile of books?' So we made a sofa that had wide armrests and hard upholstery. Isola is new, but we've worked with these ideas before."
When he says the word "we", one wonders what the group dynamic actually is between the three of them. Do they work separately or together? Do they have different strengths that they play off of?
"We try to work as closely together as possible," he explains. "We are three different kinds of people, which is better, just like with life partners. When you are young you think the perfect girlfriend or boyfriend is someone just like you, and then you get older and you realise the best partner is somebody who is totally different. So of course we are different as people but we've worked together for a long time and we are still really, really good friends … I think it's a chemistry thing, it just works."
All projects start with an idea, they explain, like Koivisto's experience working on the sofa, or maybe Rune and Claesson will be struck by something when they are travelling to a conference by aeroplane. The next step is to give the idea shape.
"But that's not the main part of it," Koivisto points out. "There is so much design out there that apparently doesn't have any more of an idea to it than 'it's a chair'. And maybe this is one of the reasons why many of the classic Italian companies – not Tacchini – have a bit of difficulty surviving right now because you look at a B&B Italia sofa, or a Minotti sofa, or whatever, and they all look alike. They are all big square sofas."
"When we first starting working together we sought foreign producers. We didn't want to be Swedish designers"
You'd be forgiven for thinking that Claesson Koivisto Rune have abandoned architecture altogether, judging from their massive design output. It's what they're known for. But since forming, there have been a number of architecture projects that go a way to prove CKR is a multi-disciplinary practice rather than a one-trick pony; the otherworldly Sfera culture centre and offices in Kyoto, for example, or the Örsta art gallery in Kumla, Sweden. Now they have a healthy mix of buildings, industrial design, furniture and interiors with more than 50 projects in the works, and the skill is to juggle them all at once.
"One minute we are discussing a housing development with 150 flats and the next minute we are looking at details on the air cleaner we are designing," says Rune. "But I love the job. I like the complexity and I like the change. It's always different, it's always something new."
Still, whatever the task at hand, there is simplicity and a coherence to everything that CKR produces – and in large part it's down to their Nordic roots. Admittedly, there are certain pieces that they might do differently, or refine, if given a second chance. But others, like the Brasilia table for Swedese, they feel stand the test of time.
"We're architects and designers but we're really Scandinavian architects and designers," Koivisto muses. "Interiors and furniture from up here are quite simple and the simplicity is maybe because this part of the world was really poor 50, 60 or 70 years ago. It comes from a tradition of poverty, and it also comes from a culture where you have to deal with weather. So things have to have warmth and they have to work. Today this is known as Scandinavian classic modernism, but what you call modernism where you come from, we call functionalism up here."
As time has gone on, CKR has become more comfortable with its design heritage and has stopped trying to fight it.
"When we started working together, we sought foreign producers. We didn't want to be Swedish designers, and definitely not modernist designers. Oh no," says Koivisto, self-mockingly, with a laugh. "We wanted to be international."
By email later, Claesson sums up CKR's history in a different way: "We found out after a few years that we are not the perfect group. We are very different as individuals and we fight a lot. But we can't do it any other way. We have become brothers."