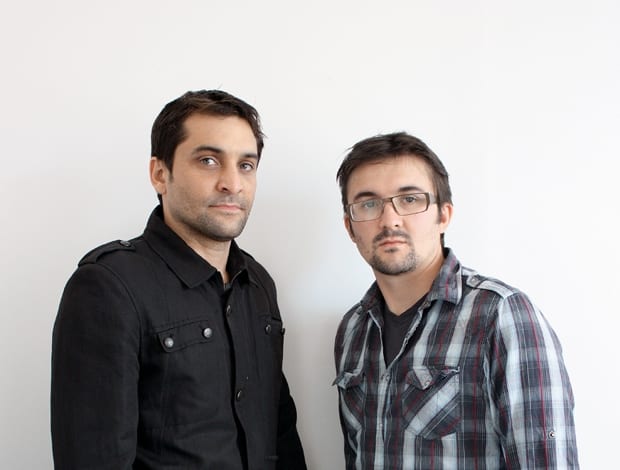 Giles Massie-Taylor (left) and Ryan Malone|Solid Shell by voonwong&bensonsaw for Bench 10, commissioned by The Lollipop Shoppe|Vessel lighting by Samuel Wilkinson|Tetra table by dRMM|Chair from Soft Shell series by voonwng&bensonsaw|Orbital, a limited-edition light by Viable London, with hand-blown glass by Stewart Hearn|Hand-cast concrete bowls by Studio Betoniu and Stephan Schulz. Part of Decode's Objects collection is to be officially launched during LDF|Minuet table by Jarrod Lim, displaying the elegance of a simple steel form|Tripod stool by voonwong&bensonsaw, constructed with three U-shaped supports|Award-winning Heavy Desk Lamp by Benjamin Hubert|Envelop chair by Jonathan Prestwich|Upholstered Rock lounge chair by Samuel Wilkinson|Wire Light by Viable London. A larger version will launch during LDF|ReSPUN pendant lamp by Ryan Malone. An updated version with LED technology will be part of the new collection|Cutaway (chair, table or bench) by Jethro Macey|C Shelves by voonwong&bensonsaw||
As young design collectives go, Decode has clearly trumped the competition. With three superb collections in as many years, the partnership between designer Ryan Malone and his more business-minded pal, Giles Massie-Taylor, has proved a fruitful venture, indeed.
Tucked away in Broadway Market, the spiritual heart of east London's trendy E8 postcode, is a small studio where Decode London runs its design business. It's a humble set-up, the sort of thing you'd expect from a company only three years in – modest brick building, grills on the windows, grimy estate across the way. What isn't immediately obvious, though, is that the two affable chaps who answer the door, Ryan Malone, 32, and Giles Massie-Taylor, 35, have the design industry waiting with bated breath to see (touch, sit on, stroke) the pieces in their impending collection for London Design Week.
But we are, indeed, waiting. And that's because everything Decode has produced since it officially launched in 2008 has been mouth-wateringly good. Straight off the mark they turned out muted, edgy pieces of high quality and have consistently done so since.
One need only look as far as Jonathan Prestwich's Envelop seat, Jarrod Lim's Minuet table or voonwong&bensonsaw's C Shelves and Tripod stool for taste of the articulate design language Decode has established in such a short time. What is the secret to their success, I wonder, when so much of the design world is currently creaking under pressure?
Back in Broadway Market, we traverse a sea of bored-looking creatives to discuss the Decode philosophy over a latte.
Ryan is the unofficial spokesman of the two and sums it up succinctly: "London is our main platform and I think it always will be."
It's a simple ground rule but it makes sense. The pair exclusively use London-based designers and craftsmen, and nurture relationships with local manufacturers, which goes a way to explaining why their collection of furniture, lighting and objects is so cohesive. It isn't the unruly hotchpotch you find in the annual offering of some, however impressive the names involved may be.
For Decode, honing in on materials and process, and using London as a springboard, means each product has a relationship with everything before it. For example, Samuel Wilkinson's upcoming Vessel Series of lighting was directly inspired by the positive experience Decode had with the glass blower from Walthamstow who created Viable London's edition light, Orbital.
"Having a focus has helped," Ryan agrees. "You want that level of control, whether it's quality or something else, and you can only get that by localising manufacture, or else spending your life in Heathrow Airport, which I have no ambition to do. The design industry is huge and there are a lot of great people working in different countries, but we wanted something manageable and a kind of identity. Geography gave us that focus and has worked well." Quite. In its first year Decode received the British Design Award for Best New Design Brand and in 2009 mopped up British Design of the Year for Benjamin Hubert's covetable Heavy Desk Light, made of hand-cast concrete and wood veneer.
"London is our main platform and I think it always will be … you can only get that level of control by localising manufacture, or else spending your life in Heathrow"
But official accolades aside, Decode seems to have a knack for collaborating with a cross-section of the best up-and-comers and established designers – Hubert, voonwong&bensonsaw, Viable, Jarrod Lim, and Cristian Zuzunaga – all drawn from the network Massie-Taylor and Malone built up after moving to the capital in 2001.
"Everybody we've worked with has come directly or indirectly from relationships we've had," explains Ryan. "Charles from Viable and Giles are good friends. Voon I'd known for a while. It's almost more about the people, and then the products are developed from that basis. It's nice to work face-to-face and generate ideas by talking rather than having one meeting and a product designed somewhere else in the world."
When the idea for the company was first born, a lot of London designers were working for foreign companies and very few UK manufacturers were taking on lesser-known talent.
"We realised it was a good opportunity and we had the capability to do it," Giles says. "It's easy to manage and access people this way and it's less of a hassle to address problems than from a distance."
Giles, who doesn't have a design background per se, but is learning quickly, came into the equation because he was desperate to get out of a career in banking. He moved to London from Perth, Australia, around the same time as Ryan, who had come down from Aberdeen to do a design course at Central Saint Martins. The two met through friends and dreamed up the idea for Decode six years later in October 2007, although the company didn't really get off the ground until the following year.
"Ryan was working for Coexistence and he was going back to night school because he wanted to start a business, and I had had enough of the city, so we decided maybe we could do it together," Giles explains. "Left to my own devices I don't think I would have ever started a company on my own – I'm far too conservative – while Ryan was always going to do it, no matter what. And we get along well so I can say to him, 'No, you're not doing any more products' without him having a designer fit and crying," he says with a laugh.
In the beginning it was an exhausting amount of products – possibly too many. They developed six pieces in six months for a preview in Milan 2008, and six more for the official launch at 100% Design later that year. But it got the desired reaction, fatiguing as it might have been.
"I wouldn't say we were inundated but we had a lot more people approaching us," Ryan concedes. "But, really, we remain loyal to that base of designers that we started with. We'll incrementally add to it but I think we're still very much about having a collective. They understand our brand and we understand their strengths as designers."
"It's nice to work face-to-face and generate ideas by talking rather than having one meeting and a product designed somewhere else in the world"
A similar approach is taken with manufacturers and the production process.
"We develop products partly based on their strengths, unlike our first collection – that was about developing products that they had to figure out how to make, which is a very difficult way of going about things," says Ryan.
Doing it the other way around has proved to be a better way for Decode to work and it's presumably less costly.
"We involve manufacturers right at an early stage, showing them initial renders and getting their feedback on what grade of steel to use or what diameter of tube to use. It's good to get them involved in the creative process instead of just dumping a bunch of drawings on them and saying, 'Can you make it please and can you make it as cheap as you can'," he says.
Giles says that working this way with designers and manufacturers makes business sense. "Starting without a massive pot of money has also dictated how we do product because, from a financial perspective, to do ten different products that are all completely different is far more expensive than to work along a theme. Time to market is faster because you know how it works, you know what their capabilities are, and you don't have the massive amount of tooling you might have otherwise."
Without a showroom, London Design Week is still the best platform for Decode to market itself, and this year digital designer Cristian Zuzunaga has been drafted in to create an installation at the company's stand. They'll showcase new products including voonwong&bensonsaw's Shell chair, Tetra table by new collaborator dRMM and the hotly anticipated Vessel lighting. There will also be new versions of voonwong&bensonsaw's Tripod stool and C Shelves (onoffice's favourite, by the way), Wire Light by Viable London and Ryan's own ReSPUN light, updated with LEDs from KKDC.
All of the new products are derived from recent commissions, Ryan explains, such as the giant version of Wire Light for a hotel in Egypt or the lowered Tripod stool for a restaurant in Singapore.
One of Decode's retailers, The Lollipop Shoppe, also commissioned the collective – along with nine other leading designers – for Bench 10, a series of outdoor public seating projects. The concrete and wire pieces that voonwong&bensonsaw designed for Decode naturally progressed into the Shell chair. "It's our first chair, which is kind of exciting because we've looked at so many – its such a personal thing and everyone has an opinion on them."
Coming from Coexistence, Ryan is keen for Decode to continue moving down the design-led contract route – including office – because so far most of their business has come from commercial environments. (They're working on an office project at the moment but it's too soon to talk. Watch this space!)
"I think this collection is our most contract-orientated yet so it will be interesting to see how this develops our brand," he says. In the meantime, expect more of the same, which is by no means a bad thing. "Everyone has been supportive – other designers, other design companies, manufacturers, retailers. We haven't met anyone who's been negative in any way," Giles beams. That goes for us too, boys.