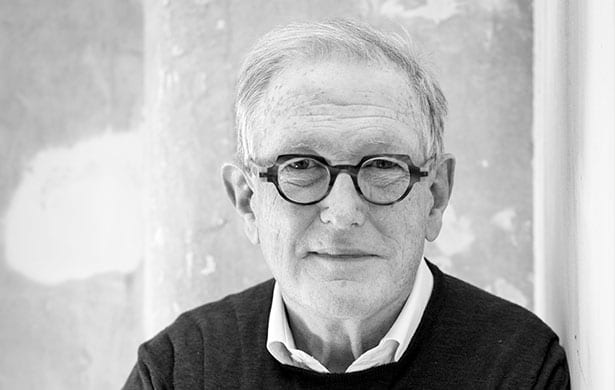 |||
Welcome to our review of the most influential people within the industry – the ones we think have shaped the office landscape the most in 2017 and will continue to make an impact in 2018 and beyond.
Below are the top 10 entries – pick up a copy of the magazine for the full list.
1. Michael Squire, senior partner, Squire & Partners
Squire's practice has featured regularly in the pages of OnOffice for the projects it has completed for other people – such as Howick Place and Clarges Street. Columnist Peter Murray even talked of the practice having its own building vernacular: "Squire-archi" – a style of building, mainly to be found in office buildings, that uses Portland stone as a traditional London material, sometimes structurally but more often than not as cladding to concrete or steel structures.
The talking point of 2017 was not the work that Squire & Partners has done for its clients, but what the practice did for itself – and arguably the community in which it chose to relocate. Based in King's Cross before Granary Square was a glint in Argent's eye, it has formed in committing to postcodes some might shy away from and in adding to the locale – for years its St Chad's Place eatery was our go-to haunt in N1.
Now with its move to Brixton, the practice has done the same on a much larger scale, transforming the Bon Marché department store into an architectural wonder that tells the story of the area's mixed history from Edwardian promenading to 1990s squatting.
OnOffice was there at a very early stage, of course, conducting a hard-hat tour more than two years ago with project lead Tim Gledstone, who must get a special mention for his infectious passion about every detail of The Department Store, from the teak flooring to the specially imported tree, to the restored glass dome.
It would be easy for the architects to shut themselves in and carry on producing great work, but instead they have been welcoming to the local community – the launch party was full of Brixton "faces" as well as the curious A&D community.
The Department Store is a truly socially conscious workplace design that is both practical and where the finish has clearly been invested in. An example for everyone in the world of workplace to take something from.
2. Juliette Morgan, head of campus, British Land
Morgan sums up her job as "trying to do the right thing with some great bits of London" and we think she's a fine addition to British Land. We like her well-informed yet down-to-earth attitude: she's someone you'd want on your professional panel as much as at your dinner party – especially with that year's sabbatical learning to make wine. Formerly head of property at Tech City UK and responsible for advising on co-working, tech and placemaking at Cushman & Wakefield, we've no doubt she will work her magic on projects such as British Land's mixed-use scheme in Regent's Place.
3. Despina Katsikakis, head of occupier business performance, Cushman & Wakefield
Recently appointed to her current role, Katsikakis has a wealth of blue chip experience under her belt, working with the likes of Deutsche Bank and Morgan Stanley, looking at how users engage with workplaces and ensuring they are fit for purpose in the long term. Notably she worked on Twentytwo, one of the City's first WELL-certified new builds. Her new job will harness this ability to futureproof a place of work, together with encouraging employee engagement.
4. Charlie Green & Olly Olsen, co-founders, The Office Group
The power duo behind The Office Group (TOG) put in another impressive performance this year and as well as multiple co-working offerings including new spaces in the White Collar Factory and 91 Wimpole Street, they also launched a trend report about how co-working is changing – a look at how the capital's co-working boom is helping people to work happier as well as harder. OnOffice also learned how to make sushi in its London Design Festival offering, a pavilion designed by Universal Design Studio. And 2017 saw another key marker for them as a majority stake was bought by the private equity group Blackstone.
5. Joni Steiner, co-founder & co-CEO, Opendesk
It's hard to keep up with Joni Steiner and the multitude of projects he has on the go at Opendesk, whether it's adapting a Tom Dixon sofa, exploring the future of open-plan environments or launching the Bundle desk by Thor ter Kulve, inspired by the designer's canalised living. Steiner is always bursting with ideas and in possession of an international contacts book, ranging from London to Shanghai, yet he remains down to earth, approachable and is always looking to collaborate. One of Opendesk's most recent innovations is a "Tailoring" service so its open source designs can be fully customised. Watch this space for more Opendesk innovation in 2018.
6. Simon Jordan, co-founder, Jump Studios
Simon Jordan is still at the top of his game, with a client list that is the envy of many. This year Jump Studios' projects included Saatchi & Saatchi's headquarters on Chancery Lane in London, which embraces the theme of Britishness and – in common with the future plans of the publishers of this magazine – includes its own pub. In May, we also covered Jump Studios' work for software firm Cloudflare and we eagerly await the rollout of the Tottenham Hotspur stadium by Populous, the practice Jump merged with in 2015.
7. Ineke Hans, founder, Ineke Hans Studio
Ineke Hans was an intriguing and insightful interviewee during Clerkenwell Design Week, when she talked OnOffice through her concept for the innovative Flix sofa for Hitch Mylius, which took the now overfamiliar high-backed sofa and gave it a twist. Many in the industry give back, but Hans goes beyond this – her now near-legendary salons that bring together designers, manufacturers, retailers and curators to discuss future work, life and public space have gathered many fans – among them our own Grant Gibson.
8. Simon Allford, director, AHMM
It was another critically successful year for Allford Hall Monaghan Morris. While Paul Monaghan (the first M in the letters) toured us around the NLA-commended New Scotland Yard, we also enjoyed racing around the White Collar Factory next to Silicon Roundabout – popularly known in the summer as the building with the running track on the top. Rigorously research-driven and with outstanding concessions to ventilation and provision of natural light – which Allford was evangelical about – as well as providing new public space, we can see this Old Street scheme being referenced as a benchmark of great office design for years to come.
9. Nick Hartwright, director, The Mill Co Project
OnOffice's meanwhile spaces cover in April was one of the most rewarding to write, celebrating the work that has been done with numerous stakeholders – from the GLA to developers and artists and performers – to ensure that creative workspace is provided for in a way that works for everyone. Having launched the Mill Co Project in 2010, Nick Hartwright has worked tirelessly in this field on projects in De Beauvoir, east London, and a cluster of spaces in Tottenham. One of his latest schemes is the Carlsberg Tetley building in London's Docklands, reworked architecturally by emerging practice Soda.
10. William Newton, president & EMEA MD, WiredScore
William Newton was one of our most relaxed cover stars ever – which is all the more surprising given the rapid growth of WiredScore. This ratings system for connectivity (with no more guessing how well the wi-fi works) has grown from its initial New York launch to expand into the UK and Ireland, as well as being introduced to France this year. Newton is equally comfortable at public speaking as being interviewed by us and is one of proptech's leading lights.
Pick up a copy of our current issue for the full list