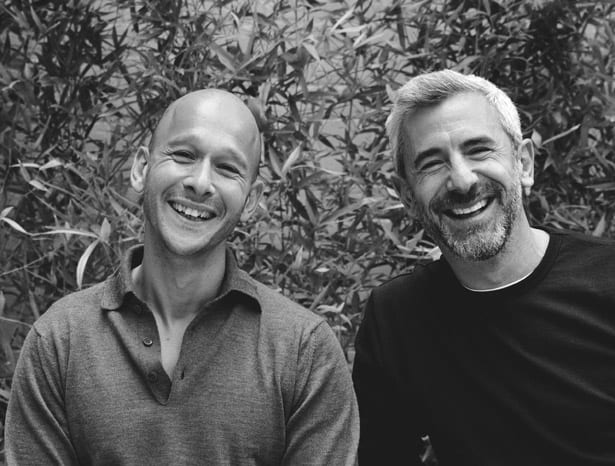 |||
In our latest issue, we feature our first annual review of the most influential people within our industry – the people we think have shaped the office landscape the most in 2016 and will continue to impact what comes next.
With the help of our columnists – Peter Murray, Neil Usher, Clare Dowdy and Grant Gibson – we picked out our selection of 50 movers and shakers within the world of workplace – from influential architects and designers to those who are having a significant impact client-side, plus academics and those from other organisations from the property and built environment sectors.
This list is not based on bottom line but something money often can't buy: influence. What these people think, where they are investing, the products they are directly or indirectly involved in specifying will shape the office landscape in 2017 and beyond.
Below are the top 10 entries – pick up a copy of the magazine for the full list.
1. Charlie Green & Olly Olsen, CEOs of The Office Group
We are great admirers of joint founders and co-CEOs of The Office Group (TOG) Charlie Green and Olly Olsen – because they produce places to work that are fun, experiential, aesthetically pleasing, one-size-doesn't-fit-all and practical. That, coupled with how they've shaped a new paradigm in what a workplace is, is what makes them our number one.
They formed this powerful partnership in 2003, having seen a gap in the market about the next generation of offices. The concept was driven by a desire to create beautifully designed buildings with a wide variety of spaces, and to offer growth and change. A significant point in TOG's history came in 2010 when Lloyd Dorfman CBE, the founder of Travelex, funded the management buyout of the previous private equity shareholders, becoming the majority shareholder and the company's chairman.
Currently TOG has 33 buildings, 31 of them in London, providing more than 100,000sq m of workspace. They include: levels 24 and 25 of the Shard, where OnOffice hosted its 100th issue party; Albert House near Old Street roundabout, transformed by Ben Adams Architects; Henry Wood House, around the corner from the BBC off Regent Street, by BuckleyGrayYeoman; and 179-185 Great Portland Street by Stiff & Trevillion. Every building has its own identity, while sharing certain design values such as vibrant communal areas and proper places for working. TOG now has over 12,000 members, from SMEs to Facebook, AOL and Santander.
You're as likely to bump into these two at a furniture showroom as a networking lunch in Cannes at Mipim. They both have a winning mix of entrepreneurial nous and constant good humour, making them a well respected partnership in the industry.
2. Will Colthorpe, partner, Argent
Argent's Kings Cross development has really succeeded in making office, retail and public space work together so that all stakeholders live, work or visit the area and, crucially, mix in together. Getting early adopter University of the Arts in was little short of a mixed-use masterstroke. Will Colthorpe, having been at the firm since 2006, has played an intrinsic part in the office side of things, overseeing the leasing and development of all the King's Cross office space. What's more, he is a specialist in refurbishment and reuse of historic buildings
and structures. And the story doesn't end there, with another 75,000sq m in the office pipeline.
3. Simon Jordan, co-founder and MD, Jump Studios
When people talk about cool offices, chances are they'll be referring to one of Jump Studios' schemes, be that Red Bull in Soho, Google's campus near Silicon Roundabout or Rapha cyclewear near King's Cross. Simon Jordan is co-founder and managing director of the firm – whose other clients include Innocent Drinks, Nike and Saatchi & Saatchi – and his approach to designing spaces to attract young, hip office workers, vital to many a business's success, has been much emulated. A fellow of the Royal Society of Arts, he is an external lecturer at the IE School of Architecture & Design in Madrid – a city where Jump worked on another Google campus.
4. Sevil Peach, director, SevilPeach Architecture + Design
The word pioneer is bandied about with alarming frequency, but Sevil Peach is truly worthy of the description. After working for several leading practices, in 1994 she formed London-based studio SevilPeach Architecture + Design with Gary Turnbull. Groundbreaking projects include offices at Vitra's campus in Germany, which led to a longstanding consultancy with the manufacturer. Peach reinvented what working away from one's desk really meant for Microsoft in Amsterdam, and has challenged design conventions for clients from Deloitte to Sony.
The practice recently finished a laboratory for Novartis in Shanghai and an HQ for Swiss Re in Zurich.
5. Helen Berresford, partner head, ID:SR
As head of ID:SR, Sheppard Robson's award-winning interior design group, Helen Berresford is a recognised industry leader. Crucially, it's not just blue chip and
professional services companies such as KPMG, Barclays and Coutts that have benefited from her activity-driven design approach but also organisations with long-tenure staff and established ways of working – from the BBC to Newham Council – where there is a real need to capture hearts and minds. Berresford has helped overturn traditional office environment concepts by meaning it when she says that people are at the heart of the design process. Her passion is for creating spaces that enhance the ability to live, work, play and learn.
6. Simon Allford, director, Allford Hall Monaghan & Morris
Last spied chairing a talk on technology and future offices at Mipim UK, Simon Allford is an engaging exponent of offering utility and delight in architectural schemes. He is one quarter of powerhouse AHMM, whose work is a byword for shifts in what constitutes a great place to work – from Shoreditch's Tea Building to, more recently, the White Collar Factory in Old Street and Google's Project Jack, the subject of OnOffice's December cover story. Giving back to the profession is part of what makes him tick, with roles such as chair of trustees of the Architecture Foundation and visiting professor at the Bartlett and Harvard Graduate School of Design.
7. Kerstin Sailer, reader, Space Syntax Laboratory, The Bartlett
As far from the outmoded idea of the fusty academic as you can get, Kerstin Sailer is perfectly positioned between the theoretical and the practical concerns of office interiors. She trained as an architect in Germany and we first knew her through her work with Spacelab. A sociologist at heart, she says, Sailer is currently a reader in social and spatial networks at the Space Syntax Labatory at UCL's Bartlett School of Architecture. One of her most recent projects came about when no less than Google came calling for a research project tied with in with its Project Jack – featured in last month's OnOffice – and AHMM's work on the London headquarters.
8. Simon Pitkeathley, CEO, Camden Town Unlimited
A true champion of London regeneration, who knows how to unite different stakeholders within a community for the common good, Simon Pitkeathley has since 2007 been CEO of the Camden Town BID, Camden Town Unlimited. Previous places of work include the Prime Minister's Office and the British Bankers Association, as well as consultancy for private clients and think-tanks. This variety has doubtless informed his current role, turning vacant and underused buildings into innovative shared spaces for creative businesses. The abandoned National Temperance Hospital
was transformed into offices for young entrepreneurs, which featured in OnOffice.
9. Maciej Markowski, partner, head of workplace strategy, Cushman and Wakefield
Maciej Markowski's breadth of knowledge and research has made him a go-to for workplace strategy comment and advice. Partner, head of workplace strategy at property firm Cushman and Wakefield, he has international experience advising major corporations on the changing workplace. No stranger to the pages of OnOffice, Markowski has talked virtually with columnist Neil Usher, while a report he co-authored, A New Era of Coworking, piqued the interest of regular contributor Clare Dowdy. The report discussed how corporates could adopt co-working ideas – something which will be of increasing importance as larger firms once again look to smaller ones for office inspiration.
10. Thomas Heatherwick, founder, Heatherwick Studio
Having started his studio in 1994, Thomas Heatherwick has seemingly raised the bar in everything he touches, from beach cafes to bridges to, er, Olympic cauldrons — while still in his 40s. Now his involvement in the Google Mountain View Campus in California fascinates us and makes us think that the workplace could be the next frontier for Heatherwick to produce something truly groundbreaking. With Bjarke Ingels at BIG, he has been briefed to make a "better way of working", with large translucent canopies with trees, landscaping, cafes and bike paths. Elsewhere, Heatherwick Studio is now working in four continents on projects valued at over £2bn.
Pick up a copy of our current issue for the full list
Our inaugural review of the most influential people within our industry, from influential architects and designers to those who are having a significant impact client-side, plus academics and those from other organisations from the property and built environment sectors