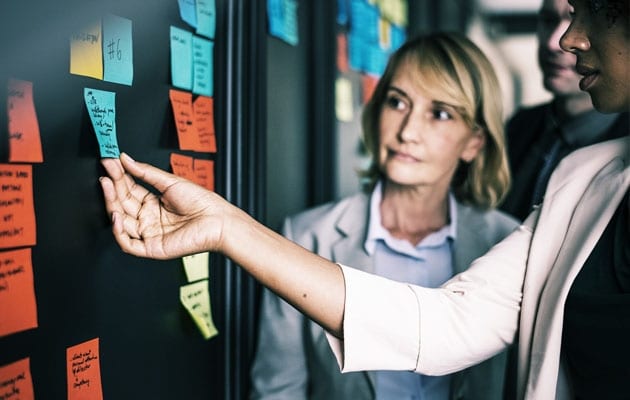 |||
Here's a question for designers as you put the finishing touches to your latest workplace interior: how much have you considered the evolving leadership strategy that will be played out across the canvas you have created? The answer is probably not enough.
Most projects are informed by data around headcounts, net usable space and departmental adjacencies, some generic stuff about vision and values, and maybe a set of insights based on staff surveys, ethnographic or observational research. But a deep dive into what next-generation leaders are planning to achieve in the space you design? That's not often on the radar, even though it should be.
Most office briefs usually include an imperative to boost productivity or innovation, or both. And what raises company performance and promotes a meaningful exchange of ideas more than how the leaders rally the troops? Before you all shout at once that workplace design can achieve all this, I draw your attention to an international survey led by the Fourfront Group, entitled The Puzzle of Productivity.
This study asked people in 120 companies around the world what they considered the most important factor in raising organisational performance. More than half chose leadership. Less than a fifth named environment, technology or wellness. Asked to name the best way to motivate staff, more than half voted for "inspiring leadership".
If leadership strategy is such a defining factor in raising performance, why isn't more attention paid to its dynamics in the workplace industry? Why isn't there a deeper understanding between what leaders aspire to achieve and what workplace design plans to deliver?
Raising productivity depends on the two working together. As the report explains: "Workplace design can be a canvas for new-generation leaders to express strategies that entrust, enable and motivate people. The best leaders will create a cultural identity which they will allow to be brought to life by great design."
The links between leadership strategy and workplace design tend to be better defined when leadership is seen not as the property of charismatic individuals, but as the property of a system.
Jeff Eggers, co-author of a new book, Leaders: Myth and Reality, makes this point very well. Speaking at the Worktech Toronto conference last autumn, Eggers, executive director of the McChrystal Group Leadership Institute, explained that there is no easy to answer to the question "What is leadership today?" His book, co-written with US general Stanley McChrystal and Jason Mangone, challenges a leader-centric position by examining 13 famous leaders in six pairings and one standalone account (Confederate general Robert E Lee).
The pairs (a technique derived from the work of the Ancient Greek writer Plutarch) include Walt Disney and Coco Chanel, Margaret Thatcher and William Magear Tweed, the Tammany Hall "Boss" of 19th century US politics, and Martin Luther and Dr Martin Luther King.
The environment in which leadership operates emerges as a key factor in how leaders perform – and that environment has grown in speed and complexity over time. In Toronto, Eggers explained that leaders today need to combine confidence with humility. Steve Jobs, he argued, was far more effective as a leader when he went back to Apple in the late 1990s somewhat chastened from having been kicked out of the company he started.
Few would suggest that Apple's campus is a symbol of Jobs' humility– rather it reflects an enormous doughnut-shaped ego. But as command-and-control hierarchies lose their lustre, a dose of humility is on the senior management map. So is compassion. According to Leah Weiss of Stanford Graduate School of Business, compassionate leadership is the new trend to improve workforce resilience – where corporate leaders "recognise suffering in others and are willing to alleviate it".
Could it be that in the future workplace designers will need to create projects that express such leadership values as humility or compassion? Are we in for a new agenda of cry rooms and safe spaces? If leadership is such a big deal in raising productivity, creating the canvas for next-generation leaders to do their thing just got a lot more interesting.
Leadership strategy has been named as a defining factor in raising performance – it's time for office designers to recognise it