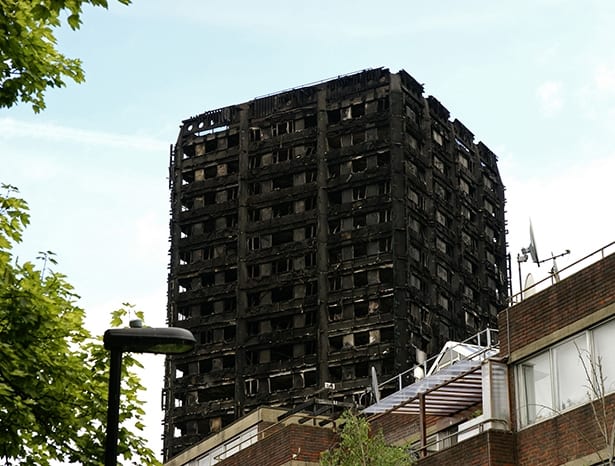 |||
While the Grenfell Tower disaster relates directly to high-rise residential buildings, the tragic events undoubtedly raise questions and concerns over commercial properties too. The design of and the materials selected for a building will vary depending on its purpose, conditions, cost, context, structure and regulatory requirements. However, the key issues to consider when it comes to liability remain the same. As the enquiries into the Grenfell tragedy continue, it remains unclear who may find themselves standing in the dock, but it could well be any of the designers, contractors or even the local authority that commissioned the works. From this list, it is possible that all three entities could be prosecuted for breaching a duty to warn. Whether a breach of a duty to warn in this instance constitutes gross negligence manslaughter or corporate manslaughter will ultimately be a matter for the jury to decide.
First, the investigation will concentrate on identifying whether there is evidence to support charges of gross negligence manslaughter or corporate manslaughter. The test for gross negligence manslaughter is:
1. Was there a duty of care owed by the defendant to the deceased?
2. Did a breach of that duty of care lead to the death(s)?
3. Did the behaviour of the defendant fall so far below the standard that could reasonably have been expected that it warrants criminal liability?
The test for corporate manslaughter is broadly similar in that the organisation (there is no individual liability under the Corporate Manslaughter and Corporate Homicide Act 2007) is guilty of an offence if the way in which its activities are managed or organised:
1. Causes a person's death
2. Amounts to a gross breach of a relevant duty of care owed by the organisation to the deceased.
The organisation is guilty of an offence only if the way in which its activities were managed or organised by its senior management is a substantial element in the breach.
In terms of gross negligence manslaughter, issues will arise for the prosecution if they identify negligence on the part of a number of people but believe that no single person's negligence led to the fire. The offence does not allow the aggregation of various people's negligence to be taken into account. The Corporate Manslaughter and Corporate Homicide Act 2007 does allow for aggregation of negligence but it does not allow for individual liability.
On a project such as the refurbishment of Grenfell Tower, there would have been more than one person or corporation responsible for design. However, one entity or person would, most likely, have been responsible overall for design. As lead consultant, architects would often assume this role. But it is not just that consultant's scope of service or assumption of responsibility that should be scrutinised. It would be more appropriate to assess likely liability for gross negligence, in this instance, within the realms of what they should do about high-risk fire issues. That boils down to one issue: Which of the entities involved had a duty to warn about any danger? While there is no general duty to warn in English law, there is a duty to warn where there is danger to the lives of humans.
In this case, the question can be reduced to the issue of who had (and ought to have had) knowledge of what turns out to have caused the fire? Of course, deciphering who had a duty to warn is not easy to determine in itself. Some involved on the project may have been unaware of a problem with, say, a specific material or construction technique. Some still may be entitled to assume that the design would be implemented in a way that mitigated these problems.
Ultimately, all the construction professionals, contracted with the council, who knew of any danger with materials or the design are likely to have had a duty to warn, unless circumstances show that they could have, feasibly, assumed the problem would be accounted for during the construction process. Once someone establishes that they have a duty to warn, they must proceed with extreme caution. Ordinarily, simply warning an employer – for example, of a risk of catastrophic fire – is not enough. One must warn vigorously or, where the risk is high, simply refuse to proceed with the works, perhaps even take steps to prevent others from proceeding. Indeed, it may be that those with overall design responsibility may only be able to justify proceeding in the case of knowing about a fire risk, if they had been told expressly that this would not be a problem.
On the face of it, if there was a lead designer or consultant, that individual may find it difficult to argue that they did not have a duty to warn, but the assumption that others will be "designing out" a fire risk is likely to protect them. However, without seeing contracts, professional appointments, and explanations as to why decisions were made, it would be inappropriate to place definitive blame on anyone.
David Beckenham is a health and safety lawyer and Jason Kallis is a construction litigator at Keystone Law
The recent disaster at the tower block in west London have sparked national outcry and raised important safety questions. Keystone Law outlines some of the issues that the police, crown prosecution service and possibly even a jury will be considering with regards to responsibility for the fire – with implications for all parties involved in designing and constructing buildings