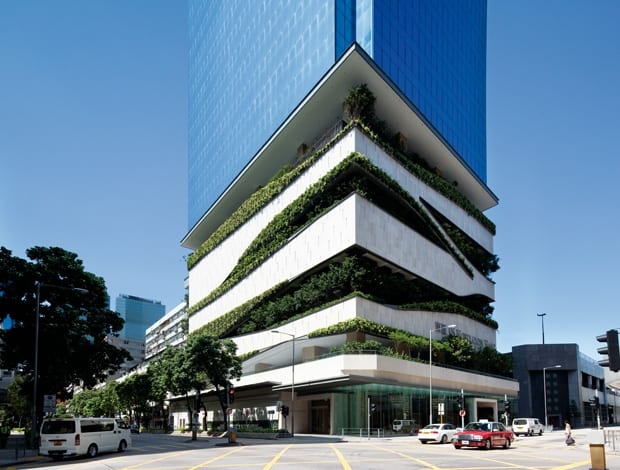 Dense planting at 18 Kowloon East is claimed to absorb noise and pollution|Does green on the outside mean green on the inside?|High-rise in paradise: the Sky Garden at Aedus's 18 Kowloon East, Hong Kong|Solar shading and renewable energy make Ken Yeang's Solaris truly green|With the right plants, sky gardens work anywhere: Yeang's Spire Edge, India|Yeang's Malaysian HQ for tech company DiGi, with its insulating living wall|CGI of Stefano Boeri's Bosco Verticale project, Milan, to be finished in late 2012|Bosco Verticale under construction, with deep balconies to hold the planting|MDRDV's oversized greenhouse of a hotel in the heart of Dutch tulip country||
With their lush terraces stretching up to the heavens, skyscrapers are looking greener these days – but is it really eco-design, or just a (leafy) façade?
What makes an office building green? By most standards, it would be energy efficient and have features like ground source heating and cooling, photovoltaic panels and rainwater harvesting. It would probably boast top marks from a sustainability assessment body like BREEAM or LEED. But there is a new, quite literal, facet to the "green" trend emerging; architecture with luxuriant plant life embedded into the design.
The latest built example is 18 Kowloon East in Hong Kong, which was completed late last year by international mega-firm, Aedas. On the bottom segment of the building, an open-air car park is wrapped with a band of greenery made up of vertically stacked planters and green walls – acting as a kind of lush podium for the 28-storey office tower looming above it. Working with landscape consultants, Aedas wanted the greenery to bring something new at street level. "Instead of providing yet another office tower with a cool exterior glazing amidst an urban pattern of concrete blocks, the design sought to inject a new sense of energy to the building as well as the neighbourhood," says project architect (and Aedas executive director) Cary Lau. Kowloon Bay is an industrial area steadily turning into an office district, Lau adds, and the greenery is intended as a new landmark.
The development has been a source of some debate, because while it brings a blast of greenery to an otherwise grey streetscape, its overall eco-credentials have been questioned. The plants are concentrated at the bottom of the building to help filter air pollutants and noise from the street – a claim that has been challenged – though presumably the other, more straightforward reason for the design is the visual experience of pedestrians and drivers. Lau admits that there wasn't a quantitative approach to measuring how much the plants improve air quality in the car park. The triumph, he says, is that they were able to convince the developer to spend the extra money on the facade and the "sky garden" – a communal floor covered in greenery that sits between the car park and the office floors. "Extensive planting is important. In Hong Kong, development has been getting higher and higher in the last few years, and planting is one of the ways to alleviate the density of that development," Lau adds.
For Paul Hinkin of London-based Black Architecture, however, a green building has very little to do with greenery on the facades and everything to do with energy efficiency. His studio adhered to a set of stringent bioclimatic design principles for the headquarters of the Catholic Overseas Development Agency near Waterloo (onoffice September 2010) – clocking a whopping 72% reduction in carbon emissions for the building's performance. "My biggest objection is that it's all stylistically driven," he says, speaking broadly about the trend for architects to design plantlife onto the exterior of buildings. "It's driven by the image of what the thing looks like and a superficial green leafy aesthetic rather than any real in-depth analysis of how you could use plants beneficially in high-rise office developments." The majority of buildings proposed using this type of "leafy aesthetic" (of which there are many, including the imminent Bosco Verticale towers in Milan by Stefano Boeri) are at best disingenuous, at worst hindering true innovation, says Hinkin. "People see a bunch of greenery and think, 'oh that must be a green building'. But on that argument, a power station becomes a green building providing you plant enough ivy and Virginia creeper over it."
But another camp of architects, led by Ken Yeang of Malaysian office TR Hamzah & Yeang (and, in the UK, Llewelyn Davies Yeang), believe a truly green building should be energy efficient as well as reflect the natural eco-systems and biodiversity of the surrounding area. "A green building could have any aesthetic, but personally I think it should have substantial greenery in it, whether its visible or not in the facade. This serves to balance out the inorganic and synthetic constituents of the construction," says Yeang, who was one of the first to purport eco-skyscrapers interwoven with plantlife.
He first applied his vision to a tall building in 1986 with the headquarters of agricultural company Boustead Holdings in Kuala Lumpur. But the architect's 15-storey Solaris office building in Singapore – completed in 2010 as part of Zaha Hadid's Fusionopolis masterplan – is a more recent example. The facade is covered with sun-shading louvres and the building (up for Platinum certification from Singapore's Greenmark programme) employs a number of green strategies like rainwater reuse and recycling, low-flow efficient plumbing fixtures, solar photovoltaic technology and use of sustainable building materials. But equally important, Yeang designed a continuous spiral of vegetation stretching from the basement to the roof, intended to absorb heat from outside and connect the office building to the natural environment. (Having said that, the lushness of the project renders don't quite match up with the reality of what has been built.)
Success hinges on picking the right species of plant and teaming up with the very best biodiversity and landscaping consultants, says Yeang, and one senses that there are lessons he has learned with each new project. "A lot of people think that all we do is put vegetation on buildings. But we do much more than that. We create habitats within the building," he says. "So we mesh certain species with certain habitats and we establish conditions that enable them to survive over the seasons of the year. In doing so the whole development becomes like a living system. This is what we should be doing rather than putting veggies on buildings."
What's more, Yeang points out that his version of eco-architecture can exist outside of tropical settings where climate control is a more pressing issue. Spire Edge, a high-rise for a New Delhi business campus (under construction) and a concept design for a series of towers in Vancouver, Canada – both temperate climates – use a ziggurat pattern of lush planting. However, the greenery in the Canadian project is enclosed during colder periods to create "winter gardens"; glass screens are partially opened during intermediate seasons and fully opened during summer months.
Dutch architecture firm MVRDV has gone down a similar route with the FlowerBed Hotel in Alsmeer, The Netherlands, which is the centre of the country's tulip trade. The stacked volumes, containing hotel rooms, restaurants and a conference centre, will have a kind of greenhouse shell over the plants and flowers to protect them from the elements. It's expected to have good energy performance despite sitting under a layer of glass because of windmills, underground heating and cooling storage and sun collectors. The hotel's project architect Nathalie de Vries hopes that the types of plants under the glass will shift and change with the seasons, and makes a social case for the use of vegetation in architecture: "In a society where we keep on densifying and creating more and more built surfaces, we have to think of new ways to incorporate green. It's not enough any more to just create a park. Sometimes there is not enough space, but we've shown that there are other ways to bring greenery in to our cities."