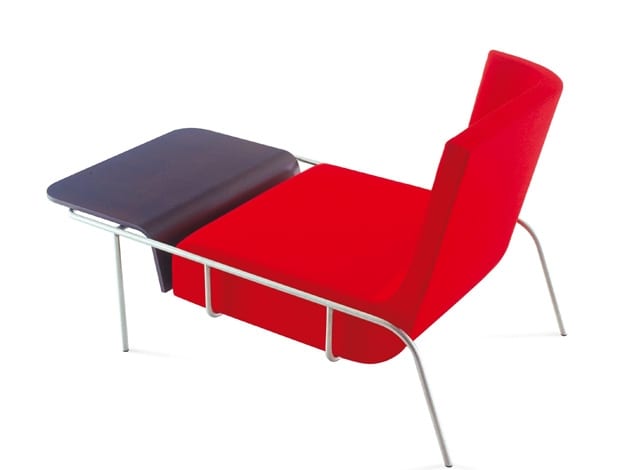 The Tolozan 'multimedia chair', created in 2002 for Ligne Roset|The 2010 Harry sofa – named by Jourdan in tribute to England|The Snowdonia bed – part of a collection that won the Red Dot award|Jourdan's contribution to the Domestic Ponds series at the Galerie BSL|The French designer, Eric Jourdan|The Hyannis Port desk – described as having a 'cabinet-made' feel|The Secretaire, part of the Breuer-inspired Dino collection|Dino desk. Jourdan said in the range 'everything is visually prominent'||
The French designer on the influence of modernist architecture on his work – and his prolific collaboration with Ligne Roset
"I am more influenced by architects than designers. Maybe I have always secretly wanted to be an architect," laughs Eric Jourdan, one of a handful of fast-rising French stars in the industry. It's not a terribly surprising statement considering Jourdan comes from a long line of architects – perhaps explaining why a handful of his recent pieces are reminiscent of the work of early modernists, particularly those who designed both furniture and buildings. "I remember visiting a creation by Le Corbusier with my father when I was 11 years old. At the time I was not so happy to do it, but now I say, 'thanks Dad!'" he jokes, adding that his other heroes are Mies van der Rohe and Ettore Sottsass. A modernist aesthetic is definitely at the heart of Jourdan's work, especially his recent offerings.
The graceful curves of the Dino range for Ligne Roset, launched this year at imm Cologne, echo the Bauhaus movement – particularly Marcel Breuer's creations: "The collection is about designing furniture in the way of playing with volumes and colours. When you look at early works of modernism, this was the first time where the colour, different sizes of blocks or volume was introduced in architecture."
Some of these themes are picked up in Jourdan's Hyannis Port range from 2007, for Cinna, though the idea is less conceptual. "Hyannis Port was about designing something simple and elegant rather than the philosophy of modernism," he explains. Whether it is a piece of furniture, signage or exhibition design for the gargantuan textile fair Premiere Vision (such as he did last year), the start of a project is always with a pencil, says Jourdan.
"For me, the most interesting part is the first sketches and then to keep the spirit of those sketches ongoing as the project progresses," he explains. The offbeat Harry armchair, sofa and pouf series for Ligne Roset in 2010 – playful with pops of colour and almost startling dimensions – originated this way. "I like to think through my hands," says the designer. "I draw every time and my projects are the result of this daily obsession."
"I remember visiting a Le Corbusier creation with my father when I was 11. At the time I was not so happy but now I say 'thanks, Dad!'"
However it comes about, as a contemporary French designer Jourdan's understated style is a contrast to the louder, showier aesthetic of someone like Phillipe Starck, with whom he worked early in his career. "Starck is a very clever designer, I have learned a lot from him. His style is very French with a lot of references to French culture. But I don't know how to deal with classic references. I need to have a basic language," says Jourdan. At a push the designer characterises his work as "simple" – perhaps a reaction to 25 years living in Paris – "an iconic place with a lot of ornate 17th-century architecture everywhere".
So why are so few French designeacclaimed internationally, then? Jourdan has a theory: "I think it's a cultural thing. We think that our country is the most important place for culture in the world. France is such an old country and the past is so heavy – and of course we are wrong. A lot of French designers don't need to go out and work with other countries – France is enough for them. It's strange."
It's true that, among his fellow countrymen, Jourdan's design sensibility is less aligned with Starck than the Bouroullec brothers or even Matali Crasset, who coincidentally also collaborate with Ligne Roset on a regular basis.
"Michel Roset is a visionary," Jourdan says. "I work with him because LR want their projects to get better and better. They can be both commercial and yet they still let designers propose innovative concepts."
Two of his favourite projects have been for the company: the Tolozan lounge from 2002 (no longer in the Ligne Roset collection) and the monochrome Dino desk of aluminium and walnut veneer.
Of course, he's designed for other brands – Cinna and Domeau & Peres for a start – but his collaboration with Ligne Roset seems to be the most prolific and successful – prizes include the Red Dot award for the Snowdonia sofa in 2004.
Jourdan was born in Chatou, a Paris suburb, in 1961. He graduated from the Ecole Nationale Superieure des Arts Decoratifs in 1989, and by the early 1990s he had held a number of art and design exhibitions in Paris galleries, among them a solo showcase at the Fondation Cartier.
However, it was his exploration of "crossover furniture" in 1995 for VIA, a non-profit organisation supporting innovation in furniture design, that he pegs as the birth of the design language we identify with him today – a kind of modern classic. Jourdan still dips his toe into design art – last year he took part in a series called Domestic Ponds at the Galerie BSL. The series explored a fascination with objects that "use or manipulate living organisms", and Jourdan's ceramic moat with plant life sat alongside pieces by Mathieu Lehanneur and Benjamin Graindorge. Despite shying away from the classic design philosophies of his home country, Jourdan seems very wrapped up in it.
"It's very visual in France," he says. "There is a mix between art and design here that is very specific to this country. It's the way we are."