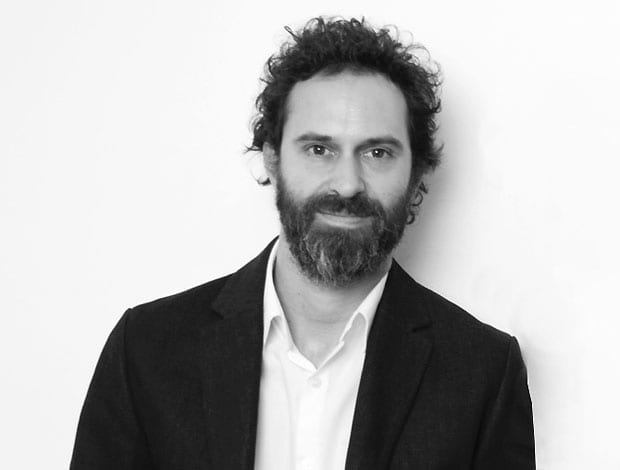 ||||||||
Why did you call your new chair the Pilot chair?
The main reason is that it's such a lightweight chair and visually it's a slimline chair, which made us think about lightweight objects and planes and so on.
We thought Pilot was quite a nice word to describe it because it's a chair, and you're the one in control. Also, we'd quite like to be pilots one day.
Can you tell me about the design?
Knoll wanted a chair that could be used in different situations: in the home, the office, in hotels or waiting areas. And the only way to successfully achieve that was by making it quite flexible.
"It's like a kit, so you can adapt the chair to whatever situation you need"
It's a very simple framework, essentially a four-star base, and then cranked leg, which is the swivel part, and from there there's loads of options. It's like a kit, so you can adapt the chair to whatever situation you need.
There's a low-back and a high-back version, a very slim version, a much more padded one, and an even more comfortable homely version, which we won't be showing [in Milan], we're saving that for later. There's the long-arm version. The arm you can see is a metal arm and more for the contract market. Then there's an upholstered arm, which again is the more homely.
There are different types of upholstery and It comes in 16 different colours. We mixed up some colours so the arms will be different from the seat and back. It's going to be quite a festival of colour.
Were there any technical challenges?
One of the key things is that it breaks down to almost flatpack. The back slides off, the seat slides off then all the pieces come apart and you end up with a very small box. That's not any particular advantage to the end user, but it's a huge advantage to Knoll when they ship or deliver it.
"It breaks down to almost flatpack, [which is] a huge advantage to Knoll when they ship or deliver it"
The other thing is that it's very lightweight because there's less material used. That, of course, is a benefit to the end user as well.
What about the curved stem that attaches to the back rather than the centre of the seat?
I don't think [that particular shape] has been done before. The reason behind that is that when you sit in the chair, it sinks down but doesn't actually touch [the stem].
Although it looks quite linear, quite flat, there's a lot of webbing in it, so the seat and the back panel flex considerably so it shapes to your body. It looks quite stark but it's a really comfortable chair.
What else will you be exhibiting in Milan?
We have the stool we've done for Knoll that can also be used as a side table. We showed the prototype last year, but this is the final production version.
We've got new sofas for Vitra. Last year, we did the Mariposa sofa, which has moving arms and back, but we've developed it further with different sizes and heights, a slightly lower back. We've also done a series of glass cabinets for Glas Italia.