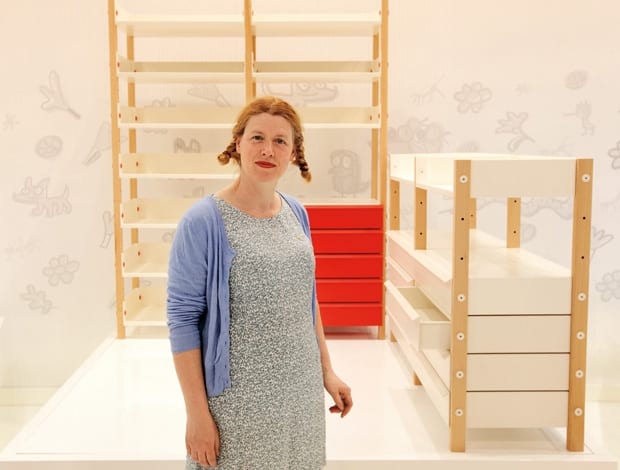 Hans's My Storage for Magis, 2011|The A380 chair Hans designed for Ahrend, 2010|Modular Coffee Set from Hans' radical Black Gold originals, a self-initiated project in 2002|The glass fibre covered Magic Chair, another self-intitiated project from 2002|Ordinairy outdoor furniture made from recycled plastic, 1997|The Corner Guy coat stand for Van Esch, 2010|Hans has re-fashioned Cito's unused roof terrace into a seated garden, 2011|Sculptural piece in the atrium of Cito's new office building|Fly chair for Arco, 2008||
onoffice catches up with the Dutch superstar at the Milan Furniture Fair as she embarks on a clutch of new office projects. The former Habitat designer, who has just put her twist on a Friso Kramer classic for Ahrend, tells us innovation is paramount
You can't miss Ineke Hans. The Dutch designer is never without her plaits, for a start, and she tends to wear clothing of the colourful and floral sort. The anti-designer uniform, if you like. Which is fitting because when you first clap eyes onto Hans' furniture and objects, they have a similar effect as the woman herself: playful and unselfconscious, but seemingly down to earth.
Even when she decided to design three collections of purely black things several years ago, her work had an almost child-like quality coursing through it. It sparks the imagination.
"I like to make people happy," Hans declares. "It may sound banal, but it's true."
We are sitting in the Ahrend exhibition within Ventura Lambrate – the latest 'it' district of the Milan furniture fair. Hans is talking through the 380 series – a chair and table set made as an answer to Ahrend's classic Revolt chair, designed by Friso Kramer nearly 60 years ago. Except Hans' version has a twist.
"The Revolt chair is a sort of icon for Ahrend and I really wanted to build on that tradition but also make it me," she explains.
The company has a history of introducing new materials – Kramer did back the 1950s – so Hans thought she would continue in the same vein. The idea was to make a chair that could stack, with arms or without – something that works in all kinds of contract environments – but with the entire chair consisting of recyclable plastic and the base and back containing PET.
"We're in a funny business, you know? We have soup bowls, we have chairs, everything is there already," says Hans.
Her ethos is that if a designer adds something to the unwieldy mountain of stuff we've already got, there needs to be some innovation involved. "I really, truly think it's important because why would I make a sofa that we could've made 20 years ago? What's the point? We've got enough already."
Innovation can be new materials and new techniques, she says, or it can be answering changing social habits.
"Fifty years ago we were eating with the whole family at the table. Now we eat in front of the television. I can play with that as a designer," she says. "It's the situations where you think, 'I shouldn't be doing this but I'm going to anyway', I like that. I like mistakes – where things go slightly wrong."
That psychological connection between people and things is what has always driven Hans back to the self-initiated projects she began doing after opening her own studio in 1998.
Her pieces are inspired by archetypes and the collective unconscious – ideas that everyone can recognise and can relate to, no matter who or where they are.
"It's like when you land in China, or London or Russia, you find your way by the pictograms. It's what is on our hard drives. I have a preference for clear shapes and I like to narrow things down to plain images and undress things," she says.
This is especially true of her black porcelain pieces, which are very graphic, much like 3D pictograms. And even though the forms of much of Hans' furniture can be simple to the point of seeming rudimentary, there is always a lot more going on.
For example Magic Chair, part of her Black Magic collection, is covered using a woven glass fibre technology to avoid the costly, time-consuming process of using textile on a framework. My Storage for Magis, launched in Milan this year, has a toy-like colour and shape but is balanced by its thoughtfulness and flexibility. It's meant for kids but it could also work in, say, an architecture office.
"I like that it could be something that eventually moves into the adult world. It could go with you in the long term," she believes.
"It's the situations where you think 'I shouldn't be doing this. But I'm going to anyway.' I like mistakes, when things go slightly wrong"
Hans, 44, first started training as an artist but quickly realised product design and 'solving puzzles' was more her cup of tea.
"I'm interested in how people interact with objects. I find it interesting how you deal with that as a designer, how you make clear that a chair is a chair," she explains.
After finishing at the Hogeschool voor de Kunsten in Arnhem in the early 1990s, the designer moved to London to study at the Royal College of Art. Her graduation show had a lot of one-off, limited edition pieces that grabbed the attention of Habitat, which offered her a job.
"I wanted to learn more about serial production. I knew if I didn't go work for them then, I never would," she says.
So, putting off her plans to move back to the Netherlands, Hans worked in the retail store's design team for three years.
"It was hard work and also a lot of fun," she recalls. "We had a week to come up with 60 sketches, and then it would be narrowed down to 40, then proper working drawings of 20 that were considered for production. You'd end up with 10 or 15 pieces in the collection, and we did all of that twice a year." By the end of her time with the company, Hans had expanded her remit to include accessories, glass, ceramics and textiles as well as furniture. "I was really …(rapidly points her fingers in all directions)… I really liked it!"
Despite some initial hesitation to leave London, 'the coolest place on earth', she eventually moved back to Arnhem in 1998. Habitat had cemented her versatility as a designer and given her confidence, which came in handy as she found herself on the outside of the club formed around Droog Design and the University of Eindhoven set. "In the beginning, it was funny because people would say, 'Oh you're a Dutch designer! You must be in Droog!' When I'd say no, you could hear
them thinking 'something must be wrong there'. It was a stamp of approval in those days."
Nevertheless, Hans fed off the momentum of Holland's booming design scene and continued to plug along with her own projects – both mass-produced and limited edition pieces – developing a distinct style that isn't really like anything else out there.
"I am a lone cowboy!" she laughs.
Except now, her name is synonymous with contemporary Dutch design. She can count herself in the privileged group that pick up international awards and partners with brands like Ahrend, Cappellini, Arco, Offecct and Swarovski among others. Which brings the conversation around to the subject of designer royalties – the topic de jour of this year's Salone.
"If you go to the bakery, you have to pay for your bread, right? You don't say 'well, if the bread is nice I will pay you.' That doesn't happen. So why would you treat designers like that?" Hans asks. (She's also quick to point out that the companies she works for treat her well.)
At the same time, Hans doesn't downplay what it means to have the opportunity to collaborate with established brands, pushing the agenda on things like sustainable design.
"These are the companies that have the power to really change things. I can do projects on my own and show them again and again and again, but its just me spitting from my little pot," she says.
And while she likes to have fun with design, one of her strengths is that she understands the commercial side of the business.
"I like to make people happy. It may sound banal, but it's true"
But now, Hans is on to the next frontier – office buildings. Cito, an organisation that produces entrance exams for schools in the Netherlands, drafted in the designer to create a focal point for the atrium of its new building, which officially opened in March. The resulting tree sculpture (with seating nestled into it) acts as a metaphor for spreading knowledge and growing. Within it is a subtle, pulsing light that represents the heart of the organisation.
"It sounds a lot like Christmas, but it isn't," she quips.
Jokes aside, Hans' fairytale-like tree in the atrium, and multiple tree seats on the previously unused roof terrace, are perhaps just what the doctor ordered. There are other substantial interiors projects in the pipeline too – in particular the new headquarters of international giant, Rabobank. Hans and four other designers have been selected to do five floors each of the 25-storey building.
By the time it is finished later this year, Hans will have completed a restaurant, a meeting pavilion and a workspace – though the finer details are still firmly under wraps. So it's all go for the Dutch designer. She's done things her own way thus far – and doesn't appear to be swayed by passing fancies. Where the design world has done slick, she does the opposite of slick. Where Dutch design is known for relentless irony, she errs on the side of honesty and playfulness.
"It depends very much on the project," she says. "I think I like things to be clever, sensible and sensitive, but I do like a twist."