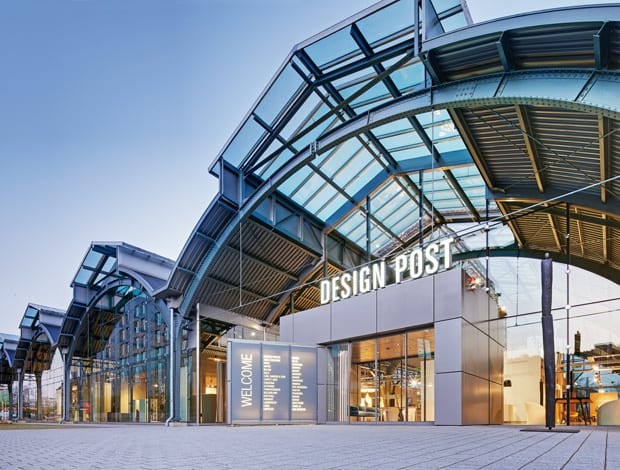 Next door to Cologne's Koelnmesse, Design Post hosts high-calibre brands|Gelderland's showroom space with its new Noon sofa in the foreground|The buzzing entrance. Architects OIII converted the former railway buildings|Newcomers Moooi occupy a light-flooded space in the building's rafters|Montis's Dim Sum chairs; the brand's owner also co-owns Design Post|Lammhults' Comet Sport chair newly unveiled to coincide with Orgatec||
Why buy a stand at a trade fair when you can stay year-round next door? Cologne's Design Post is the super-showroom making it happen
Like any huge trade show, Orgatec is great for doing a lot of business in a short time all under one roof – but it's a hard slog. Miles of artificially lit exhibition halls are enough to drive anyone loopy. Luckily just over the road from the Koelnmesse exhibition centre is Design Post, a year-round showroom for cool design brands such as Moroso, Kvadrat, Moooi and Magis, and a welcome escape for more and more Orgatec visitors every year.
Originally constructed in 1913 for the German post office and used as the postal railway station until the 1990s, this listed industrial building was taken over by Paul van den Berg and Willem van Ast, owners of Dutch brands Montis and Arco respectively, and renovated in 2005 by OIII Architecten. "The owners saw the ruins and had the idea to create a design hub," explains Agerta Bokking from Arco, "so they started to collect high-level brands to join them." Arco is now one of many brands installed here; Bokking says the place is perfect because it combines both a permanent showroom and a presence during the fair. "Also we can create our own atmosphere here with light, which you can't do at the exhibition centre," she says. Made up of seven adjoining arches, the structure features skylights and floor-to-ceiling windows that flood the interior with natural light, resulting in an altogether more serene atmosphere than its neighbour.
Although Design Post is not officially linked to Koelnmesse, many of the brands here rather sensibly launch new products when shows like Orgatec and imm cologne are taking place, as they are aiming at the same clientele. Swedish brand Lammhults showed its new Comet Sport chair (a smaller, neater version of its Comet chair by Gunilla Allard); Arco unveiled its new Cable Sock, Cable Net and Cafe stool by Jonathan Prestwich, as well as a series of side tables named Utensils; Dutch furniture company Gelderland showed its new Noon sofa by Karel Boonzaaijer; even Moroso saved some new contract fabrics for the
occasion. Many also hold special events and refurnish their showroom space to be more workplace-focused to align with Orgatec. So why aren't they over at the
fairground instead? Andreas Schäfer, an agent for Gelderland, can think of plenty of reasons, one being the promotion that Design Post itself does for its patrons, including mailouts and architect tours. "Every year there's new interest, new contacts," he says, "[Design Post] do a lot – it's very well organised." In addition to being a platform for new products during peak fair seasons, the brands also get a showroom for the rest of the year, which for many is their only location in Germany. This also works out pretty nicely in terms of economics, as Schäfer explains: "A year at Design Post is not much more expensive than one week at the fair."
However there's no doubt it's a risky choice. On my visit I leave behind droves of visitors in the Koelnmesse and Design Post is noticeably quieter. Lots of people I speak to say things always pick up a little later on in the day – a sure sign of an artier crowd – and it even opens later to catch visitors on their way from Orgatec into town, luring them with drinks and ambience. Still, for 2012, Orgatec recorded around 50,000 visitors while Design Post estimates that 8,700 people visited during the same week. Though some would argue that those 8,700 people are a refined and more relevant crowd, these companies must have considered the possibility of losing out on new business. It seems that firms are not necessarily here for a vast footfall, but to be associated with the high standard of its residents.
"We used to exhibit at Orgatec but we made the decision to move a few years ago," says Lars Malm, export area manager for Lammhults. "This show suits us better because the level of brand is higher. Plus, when you compare the costs of installation and paying for the stand just for one week with 52 weeks here…"
Moooi moved in earlier this year (making it the company's only German monobrand showroom) and though there is apparently a long waiting list, it's no wonder it has been given a prime location in the rafters at the centre of the building. Moooi's Laura Ramos Bello-Kluit says it was important for the company to have a strong presence here, and this location came with many other benefits. "It's a nice initiative. By joining forces with these other brands, we benefit from their audience too. Plus, the natural light shows off the products well. It's a complete package."