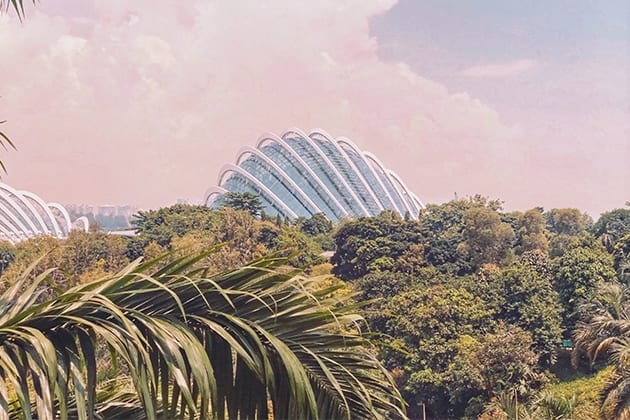 |||
2019 will be remembered as the year the world finally woke up to the realities of climate change, with 25 countries, and countless local authorities declaring climate emergencies. But while many are becoming more aware of what needs to be done, the architecture and design industries need to show how it can be done.
According to the UK Green Building Council (UKGBC), the use of our buildings accounts for around 40 percent of the UK's carbon emissions and their construction generates 60 percent of all UK waste – that's 120 million tons.
The private commercial sector contributes to a significant proportion of these numbers, probably around one sixth according to ONS data; and office building and fit out will account for much of that. But beyond the shock factor of these figures, we should see this as an amazing opportunity for office design to help the UK reach zero carbon, and work towards a zero-waste future: with a 'circular economy' in emulation of nature.
Read more: Perkin's and Will's Toronto office is designed for a healthy workplace and culture
There is a lot of knowledge, guidance, and regulation for energy efficient and carbon reductive design of new buildings, but little for refurbishment, which is the biggest area to tackle if we are to get to the national target of zero carbon by 2050. That is because 80 percent of the built stock of 2050 already exists.
Therefore, if the industry is to make a difference, it is vital that we ensure the sustainable retrofitting of our existing buildings. Offices present a uniquely interesting challenge. As large buildings with hundreds of employees continuously using their services each day, the energy consumption from heating, lighting and technology usage is huge – stats from energy consultancy Bionic show that the average medium-sized office uses around 45,000 kwh of gas alone per year, compared to the average home which uses 12,000 kwh annually.
As architects and designers, we need to design buildings that reduce this energy usage and material wastage to create far more efficient and sustainable buildings. At Perkins and Will and Penoyre & Prasad we have put this into action by offering an alternative, net-zero in operation design strategy to our clients at no additional cost, for every new project starting from January. We will work with our co-consultants to work out a step-by-step strategy to eliminate the carbon emissions associated with a 'business as usual' design.
Read more: What will the workplace look like in 2020?
On the one hand, retrofits have the capacity to turn energy-hungry, wasteful, and dysfunctional buildings into efficient, healthy, and regenerative places; on the other the rapid cycle of office fit out will itself create huge waste if entire interiors, and their mechanical and electrical plant, are replaced with brand new materials every few years. The circular economy is continuing to gain wide traction, for example through its inclusion in the London Plan. Office fit out is surely amongst the most promising arenas for its development through the use, and re-use, of sustainable materials and flexible designs.
The UKGBC has shown in its own office how it is possible to retrofit buildings without contributing a negative environmental impact, and their London headquarters achieved the lowest embodied carbon footprint ever recorded for an office refurbishment in the UK – all the while increasing well-being. At the same time, 99.4 percent of waste was diverted from landfill and 98 percent of the original fixtures and fittings were reused, or repurposed. To encourage and support more companies to do the same, the Crown Estates has published a sustainable fit-out guide for offices and the guidance available is growing almost daily.
Rather than seeing energy, carbon and waste as a compliance issue that increases costs and inhibits the imagination, we need to see them as mindset disrupters that drive innovation. With this attitude, workplaces could really be as beautiful and nourishing as nature.
Principal at Penoyre & Prasad, partnered with London studio Perkins and Will, shares how we can use refurb and retrofits of offices to work towards the country's sustainability goals