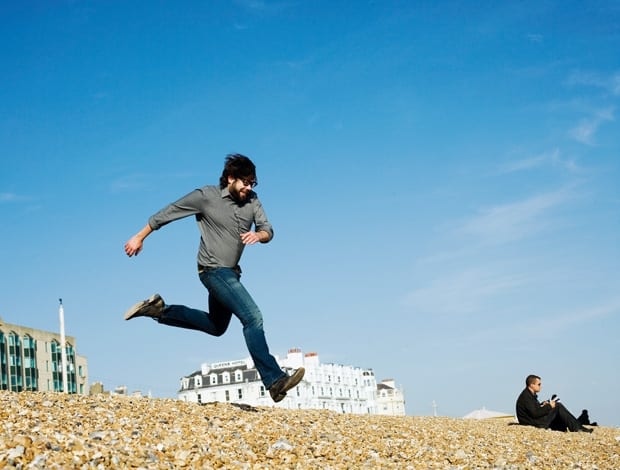 Sean Dare takes a running leap along the Brighton seafront|The first collection for Dare Studio includes the Katakana writing desk, which snagged the best interior product at the Hidden Art Awards|The colourful Cage Group series was inspired by traditional miners' lamps. They can be used as a pendant, lamp base or freestanding|Dare's favourite piece in the collection is the section console, made of black walnut or white oak and a powder coated steel frame. The three drawers have optional leather lining|The Fujiya floor and desk lamps combine a powder coated steel shade with traditional features like finger joints and dowel detailing|The jaunty, angled back legs of the Katakana writing desk and ocassional chair give the range a modern twist|The designer standing on Brighton Pier|While consulting at Tin Tab, Dare project managed the sacred space within the United Reform Church on Tavistock Square, designed by Theis & Khan|A piece from the Napoli range for Ercol|Dare first job for Ercol was to reengineer the Renaissance range||
The Brighton-based designer Sean Dare talks to onoffice about his new design consultancy, taking risks and the impact of a good writing desk
"I don't want to be the best designer in the world. I just want to make nice bits of furniture that people delight in using. It's as simple as that," says the superbly named Sean Dare, picking over a mezze platter at his favourite café near Brighton Pier. We're here to talk about the freight train success of his first collection for Dare Studio, the design consultancy he launched at 100% Design last year.
It's the end of a whirlwind week at the Milan Furniture Fair and, though slightly bleary-eyed from driving a 30-tonne lorry across Europe, Dare is finally back home after all of the volcano-induced travel chaos. The journey was a nightmare, clearly, but not even the mighty Eyjafjallajökull could stamp out this designer's high spirits – and with good reason. Hot on the heels of having select pieces of his furniture in Liberty and Selfridges, Dare was one of five British designers chosen to exhibit on the Hidden Art stand within the Salone Satellite exhibition for up-and-coming talent in Milan.
During the show, high profile manufacturers and retailers like John Lewis, Habitat, CB2, JLP and Falper approached him with keen interest, not to mention the considerable amount of private inquiries about his award-winning Katakana desk for domestic offices. The clincher, though, is that Conran snapped up the entire collection. (Contracts haven't been signed, but it's understood to be a done deal.)
"I had an absolutely incredible week," says Dare. Quite. Not too shabby for one's first outing in Milan though not particularly surprising. Dare's furniture stood out like a sore thumb amongst the other, less refined (and less commercially viable) offerings in the Salone Satellite and the design world is duly eating him up.
It might seem like Dare came out of nowhere, but at 35 his success isn't beginners luck – it's come on the back of twelve years of hard graft in the industry. After cutting his design teeth at Relyon, a bed frame manufacturer in Somerset (where he spent most of his childhood), Dare went on to six years of upholstered furniture design at Collins and Hayes.
During that time, he also started working as a freelance consultant for a number of companies including Tin Tab, Alchemede, Marks & Spencer and Ercol, where he reengineered the Renaissance range and designed the award-winning Napoli range, which was punctuated nicely with a side table by Matthew Hilton. Sharing the bill with Hilton for Napoli's national advertising campaign put Dare's name on the map, so to speak.
"I don't want to be the best designer in the world. I just want to make nice bits of furniture that people delight in using. It's as simple as that"
"That certainly added to my confidence to do my own thing, without a doubt," he says.
Spurred on by gumption or pluck – whatever you want to call it – Dare felt 2009 was the right time to break out on his own. Amazingly, he only started developing the collection six months before its launch during London Design Week.
"I think I originally launched at 100% Design with a view to a 3d portfolio so all the people I'd wanted to work for in the past, such as Conran and Heal's, would like it and give me some design work," explains Dare. "If I'd just put the pieces on a website, this wouldn't be happening."
In affect, launching his own furniture company was a sort of publicity stunt-cum-gamble that has paid off handsomely, which is fortunate since he's invested "everything – absolutely everything" into it.
"Obviously I was completely bricking it when it came to the exhibition because it was make or break. If you exhibit a new range and it isn't accepted, I think your career is quite doomed, to be honest." As it turns out, Dare's fears were unfounded – his furniture has been touted as some of the best to be seen in quite a while.
The Katakana writing desk in solid black walnut or oak (shown at the fair with a new oiled finish and leather detailing) seems to be the collection's pièce de résistance, if the reception in Milan is anything to go by, though each of the other ten pieces is worthy of as much attention.
"A person who buys a writing desk knows what they're looking for – you've got a discerning customer. If you can pull off a writing desk and chair successfully, you've shown your integrity as a designer and you've got a great basis with which to launch yourself," he says.
"I wanted to design something simple enough where I could make it myself rather than have a workshop make it"
As a whole, the collection's materials, shapes and details sit together exceptionally well and are inspired by very simple things like Dare's early childhood in Zambia and his almost maniacal love of 1950s furniture. The Katakana Low Chair and Occasional Chair, with angled back legs to echo the desk, or the section console of timber and a powder coated steel frame, illustrate his talent for reinterpreting a classic style. The blast of colour in the Cage Group, inspired by traditional miners' lamps, ensures the collection isn't pastiche and offsets the timber-heavy furniture.
"I wanted to design something simple enough where I could make it myself rather than have a workshop make it. So its all laser cut components that slot together, then the powder coating process glues them together," he explains. Another characteristic of Dare's designs is attention to traditional methods of craftsmanship. The Fujiya desk and floor lamps, for example, incorporate finger jointing and dowel detailing alongside the modern, powder coated steel frame. "It's kind of a nice fusion between the two although I hate the word fusion," he laughs.
Initially, the pieces were prototyped in Slovenia for financial reasons but the recession has meant Dare now has all his pieces hand-crafted locally. It's something he's very happy about. "Manufacturing is definitely coming back to the UK, which is fantastic," he says. "I think it's a shame that it's taken a recession to do that. I think we should've been able to maintain manufacturing during the peaks and the government should've focused more on it." Dare knew the timber pieces in his collection would be the 'crème' – or the most expensive pieces to produce – but he also wanted a broad range in terms of price, which inspired some of the smaller lights in the collection.
In fact, Dare takes a democratic approach to the whole design process. Six months ago, he set up the South Coast Furniture Initiative at Brighton University which aims to bring together all the elements of the furniture industry: design, manufacturing, engineering, testing and styling.
"In the bigger picture, I'm really keen to work with other designers," he says. "There are lots of people like me in the same boat – we work on our own or we work independently – and the idea is to bring these people together and create a knowledge and skill base where we can collaborate on projects. It would raise the bench mark of British design if we all shared information."
In the meantime, Dare intends to capitalise on the sudden momentum in his career. This month he'll exhibit at Grand Designs Live and Clerkenwell Design Week, and then he'll expand the range in preparation for the next London Design Festival. Amidst all the praise he is sure to get, one would have thought the next challenge is for Dare to keep his feet firmly on the ground.
"I had my head in the clouds for weeks after launching Dare Studio and then about a month afterward all of the delusions of grandeur kind of disappeared, because obviously it's not that easy," he says. "Of course lots of money would be nice, but the sense that people enjoy what I do, and enjoy sitting in the furniture I design is worth more to me. I'm quite simple, really. I'm just doing a Sean Dare version of the furniture I love. Touch wood, and all that sort of jazz, things will happen."