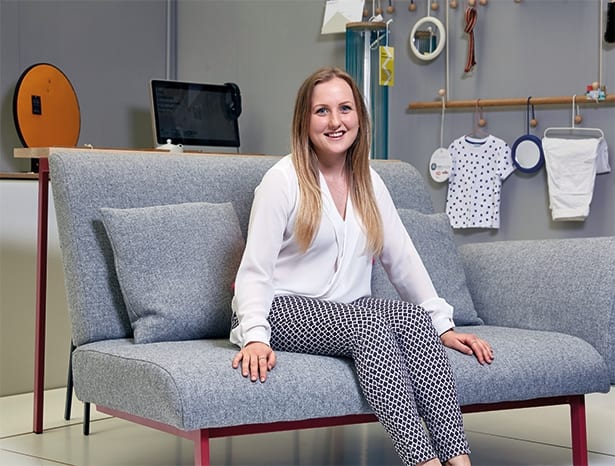 |||
100% Design has upheld its commitment to supporting emerging designers with the return of the New Designers 100% Design Award, now in its 12th year. During Part 2 of New Designers 2017, which took place this July at the Business Design Centre, London, winner Bethany Luscombe faced serious competition from the UK's top student and graduate talent.
Luscombe, a graduate in Product and Furniture Design from Kingston School of Art, scooped the award for her original furniture design, Llia. Llia is a multi-purpose sofa and dining table/desk-space; the design has a strong commercial potential and displays Luscombe's awareness of the increasingly blurred lines between our working and living environments.
The panel of expert judges, which included OnOffice editor Helen Parton, praised the design for its interesting merging of "two familiar typologies, the sofa and dining table, to create a new way of living and working" and "felt the product was cleverly engineered and visually coherent, and explored a brand-new approach to space optimisation".
"Llia is a new archetypal piece of furniture for the domestic or commercial space, combining the sofa and dining experience together to become one in response to the lack of space urban living now presents us. Llia creates a new language and way to re-evaluate the way we are living, working and dining," says Luscombe of her design.
The new designer explains that she took inspiration for the project from "the shift in modern day dining, where eating our meals on the sofa has replaced eating at the dining table". With the design, she was also hoping to create a product "which subtly influences and therefore improves behaviour, while creating a better etiquette though bringing an element of the dining table back into the modern home".
As part of her award, Luscombe has won a stand in the Emerging Brands section at 100% Design 2017 – an area which is dedicated to sharing the most exciting new design talent. She says that the award is "a huge privilege and I am excited for the opportunities exhibiting at 100% Design will bring".
Following on from the win, Luscombe hopes to continue the pushing boundaries through her design work and says that she will be busy "on the lookout for a manufacturer and an employer to work in a challenging and diverse environment".
As this year's winner of the New Designers 100% Design Award, Bethany Luscombe will be exhibiting at 100% Design this autumn