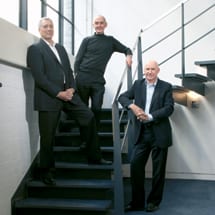 Onoffice got first dibs on Tim Soar's portraits of leading architects in their workplaces. We chat with them about their next projects and what they get up to at Christmas both at home and in the office.
Will Alsop
Will Alsop, who first established a practice in 1981, has become known for his colourful buildings, lifestyle and, indeed, business affairs. A Stirling Prize winner in 2000, he is currently rumoured to be leaving SMC, the company he sold his firm to last year, to set up shop with ex-Richard Rogers Partnership founder Marco Goldschmied.
Alsop says he has several ways of working – not normally with as many chairs – including painting and drawing in his Battersea studio to discover "what the plan might be", working upstairs in the same place with two computers and a desk, or in a studio at the bottom of his garden in Norfolk. "I can paint and draw away from phones and people in general." Then there's the sketchbook – "a peripatetic studio".
Alsop is working on a 43-storey tower on London's City Road, the Raffles Hotel in Singapore and a new television studio complex in Toronto with a park. The project is, apparently, designed to appear out of focus. "The proof will be in the building," he adds.
How do you like to spend Christmas?
It's very traditional. We have drinks with friends in Norfolk then Christmas lunch, which is meant to be at 1.30pm but could be as late as 3pm since these things can go on a bit. After you have finished eating you're pretty wrecked and everyone goes to bed.
How do you celebrate Christmas in the office?
We have a party for staff. We have decided to uninvite partners and spouses since we think they don't really enjoy it. This year there's a dinner and the only theme is that you have to come dressed as someone else from the office. I think we will have to allocate names otherwise everyone might come dressed as me.
Edward Cullinan
The most recent prizewinner on our profile pages, Ted Cullinan is now the most prestigious. The architect, 76, was awarded this year's RIBA Gold Medal, presented to him by the organisation's new president and his former pupil, Sunan Prasad, for "inspirational practice", teaching and awareness of the natural environment. The firm made a mark with buildings such as Fountains Abbey Visitor Centre and the Weald & Downland Gridshell. The firm is currently working on part of the masterplan for Birmingham, extending the city centre into the east.
Cullinan has held teaching positions in Toronto, Cincinnati and MIT and is a visiting professor at the university of Nottingham. He likes to work in his office on a drawing board. "I think I am the only one in the office to use one," he says, before spotting one belonging to "Roddy down the way". If he needs to think, he goes to his house on the North Staffordshire Moors. He says he also dreams on "planes and trains and anywhere else which is not the office".
How do you like to spend Christmas?
We will go with our family to our place up on the Moors and party. It's 1,400 feet above sea level. There's a barn we live in there that I have rebuilt with the whole family.
How do you celebrate Christmas in the office?
Depending on where New Year and Christmas lie, we will either take a week or ten days off. Then we will have a big party. It's based on the fact that the construction industry doesn't do anything through Christmas. They used to take two weeks off because they found it so hard to work. Well, we are the construction industry, too!
Tony Fretton
Tony Fretton founded his practice in 1982. He has been based near Old Street in north London for 18 months with a staff of 20. Current projects include the new British Embassy in Poland, due to complete in 2008. Architects' offices, he believes, have to "deliver that balance between physical space and a certain esprit". In terms of the way he works, he says, "I used to sketch on the bus or whatever, but now I sketch in the office and my design teams take them away to work on projects, which is handy because otherwise I'd lose them on my desk!" He concedes, though, that digital media is a must for sharing knowledge across the firm. His practice has a specific ethic of exposing project architects to as much of the practice as possible, so that they can successfully manage their time. This, coupled with an effective review system by associates and principals, makes for best practice in his opinion.
How do you like to spend Christmas?
I usually like to get away. Last year was exploring the Netherlands and the year before that was South Africa. This year I hope to go to Norway for a few days.
What do you like to eat?
I don't eat meat, so it's normally fish or seafood.
How do you celebrate Christmas in the office?
We normally go out for dinner somewhere local. I like the idea they have in Denmark and Holland of bringing along your partner and it being an opportunity for everyone to get to know each other.
Chris Wilkinson
Chris Wilkinson, director of two-time Stirling Prize-winning practice Wilkinson Eyre, works out of a large building tucked away in a courtyard off Clerkenwell's Britton Street. The company was founded in 1983 with partner Jim Eyre.
Despite being known for his highly engineered structures, he tells me he is as proud of his firm's ability to draw as his model workshop. Wilkinson Eyre is working on a number of large-scale commercial projects, including a 104-storey, 437m-tall office tower in Guangzhou, China, with a hotel on top. The foyer is so large you could fit London's Centre Point into it.
Closer to home, the company is working on three different projects in troubled London areas, including buildings next to Victoria Station, the Euston Road and Aldgate East. The latter aims to provide a gateway between the City and the Olympic route. It does away with a roundabout, which is partly responsible for the blight at that end of Whitechapel High Street, replacing it with a park and reinstatement of the two-way system. The cracked egg-shaped building will go either side of an unmovable gas main and have designs by FOA and Grimshaw as neighbours.
How do you like to spend Christmas?
We have a family Christmas, often in Tuscany. It's a chance for the family to sit round a log fire together. The Christmas itself is somewhere between Italian and English. They have more of a focus on religion out there.
What do you like to eat?
On Boxing Day we sometimes go to Viareggio. The restaurants are open and you can often eat outside – in a coat and out of the wind.
How do you celebrate Christmas in the office?
It varies. We plan well in advance. Last year we went to Paris for the day and had lunch in the Champs-Élysées. This year we are having a dinner party in London with dancing and games. Since there are 131 of us we have problems with numbers.
Jack Pringle
In September, Jack Pringle of Pringle Brandon Architects handed over presidency of the RIBA to Sunan Prasad, who headed his policy committee. His time at the RIBA saw an increased focus on business and marketing for architects, airing of his strong beliefs in the importance of government intervention in environmental matters, and, most recently, the introduction of a 20-architect-strong design review panel à la CABE. Workplace-wise, the firm is currently working on a new chamber for Aylesbury Vale District Council as well as a welter of fitouts including JP Morgan, Bank of America, Barclays and Microsoft.
Pringle says he has set up his practice rather like an architecture school, with crits and tutorials. He remains involved with projects to a degree, which, he says, surprises clients who assume they won't see him after the initial pitch. He likes to work in felt tip pen at his desk surrounded by others.
How do you like to spend Christmas?
It's very quiet and very traditional. We go up to visit my mother. My two kids are 19 and 22. They are both training to be architects against my better advice.
And with the office?
We go away for a couple of nights to somewhere that has some architectural clout. It allows us to get to know each other and shows we are really interested in design. Last year we went to see Peter Cook and Colin Fournier's "Friendly Alien" museum in Graz. This year we are trying to decide between Madrid and Basel.