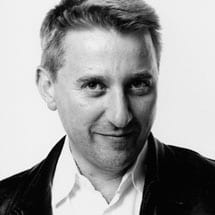 Words by Grant Gibson
The London-born designer responsible for products from bottle openers to buses for the likes of Olivetti, Danese, Magis and B&B Italia discusses Italy, his favourite waiter and why he loves the calculator
I've always thought that if I had to take an internationally renowned designer home to meet my mum then I'd choose James Irvine. She'd like him. For a start (and judging solely on my father) she has a penchant for the shorter man with a cheeky twinkle in his eye. Then there's the fact that he doesn't surround himself with groupies, secretly want to be an international DJ or wear a silly hat. Neither is he wildly arrogant, haughtily aloof nor embarrassingly shy.
Instead James Irvine mixes charm with a slightly naughty sense of fun and a dash of genuine humility. I'll never forget a lecture he gave at 100% Design several years ago. Sharing a stage with a particularly dour character from Pininfarina – who as memory serves had a new (and rather cumbersome) kitchen to sell – Irvine lit up proceedings with a string of anecdotes, several of which poked fun at himself. A man known for his love of the good life, and restaurants in particular, my favourite concerned a corkscrew he created for the German manufacturer Alfi. Having watched Luigi, his waiter at a local eatery, struggle for years to open bottles, Irvine proudly handed him the new product, an instrument the designer believed would revolutionise his waiter's life, and was even named after him. After holding it for a couple of seconds the deadpan waiter handed it straight back with a simple comment: "Too heavy." It was a story that was both funny and endearing, illustrating a designer at the top of his game, comfortable in his own skin, and, rather unusually, able to admit that he might not get it right every time.
The Irvine back-story is by now pretty well known. Trained at London's Royal College of Art, he travelled to Milan in 1984 after winning a year-long scholarship with Olivetti and – ignoring a brief sojourn in Tokyo with Toshiba – stayed, working with the likes of Michele de Lucchi and, most famously, Ettore Sottsass, as well as setting up his own, now six-strong, studio in 1988. During this time the portfolio of products he's created is best described as eclectic. He's designed a fax machine for Canon, an aluminium pen for Spalding, bowls for WMF and furniture for B&B Italia, as well as a bus for the city of Hanover. Unlike some of his contemporaries, Ross Lovegrove, say, or Ron Arad, even perhaps his old friend Jasper Morrison, it's almost impossible to discern a signature style in his work. The common thread, though, is a sense of quality. "I'm conditioned by the company I'm working for in the sense that there's a context," says Irvine. "So if, for example, the company's Cappellini and they want to make a piece that's highly expressive and very expensive, that's a consideration. If I'm working with Muji and I'm designing a chair that is sold in a shop for 25 euros and is going to be made in a million pieces, it's a completely different context. As a designer one has to understand and read the context and react to it in a way that's appropriate."
The thing that design magazines tend to alight on, of course, is the fact that he never came home. And perhaps, not surprisingly, after nearly 25 years of being asked why he left, it's something he's not all that happy to talk about. "I must confess I'm a bit bored of these articles about the guy who left Britain and stayed in Italy," he tells me. "It happens to me all the time. If there's a way we can get that out of the way quickly and talk about other things I'd be much happier. I just don't want to do an interview where I talk badly about Britain because actually there's no reason to talk badly about Britain. I guess one reason I stayed was that they offered me a job. Then I suddenly realised when I got here that design really had a value and it was an integral part of industry. In Britain it wasn't looked at like that. The idea was the designer was also someone who would engineer a product. If you made a mistake – writing the wrong thread size for a bolt for example – they'd come back to you. Whereas in Italy they'd sort of decide for themselves what the thread size should be and leave the designer to do his job."
It may have subsequently been dubbed the designer decade, but Britain in the early Eighties was a tough place to forge a career as a designer. Irvine cites the dreadful Mini Metro as a prime example of where the nation was going wrong. "I remember when that car was designed it was supposed to be saving Britain. It was such an appalling piece of design and it was professed as being the nation's saviour. Extraordinary! I invite all British people to look again at the Mini Metro and understand why design is important." Things are rather different now of course. We've given up manufacturing cars almost entirely and have instead embraced a service culture in which the "creative economy" plays an increasingly significant role. "London has changed radically in the past 25 years," he admits. "And the world has changed too – it has become a completely international discussion… When I first started out it was difficult to imagine working internationally. It seemed like something quite exotic. When Jasper [Morrison] first started working with Cappellini in the late-Eighties, it was quite an extraordinary situation. But today all designers who are working in London have contacts with companies all over the world."
The expansion of these markets has presented the industry with some interesting ethical dilemmas, of course. At the start of the machine age designers could legitimately claim to be creating products that improved the general standard of living. Now they stand accused of merely adding to the amount of clutter that surrounds us. It's a situation Irvine's alive to. "I'm a great believer in modern capitalistic society but within new boundaries," he reasons. "I was at Victoria Station recently and went into one of those mini Sainsbury's. I was appalled by the quantity of packaging and visual noise about, you know, chicken korma TV dinners. I find it quite extraordinary how industry from food to product is so concerned with getting people to consume more. I mean on my part, if I can design a chair that someone wants to keep for 150 years then all well and good."
And as the London design community pats its back for another festival, he sounds a note of caution. "There's less talk about serious industrial design and the problems the industry has. A lot of people like to find the latest hip person whose made an egg cup look like I don't know what… Do you know what I mean? It's all a load of bullshit. Fundamentally a lot of this stuff isn't producing anything for anybody. It's just producing fodder for magazines. And fine! It doesn't matter, we're in a free world and we can do what we like. But there's very little serious discussion about the impact of design on society." Perhaps that debate could start right here?
We ask James Irvine, "What's your favourite office product?"
The Braun ET 66 Calculator
Design Dieter Rams 1976
"Ever since I first opened my studio in Milan in 1988 I have been accompanied by this superb product. It is always close at hand like a good friend. Over the years as my studio has grown I have always bought more for my assistants. There is one on every desk. We had an amusing discussion the other day in my studio – my assistants saying that they have calculators in the software of their computers so they don't need the Braun one! I argue that this is meaningless because often you need to take the calculator in hand and use it at the meeting table or when measuring a product. It is difficult to pick up one's desktop Mac and haul it over to where you need it. Hand-held calculators are forever as far as I am concerned. Then one of my assistants complained that there are not all the super functions on the ET 66. I protested that it was fine for 99.9 per cent of what most people need to do. Over-functionality just confuses the issue. Keep it simple I say. It is amusing to note that more and more of us are fed up with mobile phones that do too much. There is a resurgence of the simple Nokia mobiles for example. The ET 66 is a superb product – just enough to do the job and not too much to confuse. Basic maths will never change – so as far as I am concerned there will always be an ET 66 on my desk." – James Irvine