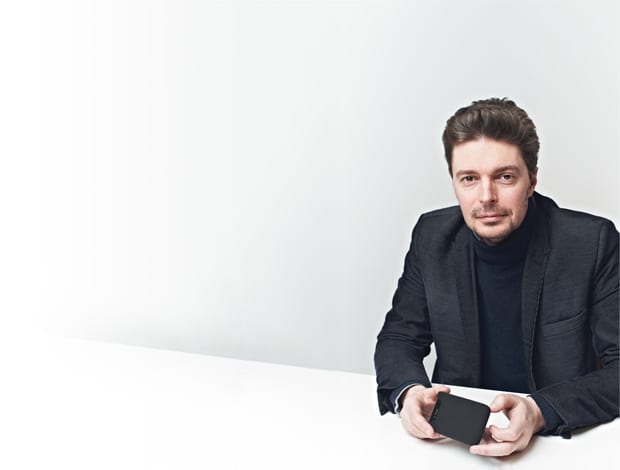 Alain Berteau, in Brussels: "Belgian design is a strange and messy melange"|Sylvain Willenz's Matt tech accessories for Objekten|The Berteau-designed Swing lamp|The stacking Side chair, made by Belgian firm Vange|Fur Pocket tablet holder by Clare Debien for Objekten|Have your cake: Berteau's slice-shaped Cake stool for Wildspirit|Strates, a desk by Mathieu Lehanneur, has modular interlocking shelving|Tamawa, a bakelite USB stick in mix-and-match|Dock Box, a desktop stationary holder with handy built-in docking|Inflated idea: the Quilted stool is pumped up with air by hand||
With a simple philosophy – if you can't make it locally, don't make it at all – the Belgian designer's latest venture is a "next-generation" brand that he hopes will make manufacturers do business in different ways
"The centre of design is defined by the factories, certainly not by designers," says Alain Berteau, a Belgian whose quietly quirky furniture and objects belie a certain kind of pragmatism. "I'm the kind of guy who is not really indulgent with people who believe that design is a means of expression, or an entertainment channel. I know it sounds sad but that's what I think," he says matter-of-factly.
It's an amusing statement when you consider Berteau's portfolio, which stretches back to 2002 when he launched his eponymous design studio.
Sure, since then he's done functional desking systems and breakout furniture, but he's also created a lamp that looks like a stick insect, a quilted stool that needs to be blown up manually with a pump, clothes hangers made of sapling trunk and modular seating that fits together like pieces of cake. His new venture, Objekten, has recently launched a desk by Mathieu Lehanneur that resembles an accordion ready to be flattened and slid under a bed. So, even though these items are functional and really quite thoughtful, there is something faintly comical about them. Berteau acknowledges that some Belgian design has this tension though he's suspicious of national generalisations:
"By definition Belgian design is a mix. That's what is good about it," he says. "It is a strange and messy melange of Nordic influences and latent spontaneity. It was always like that. There is a sense of 'no nonsense' about it, but that doesn't mean boring. It's very often full of humour even though it's not a big show."
We're sitting in the basement of a design gallery in Brussels, the city where Berteau grew up and where his studio is based.
A corner of the space is dedicated to the first collection of Objekten, which has been billed as a "next-generation" design brand, launched late last year. As creative director, Berteau has designed many of the pieces, which stand out for their simplicity and use of tactile materials, but the company is really a collaboration between like-minded designers including Lehanneur and Sylvain Willenz.
Their idea is to produce simple, relatively affordable pieces (sold online and through selected retailers) using local skills and resources. All products are based on the strengths of a few manufacturing partners in Belgium, France, Holland and Germany.
Berteau has designed furniture for various European brands and has picked up quite a bit of steam with products such as his Tab chair for Bulo and Inside desking system for Lensvelt.
But he'd become increasingly unimpressed with the manufacturing process. The way he sees it, it's all backwards. Typically, a company gives a brief, followed by the designer's concept, and then the challenge is on to find a factory to produce it. If the stars aren't aligned it will be too expensive or beyond the capabilities of the factories in question.
That presents two eventual scenarios: the product is cheaply made in the Far East, or it's back to the drawing board. Objekten aims to reinvent this process by keeping things simple and local.
"It's absurd to go to China to produce a stool. If the stool is well designed, you should be able to produce it anywhere"
"Instead of selling disposable furniture made in China with very bad quality materials, we do the exact opposite," says Berteau. "We spend a lot of time designing a super-smart solution with good quality materials, but the design and the production process is so well adjusted and optimised, that it is fast and quite affordable."
He feels very strongly that this is the future and that a change is long overdue. "I've had the feeling for a while now that the furniture industry is a little bit like the music industry was ten years ago. It cannot work like it did before. There are too many people between the idea and the final product– way too many people. It's absurd to go to China to produce a stool. If the stool is well designed, you should be able to produce it anywhere. This is 2012. We have to think like this – because it's important, and it can be more efficient and flexible, not because we're pretending to be eco-friendly. I don't think it's acceptable to go to China or Taiwan just to get a better price."
On that token Berteau seems to feel a kind of moral responsibility to help revive manufacturing in Europe amid the economic meltdown.
"We have to. Europe can't be a service economy anymore. We have a good opportunity to reinvent ourselves, to rethink the way we produce things, and, of course, rethink the way we buy things too. But as designers we have to tell the story, to remind the client of that story. You're not just selling a shape, you're selling the worker behind it," he says.
A trained architect, Berteau's route to furniture and product design is a familiar tale in that architecture work was thin on the ground.
Born in Germany in 1970 to Belgian parents, he returned to Brussels as a child and spent the majority of his time obsessively drawing insects, cars, people and nature.
This eventually developed into a passion for architecture. But after graduation his dreams were derailed by what he calls the "vast corruption" and bureaucracy of the Belgian architecture world.
"It made me very depressed," he says. "It's extremely strange, especially in the French-speaking part of the country … It's not a meritocracy and you can see that. People appoint their friends. It's very slow – sometimes it takes years to secure a building permit."
Here he pauses, to make his point. "It's easier in Italy, you know what I mean? It's more efficient in many African countries, for sure." Apparently the only public building he ever did, a school, is still not built even though he finished the designs ten years ago.
Berteau was understandably discouraged and it was this that prompted a tactical move into design, now the core of Berteau's work. "For me it is the same job but on a different scale," he explains. "I decided to put my energy and taste for innovation into a field that is less clouded and that has a more direct relationship between me, my client and the result."
He says his mission from now on is to marry good ideas with efficient manufacturing, both with his own work at Alain Berteau Designworks and with Objekten.
"A good idea is nice but it's nothing if there is no relevance between it and the production capability. So that's the way we work. We go together to the factory, we never do the name-dropping thing, I don't care to have any kind of design coming from a superstar," he says.
Although, truth be told, Mathieu Lanneheur might be considered a star in certain circles. "I'm not fashion. It's solutions," he firmly points out. "Daily life is full of annoying things, so you can always try to improve them. You can put yourself in that mode and appreciate or criticise what you use in the office, kitchen, bathroom. Life is a permanent source of inspiration because of that."
"A good idea is nice but it's nothing if there is no relevance between it and the production capability"
It's true that Berteau's collection is full of simple, useful pieces with nicely integrated details. Objekten's desk objects and iPad cases, for example.
The designer is set for more exposure during the Milan Furniture Fair, where he'll participate in Tom Dixon's hotly anticipated MOST exhibition at the National Museum of Science and Technology. Objekten will introduce a new carpet made of recycled polypropylene straps and an oak-panelled folding trestle table that can be assembled in less than 60 seconds.
The piece de resistance, however, is the slightly eccentric-sounding inflatable parasol that has been Berteau's pet project for the last four years. His face positively lights up at the prospect of showing it off to the design community. "I don't know what the reaction will be because, you know, it's new."