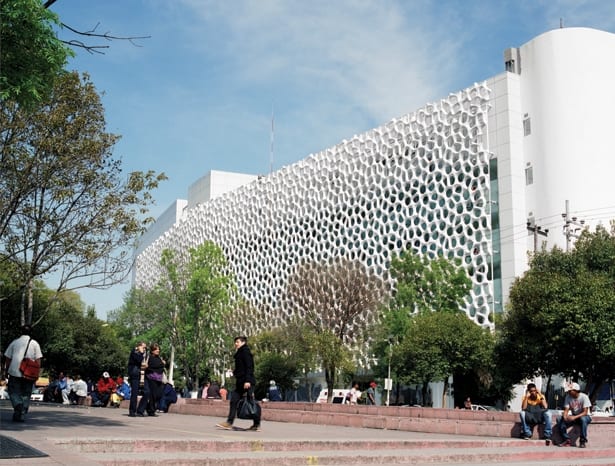 The smog-eating modules at work at a Mexico hospital|||
When Allison Dring begins to talk about smog-eating surfaces, there's a hush that falls over the crowd at the Huckletree coworking space in the Finsbury Square's Alphabeta building. The assembled audience is here for Construct // Disrupt, organised by data management firm BaseStone and supported by Savills, which brings together start up entrepreneurs and property folk to talk all things 'proptech'. As we take our seats on the steps of Huckletree's events area, it's fair to say Dring is the star turn.
With an interdisciplinary background ranging from large-scale architectural projects to design research and manufacturing, she co-founded Berlin-based practice Elegant Embellishments with Daniel Schwaag with a mission to 'reconcile technology and the environment through innovative building products'. Together they have pushed the boundaries of material technology.
"Air pollution is an architectural concern," she says. The technology, known as prosolve370e has existed for over a decade and Dring is at pains to point out that she didn't actually invent it. What Dring did do was harness it for the built environment. The science bit behind the concept is that thermoformed shells are modules are coated with a superfine titanium dioxide that is activated by ambient daylight. "We've compared them to coral," she says. The tiles neutralise air pollutants when they are positioned near traffic or areas suffering from high pollution. Dring describes the modification to the architectural surfaces as enabling them to "tune buildings" to respond better to their surroundings.
A case in point is the Torre de Especialidades, Hospital Manuel Gea Gonzales in Mexico where the modules have been installed in 2012 and where, according to technology studies, pollution has been reduced by the equivalent of 1000 cars per day and has been billed by some as 'the world's largest air purifier'. Installations have also taken place as far afield as Australia and the United Arab Emirates. Other projects that Elegant Embellishments have pursued include the HexChar. This they describe as a 'biochar-based building material'.
In what sounds like a complex process, waste biomass is burned to a char in an oxygen-free oven, mixed with a biodegradable binder and at the end of its life cycle, shredded and 'sequestered' to the earth (sequestering being the long-term storage of carbon dioxide to slow down the accumulation of greenhouse gases). In other words, it's a highly sustainable surface and the cycle reduces the amount of carbon dioxide in the atmosphere. Dring already has a TED talk under her belt and having impressed the Shoreditch set at Alphabeta, you'll doubtless be hearing more from her at events in the UK and beyond.
Multi-disciplinary designer Allison Dring explains how she harnessed smog-eating technology to clad buildings