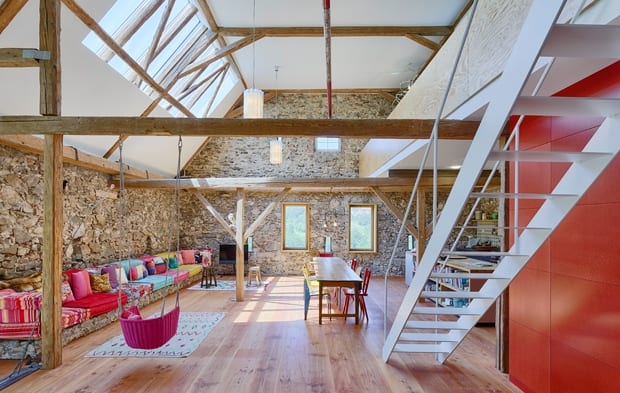 Image: Hiram Floors|||
Deep in Germany's Black Forest – a region of tree-cloaked mountains, idyllic medieval towns and dramatic waterfalls – one company preserves the area's historic forestry tradition while paying attention to the design acumen and environmental demands of the present day.
In this domestic interior, Hiram's Douglas fir has been washed with white lye and white soap. Photograph: Hiram Floors
Hiram Floors are specialists in wooden floors, comprising planks up to 15m long and 40cm wide and produced using local, sustainable timber.
A family business, Hiram was founded in 1984 by Fabian von Saucken as a horse-logging company. In 2000, it moved to the picturesque town of Oberkirch, and, marshaling its growing expertise in sawn timber, branched out into high-quality flooring.
This space features Hiram's Douglas fir with its natural colouration. Photograph: Hiram Floors
Hiram's floors process begins with a team of trained forestry specialists, who comb the Black Forest looking for the finest timber from Oak, Ash, Fir and Douglas Fir trees. Their selection is then transported to nearby production facilities, where it is sawn into wide boards. These boards are then kiln-dried, through a combination of precise machines and expert handicraft, before being crafted into floorboards.
Beautifully shaped with tongue and groove, the boards are examined thoroughly so that every knot can be mended, in a consistent process of quality control.
Hiram's floors are available in planks up to 15m x 40cm in size. Photograph: Hiram Wood.
Each of Hiram's floors is bespoke. The company accompanies the client through the entire process, from initial ideas, though to choosing a wood, preparing it and installing the floor. The company also provides maintenance once a project has been completed, ensuring the durability and continued quality of the material.
For more information on Hiram Floors' products, visit the website.
This is an advertorial feature.
Using locally-sourced wood selected by a team of forestry experts, Hiram Floors preserves its region's historic timber trade