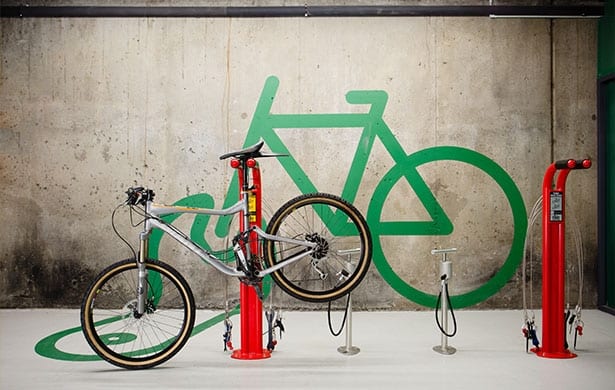 |||
Simple though it may sound, Five at Heart's mission to facilitate cyclists' commute to work requires a complex, multi-layered approach.
"It's getting more challenging for people to get into the city," explains co-founder Justin Sires, who says he will avoid getting the tube at all costs. According to Sires, there are ways employers can encourage their employees to cycle to work, and it can all be traced back to the asset owner and the office landlord – Five at Heart's core audience.
"Developers don't really see the value in investing that little bit more in the space, but there's still an opportunity to get them onboard," he says, pointing out it all hinges on ensuring the best possible outcome for the end-user.
Formerly known as PFL Spaces, the designer and creator of bespoke bicycle storage and facilities throughout Southeast Asia, North America and Europe, Five at Heart believes end-of-trip facilities remain an untapped potential in the UK, and they intend to explore it.
"There's a normalisation of cycling now. It's no longer just about your middle-age man in lycra, it's about having divisions for people with foldable bikes and hybrid bikes; an allowance in bike parking to deal with different types of users is important."
This includes bike maintenance, bike wash, charging units, station for helmets, flooring solutions, a dedicated and clearly defined path for travel, as well as changing rooms with showers and lockers but also airing space, towel service provision, make-up prep, hair and drying station.
To measure the usability of the space, Five at Heart is rolling out Cycle Heart Rating, a tool which allows owners and landlords alike to rate cycle facilities according to five criteria. Sires hopes this tool will allow asset managers to benchmark their properties against one another and maintain a high standard across the world, not just locally.
After delivering services throughout Australia and North America (the team's US headquarter is in Portland, Oregon, known as "the epicenter of cycling" in the United States), Five at Heart is now sprucing up the UK market. It has already done a post-completion rating on Buckley Gray Yeoman's recently completed Minster Building in The City.
"We're working with architects more and more," says Sires, "they see the value in what we offer from a product but also design engagement aspect." Five at Heart is also collaborating with Foster & Partners to refurbish the facilities inside St. Mary Axe, aka The Gherkin, and is looking at the Leadenhall Building and The Shard, too. "When these buildings were designed, cycling wasn't in such a high demand. Today, cycling has become a thing. It's a mode of transport that is only going to increase."
For more insights like this, subscribe to the OnOffice newsletter.
Five at Heart has a vision, and that is to make commuting by bike easy, enjoyable and most importantly, doable.