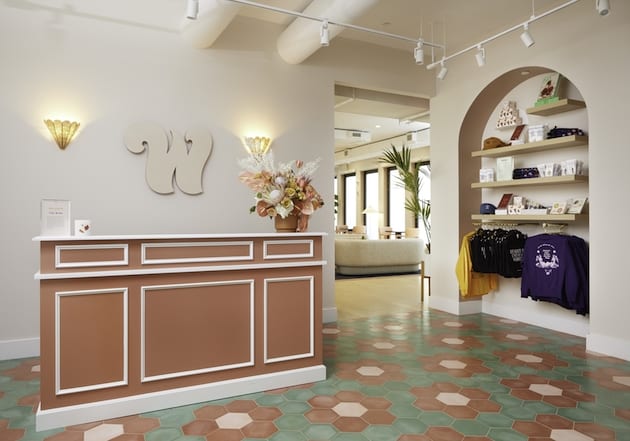 The Wing Williamsburg's reception area has a tiled floor with a floral pattern.|||
Women-focused co-working group The Wing has opened a new office at the heart of Williamsburg, Brooklyn. Serving as both a place to work and to socialise, it is the company's fifth site in New York, and eleventh internationally.
Designed by the company's in-house interior design team led by Laetitia Gorra, it occupies a 12,000 square feet space encompassing two stories and a rooftop terrace.
The workspace has a variety of different seating areas, and a palette that emphasises salmon pink. Photo: Tory Williams / The Wing
Gorra and her team's design cohere around contrasting colours. There are banquettes in zebra stripes set against soft pink walls, nutmeg-hued chairs beneath blue and yellow artworks, and a beauty room where a dusky floral wallpaper surrounds warm salmon chairs.
The private conference room is equipped with zoom capabilities. Photo: Tory Williams / The Wing
The space includes large-open plan areas for seating, a conference room and a quiet area, plus five insulated phone booths for private conversations.
A quiet area provides space for solitary work. Photo: Tory Williams / The Wing
Not merely a workplace, The Wing Williamsburg contains numerous amenities. These include fully catalogued lending library, created in collaboration with the famed Strand bookstore, and an art gallery showcasing a permanent collection of work by women and non-binary artists.
The Wing houses a lending library of books, chosen in collaboration with The Strand. Photo: Tory Williams / The Wing
A programme of events, which launched with a party on 14 February, is set to include Drag Queen Story Hour, a talk by advertising consultant and anti-porn activist Cindy Gallop, and morning meditation and journaling sessions.
The Beauty Room is stocked with products from The Wing's favoured brands, including Chanel. Photo: Tory Williams / The Wing
All aspects of The Wing are designed with women in mind. There is a childcare space, a mother's room stocked with accessories and reusable kits and a private pump room. Another space is filled with products by Chanel, Pantene and others, and there are showers and lockers. It is also the first of The Wing's ventures to have an in-house cafe, specialising in local women-owned bakeries and farmers.
There are extensive facilities for mothers, including The Little Wing, the company's first dedicated daycare space. Photo: Tory Williams / The Wing
Founded in 2016 by Audrey Gelman and Lauren Kassan, The Wing aims to provide women with a place of safety and support, providing members with sites to network, learn and work together. Its name reflects the idea that it might be a 'wing' of someone's home, rather than merely a workplace.
Run on a subscription model influenced by the women-only clubs of the early 20th century, an annual membership to The Wing costs $2350. It currently has over 12,000 members.
The women-focused co-working company aims to provide a space where women can gather together