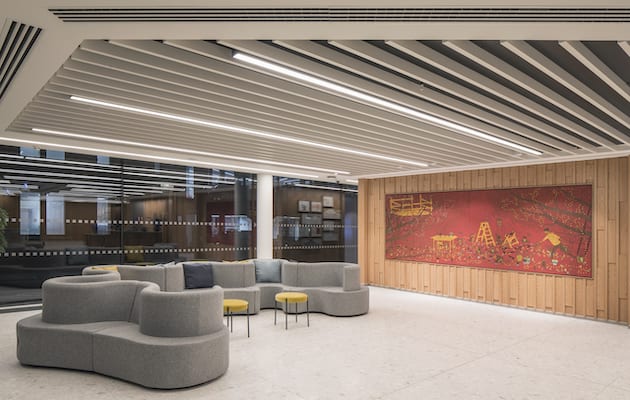 |||
With WELL building standards offering a guide to designers on advancing wellbeing through the built environment, companies around the world are now aware of the impact an office space can have on employees' health.
A new office space in London has put a particular focus on wellbeing in its design: Investment management company Fidelity International's new UK headquarters, a 108,000sq ft office space on Cannon Street in London, incorporates a WELL-certified lighting scheme designed by lighting consultants Nulty.
Based on the idea of implementing a lighting scheme that focuses on employee wellbeing, Nulty's response to Fidelity's brief is the finely tuned balance between the practical needs of the workplace and the desire to put employee wellbeing first.
Nulty worked in close collaboration with real estate appraiser Hilson Moran, architectural designer AEDAS as well as Fidelity to deliver the colourful mix of relaxed and refined working areas on the office floors. The remaining four floors in the building include meeting rooms, lounges and two media studios.
Read more: The lighting technology with the potential to replace WiFi
In the reception area, guests are met with a linear lighting layout that serves as a recurring design motif throughout the building.
Nulty used the linear concept in conjunction with adjustable surface-mounted downlights, diffusing light from both the centre and perimeter of the ceiling to create the perfect contrast ratio for day-to-day working and video conferencing.
Vibia BIG pendants were chosen for the café area, producing a false-skylight effect in the only pocket of the working floors where the designers couldn't access natural daylight.
The office has been designed with sustainability in mind. The highly intuitive DALI system dims lights during daytime hours or when rooms are not in use in order to reduce energy consumption and has also been pre-programmed to alternate between different settings in accordance with use such as daytime meetings, video conferences and intimate evening events.
Kael Gillam, senior lighting designer, Nulty said: "By putting employees front and centre from the outset of this project, we were able to weigh up how lighting is fundamental to wellness in the workplace. Each of the spaces underwent rigorous calculations to ensure it met strict compliance guidelines, without compromising on design or environment."
"The final result is a lively, colourful workplace lighting scheme, which strikes the right balance between professionalism and personal wellbeing," Gillam added
A huge new HQ in Cannon Street shows how important lighting is to wellbeing with a new scheme designed by lighting consultants Nulty