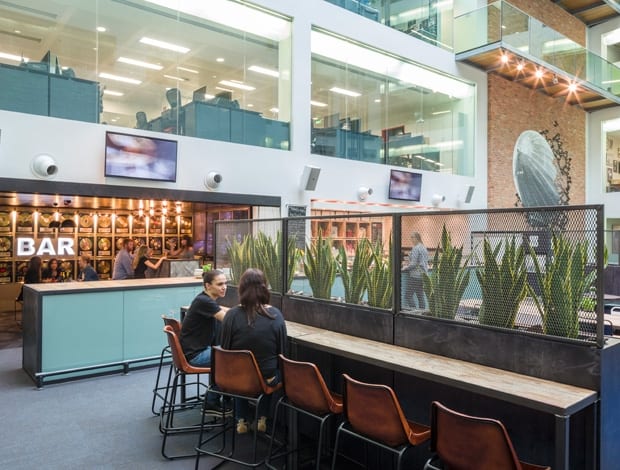 A dimly lit bar under the atrium sparkles with platinum disks|Music House, as it's known, occupies the former home of EMI|"Make it cool" was the brief for Warner's Kensington offices|The custom-made light in the lobby incorporates 80 light bulbs and 28 retro microphone|Graffiti Life's mural makes reference to WM veterans Led Zeppelin|For evening events, the furniture can be easily pushed aside|A number of planters have been incorporated into the design to keep the air fresh|The zinc patchwork bar and subdued lighting demarcate the bar area from the cafe in the atrium|The service entrance is elevated by music-themed graffiti|The gallery was designed to feel like a nightclub|A VIP area off the gallery features lighting within mesh cages|The Atlantic floor incorporates touches of orange to tie in with its logo colour|Orange rope used to create a space divider on the Atlantic floor|The Parlephone floor uses a neutral colour palette to allow staff to personalise their areas|The Warner Music in-house photo studio|Contemporary furniture lessens the corporate feel in a meeting room|Woods Bagot sourced a large amount of the furniture from Ebay and similar sites||
Warner Music's London office has all the ingredients you'd expect from a big recording conglomerate: from graffiti murals to moody lounges and night-time event spaces, it's gone all-out to illustrate some hip credentials
The brief for the design of Warner Music's (WM) London HQ was deceptively simple. "Make it cool," they said. The space needed to appeal to existing and potential clients alike, the former spanning from edgier artists to the bubblegum pop of Lily Allen to the distinctly cheesy whiffs given off by Michael Bublé and James Blunt. This presented designers Woods Bagot with the challenge of translating "cool" into a language common to all the artists on WM's roster.
Music House, as it's known, inhabits the former EMI building near Kensington High Street. Natasha Bonugli, Woods Bagot's head of workplace interiors, says the record company wanted its HQ to feel more like a club than a corporate office – perhaps to retain the anti-establishment swagger of independent music labels.
This is in evidence before you even reach the building: its credentials blaze through the glass-fronted lobby and down the street thanks to a show-stopping chandelier, comprising 80 light bulbs and 28 retro microphones, vast LED screen and imagery flaunting its most popular artists. Black floorboards in the lobby reinforce the vibe, while bespoke buttoned-leather seating blocks can be kicked back to make space for functions and private gigs.
Around the corner, there's a 5m-high graffiti mural of Led Zeppelin's airship bursting through the brick wall (the band is WM's longest-serving artist). It's a painterly representation – nothing too flash. The artists responsible, Graffiti Life, also produced another piece enlivening the building's back entrance, which is used by the big names, who require greater privacy. It shows the music industry and associated memorabilia as a timeline in bold cartoonish graphics ("You don't expect that from a service entrance," says Bonugli).
A vast atrium, corralled by five storeys of office space, forms the heart of the building and is the main communal area. It houses the WM cafe, a coffee shop and a subsidised bar, which opens on Thursday and Fridays to encourage staff to mingle. On a midweek lunchtime, the cafe is infused with natural light from the glass roof overhead, and feels distinctly un-club-like. Employees clutching trays obediently queue for their lunch. In the Midnight Hour by Wilson Pickett plays in the background. Bonugli explains that the rows of fleshy succulent plants are important for office health and air quality. Not very rock and roll.
"It's all kick-back furniture and the planters are on castors [so they can clear the space]. They fitted a marquee in here once"
But Woods Bagot has designed versatility into the scheme. The industrial ingredients of reclaimed timber, mesh dividers and aged-leather furnishings are all there, and you can imagine how it dresses up at night, the five-storey space turned into an inky well beneath the stars. "It's all kick-back furniture and the planters are on castors [so they can clear the space]," says Bonugli. "They fitted a marquee in here once."
The gallery and bar, which flank the atrium space, seem to be permanently set to night mode, with dimmed lights and blackened ceilings. At the back of the bar, the Wall of Fame comprises an impressive number of platinum records, their surfaces gleaming spokes of reflected light. The gallery is lined on one side with stocky leather banquettes, strategically positioned opposite bespoke metal frames used to display images of top performers. These can be switched in and out depending on which artist is visiting. There are low-hanging bulbs framed in steel mesh cages and a swing suspended on heavy chains in one corner; the latter was apparently installed at the behest of the CEO. You can't help hoping he'd have loftier demands; still, you can't fault an easy customer.
Upstairs, the formal meeting rooms are kitted out with contemporary designs by the likes of Moroso, &Tradition, Muuto and Hay, which help to subvert the corporate babble. They are dotted across the office floor alongside the artists' lounge, where WM clients can listen to new tracks and videos, play music, and, more importantly, potential artists can be taken to sign on the dotted line.
There isn't a hint of the office in the lounge onoffice is taken to see. Low key, but definitely luxurious, thick rugs cover timber floors, vast sofas just ask to be sprawled across, and pressed-tin tiles reclaimed from a pub make up one wall. All of this creates a cosy backdrop for a retro keyboard, record player and stacks and stacks of records – it's basically a musician's playroom. "If artists are signing a deal, they feel more relaxed in a lounge setting than they would in a conference room," says Bonugli.
The new HQ brings WM's 500-strong workforce together under one roof for the first time. To maintain the distinct identities of its subsidiary labels (Parlophone, Warner Brothers and Atlantic Records), each was assigned its own floor. While dark-green walls and black window frames provide continuity across different levels, Woods Bagot worked with the heads of each label to create a fitting environment for their own employees and music artists. "They know their artists and their staff best, so they shared their vision of how their floor should be," Bonugli says. "We did workshops and showed them lots of imagery, so we could distil that vision into a design."
Occupying the top floor, Atlantic Records has the look of a private members' club. Exposed services on the ceilings have been painted black, and the serried rows of office desks have been softened by a large number of informal breakout spaces. Within these, pendant lighting casts a moody glow. "Staff are complaining the lights are too bright, although they're on par with the code," reveals Bonugli. "They're just used to listening to music in a very relaxed environment." Loose furniture is dressed in warm tones and different textures; most was sourced from eBay and similar websites, but despite each piece being different, you wouldn't know.
The most obvious reference to Atlantic is the red-orange of its logo – and its top artist Ed Sheeran's hair. It's subtly picked up in the back-painted glass that tops the pre-existing storage units, the upholstery, the inside of oversized spun-aluminium pendant lights, and a bespoke room divider of thick orange rope.
"We couldn't find a natural orange rope, so we did a mock-up in our office with clothes dye," Bonugli says. "When the [fit-out people] said they couldn't do it, we said 'don't say you can't do it' and we brought it in to show them the next day. Never say never. You can do it if you put your heart into it." You get the feeling people don't often say no to Bonugli.
"They wanted to make the space their own, so we designed a platform for them to do that"
The Parlophone floor feels lighter and more youthful. A divider made of black-painted scaffolding is threaded with wooden apple crates that spin around. Various props from concerts and music videos add a slightly surreal element – Lily Allen's ceiling-height glittery rocket and Coldplay's spaceship to name just a couple. The walls are clad in cork to allow staff to pin up laminates, set lists, promotional materials and so on to customise their spaces. "They wanted to make the space their own," says Bonugli. "So we designed a platform for them to do that."
The autonomy given to staff and CEOs to 'play designer' in their own areas must have been a delicate experiment, but there are very few bum notes. The Woods Bagot team can't help giggling as we walk past a private office that looks as if it's been hit by a Saturday Night Fever glitter ball. "He had a very specific idea of how he wanted it to look," they say by way of a disclaimer.