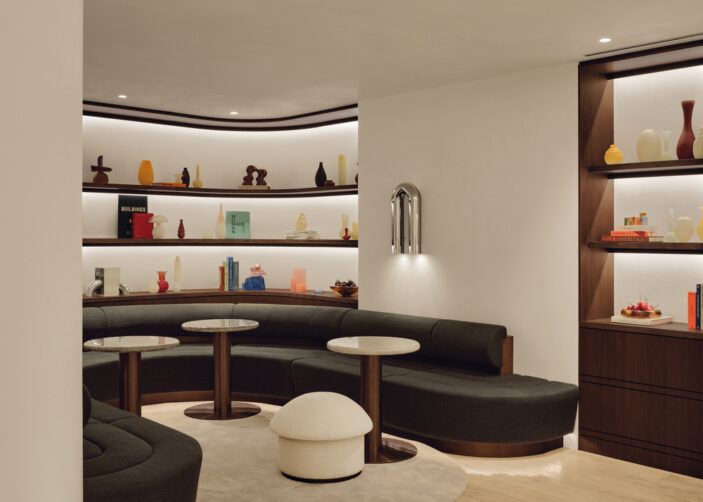 Sid Lee Architecture transform the lobby, lounge, and restaurant areas of the Vogue Hotel in the heart of the Golden Square Mile in downtown Montreal
The five-star Vogue Hotel in the heart of Montreal's downtown has been a fixture of the city's luxury hospitality scene for decades. Its recent takeover by a new ownership group has brought with it a welcome refresh of its common areas by local firm Sid Lee Architecture.
The new owners wanted to imbue the lobby, lounge and the hotel's bistro and restaurant with the quiet luxury and opulence more frequently found in the grand hotels of Asia and the Middle East.
"Our first gesture was to shift the lobby's original axis to provide guests with a three-tiered experience. The strategic placement of the F&B offering along the hotel's glass façade paired with independent entrances keeps it connected to its neighbourhood," explains Martin Leblanc, architect and principal partner at Sid Lee. "We also integrated a dramatic fireplace, rendered in mirrored bronze, as the lounge's centrepiece. Its visibility from the street invites people to come in, gather and warm up during Montreal's cold season."
Exceptionally curated materials add to the grandeur of the redesign: the reception's elegant, slab-like front desk is crafted from the same Turkish travertine that was used for the floors, and is enveloped by an Italian black walnut backsplash, which ties into the space's matching colonnade. A custom banquette and a curved sofa, both upholstered in cinnamon ultrasuede and paired with a walnut coffee table, make for an inviting corner, while Quebec-sourced white oak flooring was chosen for its noble feel.
Undulating lines and a pared-back palette make this a soothing, almost sensuous interior. "We have softened hard corners and embraced free-flowing lines in order to emphasise the space's curved sensuality," continues Leblanc.
Carefully thought-out lighting elevates the space: a redesigned floor-to-ceiling glass facade by design firm LemayMichaud now opens the hotel to the street, allowing natural light to interact with the interiors. Colourful glass light installations, such as the sculptural Sainte chandeliers by local studio Lambert & Fils, draw the eye, while bespoke wall sconces illuminate every corner and curve of the space.
To catch your breath, head for the lobby's Cabinet of Curiosities, a nook that's filled with books and art works, such as hand-blown silica glass vases by local maker Verre D'Onge. Here, a U-shaped tweed banquette nestles against a built-in bookshelf that wraps itself around the space. "It was also important to offer guests a moment of serenity from the hotel's bustle," concludes Leblanc.
Images by Alex Lesage
Enjoyed this article?  Read more: Danish minimalism with a brutalist edge creates a tranquil workplace at the Zendesk Montreal office by MRDK and Studio MHA