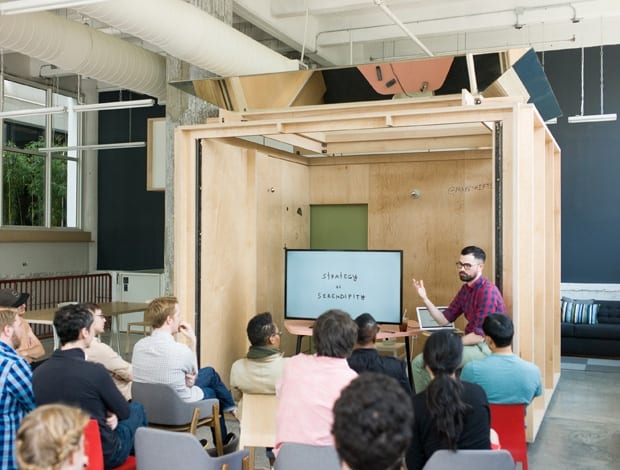 A conference that opens up to create a stage for events|As well as renting workspace by day, week or month, Makeshift hosts events and classes in the space so the design needed to be highly flexible|Phone booths offer privacy within the open space|Wall graphics and a terracotta-pink, hexagonal table lend character to a meeting area|Mismatched furniture in a breakout area|The space retains the "scars" left by loading dock when the building was a pencil factory|From a distance the tables look finished, but up close fasteners and seams are visible|The communal kitchen space|Makeshift Society Brooklyn is the company's second workspace, which follows Makeshift Society San Francisco, created in 2012|The bookcase is concealed behind the conference cube, creating a quiet area|The solid maple entry counter has been designed without "unnecessary angles or arbitrary shapes"||
Dash Marshall transforms an old pencil factory into a co-working space for Makeshift Society Brooklyn
You might wonder what connects Dash Marshall to the 18th century British architect John Soane, artist and furniture maker Donald Judd and Disney movie Wall-E. The answer is that this unlikely trio inspired the interiors firm's design for the new Makeshift Society office in New York.
Based in a former pencil factory that was built in 1907, the Brooklyn-based co-working space measures 371sq m, split over the ground and half-basement levels. As well as renting workspace by day, week or month, Makeshift hosts events and classes in the space so the design needed to be highly flexible.
Dash Marshall's solution to the 'flexibility issue' was informed by John Soanes' house where the architects used hinged panels to create extra wallspace to hang his bulging collection of paintings.
Bryan Boyer, principal of the practice, describes how one of the conference rooms appears to be solid, but can be opened up and turned into a stage for events. Placed in the centre of the space, it divides it the room up creating smaller areas on each side, while a bookcase is hidden against its back wall.
Similarly, a standing workspace along a maple wood counter also acts as a privacy screen.
In order to regain the texture of the pencil factory, Dash Marshall stripped the walls and columns back to the cast concrete beneath, and then whitewashed the walls. Details such as the "scars" on one wall from the old loading dock have been left visible.
The team took inspiration from the American artist Donald Judd's furniture, which is known for its unaffected, straightforward clarity and was often made out of plywood.
In the spirit of this, the solid maple entry counter has been designed without "unnecessary angles or arbitrary shapes". Custom-made fittings in millwork of maple plywood and solid maple, as well as perforated MDF blend with the environs and furniture used.
These features are echoed by the simple, pale wooden desks and bookcases, soft seating with wooden frames and stools with wooden tops. Phone booths at the back of the office feature muted green doors, and meeting areas hold hexagonal tables in terracotta pink. Breakout areas are populated by low-key mismatched furniture.
It would have been easy to run with the "Makeshift" name and to design the space in a "ramshackle way". However, Dash Marshall wanted to create tensions between "messy and clean", "closed and open" and "analog and digital". This the practice likened to perhaps its most unlikely source – Wall-E by Disney about a union between a rough and shoddy robot and a shiny, new one leads to a better world.
"At the Makeshift Society that means things appear relatively slick, but upon closer inspection you find that the fasteners are exposed and the seams are visible," says Boyer.
"It's an invitation to think about how the elements we have today might be reconfigured to make a better tomorrow."