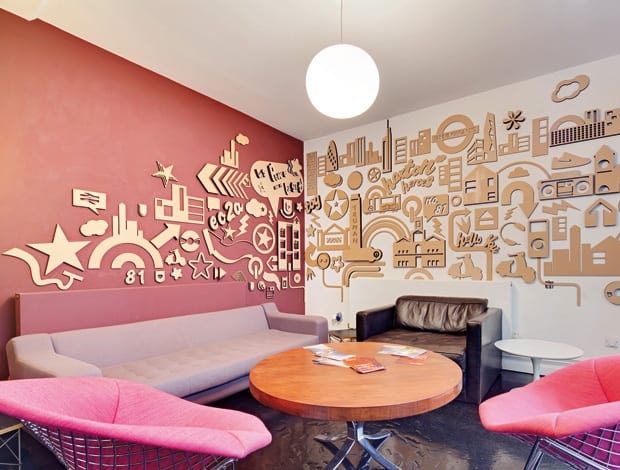 Shoreditch's charms laid out in graphic style in the entrance area|MDF never looked so good: the local area brought to life|Jurgen Bey's Ear-chair lends the meeting area a little eccentricity|Anything but blah: a neon wall installation ribs the shortfalls of East London's 'communication industries'|Lucky seven: vintage lettering on the wall denotes each room number|Original deco features survive from the building's former life as an annex to Shoreditch Town Hall|Free-standing units displaying flea-market finds break up the main communal meeting space||
Art and interior specialists Acrylicize didn't need to look far for their ideas when they were asked to inject some life into 81 Rivington Street, Shoreditch, an art deco civic building turned serviced office. The entrance installation, a 3D-collage of laser-cut MDF graphics, references the cultural heritage of the area, namely local architecture and landmarks as well as fashion, music and design icons, spanning an entire wall and dispersing onto another. Mixing shape, depth and detail, the graphics turn the entrance into an engaging space without drowning out the open, industrial feel of the interior. "We were intent on embracing the personality of the building as well as its locality," Acrylicize's creative director James Burke explains. "Since becoming serviced offices the space was left blank and uninspiring" – architects Wells Mackereth did the original conversion in 2008 – "so we wanted to reignite some of the heritage of the building and the area."
In among the silhouettes of tube signs and the Truman Brewery, there are two mopeds – a recurring motif used by Acrylicize in its projects for repeat client The Office Group, whose directors both ride Vespas.
"We have a shared philosophy with the client," Burke explains. "It was great to meet them and start working with their spaces." To date the company has created bespoke art installations for corporate offices in Kings Cross, Islington and Tower Hill, which range from a 3D acrylic wall installation, a super-sized light bulb suspended from the wall and crammed full of miniature acrylic people, and an acrylic relief depicting Kings Cross station.
"We operate like artists, looking for the opportunity to try something new with every new commission," says Burke. "From the client's perspective, they know never to expect the same thing twice." It's a challenge Burke clearly relishes: "I graduated in contemporary art," he says. "Maybe that explains the search for something new, not one winning formula to roll out."
The first pitch Burke made with his business partner on graduation was a project for Wembley Stadium, where a giddy combination of raw enthusiasm and football fandom won them the commission. Since then they have worked on the Emirates Stadiums, hospitals, private homes and office spaces, coming at each with the same creative appetite, and the company has now grown to six. Acrylicise's installations include a world map made of Monopoly homes (for a property broker); a tube map constructed from coloured ribbon and nails (for an estate agent); and a life-size banker strapped to a wall (installed in an office adjacent to the Bank of England). Its latest centrepiece, with architects Jump Studio, is a colour-changing light-wall for marketing and communications agency The Engine Group.
The Shoreditch project did nothing to dampenits slightly tongue-in-cheek approach. "When we assessed the core communal space at Rivington Street, the first thing it needed was brightening up," Burke explains. "We were really eager to do a light installation. Because it's the space people came to drink coffee and chat and it's in the middle of a lot of communication-based agencies, we went with a flashing 'Blah, blah, blah, blah' neon-tube signage."
To continue the theme, Burke created bespoke graphics depicting an old microphone and vintage gramophone, printed on textured wallpaper and framed in heavy wood. The space was finished in the same dark green Tektura wall covering, and Burke commissioned some free-standing units to create more intimate booths for impromptu meetings and breaks. The units were filled out with a collection of objects following a shopping spree of favoured antique markets and reclamation yards. Each of the meeting rooms are numbered in old vintage lettering, for which the team trawled all over London."In a building of serviced office spaces, each company will do something different; we wanted to tie the spaces together, but in a loose way," says Burke. The remainder of the furniture, fitted out by The Office Group, includes a mixture of Knoll Bertoia chairs upholstered in pink, sofas from Naughtone, Ear-chairs from Studio Jurgen Bey, Eames Eiffel chairs, Ercol tables and a collection of pieces from different auction houses. "We always work with interesting buildings," says The Office Group's director Charlie Green, "and on this occasion we were lucky enough to have a beautiful listed deco building as our canvas. It was critical to get the right furniture and the right artwork to complement that."We want to create spaces that are interesting and stimulating, so people stay with us," he continues. "But more than that, it's a desire to create office spaces that stand apart from the usual corporate offer."