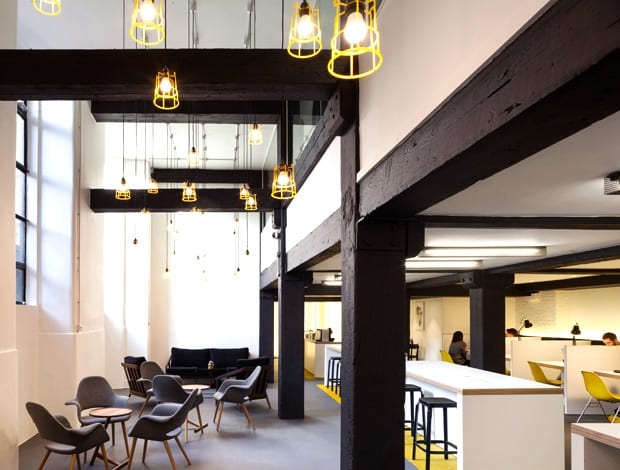 A lo-fi look comes partly from the fact the fit out is temporary|The Victorian factory and 1980s extension are united by a lot of black paint|Furniture came courtesy of SPC Contracts with desks by Unto This Last|Individual spaces for quiet working|Breathe the creative air of Shoreditch in the courtyards and roof terrace|60p a pop cage lights|Protruding timber door frames match the structural beams and supports in the main office||
Gone are the days when working in London's Shoreditch entailed a dirt-poor YBA's studio or Nathan Barley-esque squat-come-spaceship. While the hipster credentials remain, what has evolved in this corner of east London is a professional, commercially minded and far slicker workforce – an emerging breed of freelancers, start-ups and SMEs intent on marketing their creative skills to international brands keen to tap into the youth market. Popping up among the coffee shops and street-food stalls are large, flexible working hubs that offer them drop-in desk rental, wi-fi and access outside of nine-to-five working hours, but with the added benefit of professional services, such as glossy meeting and conference rooms in which to woo big global players.
"Shoreditch is an area that has a certain cachet that people aspire to be part of," explains BuckleyGrayYeoman associate director Amr Assaad, who has just led the design of one such flexible working hub for The Office Group. "Tenants that work here want to be close to other people that are doing similar things, so community and interaction is very important." With this in mind, The Office Group briefed BuckleyGrayYeoman to develop a two-phase plan for its new east London outpost that maximised the potential of the site in a way that was both cheap and design-conscious. Initially the architects would provide a temporary solution – a shared workspace in the existing building that put community and the Shoreditch aesthetic at its heart, while also drawing up plans for a much larger redevelopment project later down the line.
A hodgepodge of a hundred year's worth of additions and updated architectural features, the site – a Victorian former furniture factory and 1980s "ugly duckling" extension – is unique for the area as it's a standalone volume, sitting independently from its neighbours. It was this USP that kindled the idea to transform the disparate sections into a distinctive black monolith outside and a clean, whitewashed space inside.
"We wanted to unify the outside and make it one solid object, hence the black and white concept," says Assaad. "The black ties the two buildings together and creates a single identity that's recognisable from every direction."
Despite the short-term nature of the first phase, BuckleyGrayYeoman felt that orientation of the entrance and reception needed addressing immediately. Getting rid of the site's peripheral car park, the architects introduced a timber-framed cuboid pod that lies perpendicular to the office block and dissects the car park into a spacious walkway in front and a secluded courtyard garden (now complete with three shipping-container meeting rooms) behind. The result is that visitors and members now enter the building directly in front of the receptionist's watchful eye, improving both security and everyday interaction.
Key to making the project commercially competitive was creating an impressive communal area that potential tenants would be immediately drawn to. The obvious place for this Club Room was the impressive double-height former factory – a beam-filled, semi-industrial space that embodied the informal yet trendy vibe that the project aimed for. "What makes Shoreditch Shoreditch is the architectural language of change and evolution, something which continuously works around the changing population. Keeping some of those treasures – such as the beams – where you can, and working with them, really makes it special," says Assaad.
This large open-plan volume has been split into a communal kitchen at one end then a workspace with two large tables and individual booths along the back, each equipped with a retro-style desk lamp and power sockets. As with the rest of the building, the fit out of this space makes smart use of low-budget fixtures, such as polycarbonate sheets, garden-centre-bought trough basins and taps, and 60p-a-pop cage lights more commonly found on building sites.
"It is a pop-up, so we were very conscious of costs," Assaad says. "We were aware that it was going to be temporary in some respect so we wanted the fit out to give hints of this temporary nature." Choosing to save money on some areas meant that cash was freed up for more luxurious touches elsewhere, such as furniture from local design shop SCP and bespoke desks and wooden fixtures from Unto This Last. In communal spaces the monochrome palette has also been supplemented with a bright yellow: "We thought that if you added a very controlled amount of colour then it almost emphasises the black and white nature of the building," says Assaad.
"We thought that if you added a very controlled amount of colour then it almost emphasises the black and white…"
The private offices have been painted then equipped with minimalist furniture, to allow the tenants to customise their space as much as possible. Each floor has a communal kitchen, with much of the structures built from translucent polycarbonate and whitewashed OSB. "These spaces are intentionally simple. We didn't try to make it anything that it wasn't," says Assaad.
Above the offices of the 80s block, the architects reclaimed the unused roof, transforming it into a vibrant garden. Solar panels and a rainwater harvesting system were fitted as was a sedum roof over the new reception pod. It's from this rooftop space that it is overwhelmingly obvious just how little of the site, with its two courtyard gardens and expansive kerbside entrance, is actually in use. Hence phase two, which involves maximising the net volume of office space the site can hold. Currently at the concept stages, it will involve a much more comprehensive scale of building work, and a bigger commitment in terms of time.
"The good thing about this first step is that we've tested the market and the concept had taken off really well," says Assaad. "The brand that we helped create in terms of the space has really laid the foundations for what this site can be in future."