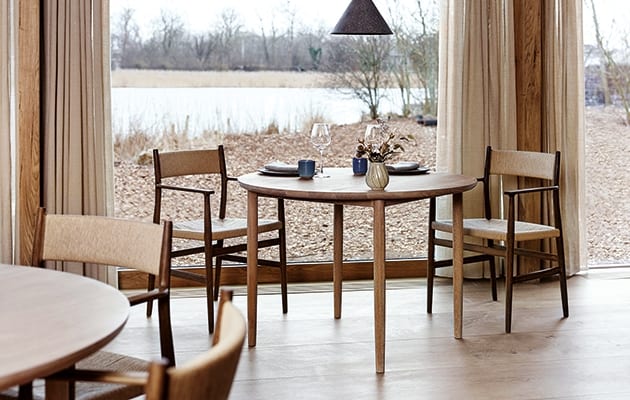 Light ARV tables and chairs fit in with the Noma style. All photos: Winchmann + Bendsten|||
After a seemingly long yet peaceful journey out of Copenhagen's city centre, you're greeted by an influx of traditional Danish housing and roads lined by their industrial counterparts. Still in the suburbs, this tranquil and slightly mechanised area is a place that combines heritage with modern craft – and the place where the new home of the fifth-generation family furniture company Brdr. Kruger sits with pride.
The headquarters is visually stunning, with trees and fields surrounding the large-scale building; not only is there a clear display of the company's history housed within, but a delicious scent of wood lingers on its doorstep.
This new development aligns itself as the company hub, with three workshop sections and a public showroom designed by Copenhagen designer OEO Studio – an essential space for the company to showcase products, collaborations and many aspects of the manufacturing process.
The ARV dining table in the Noma restaurant
On entering the workshop, the scent of wood intensifies in a glorious manner and you're welcomed with stacks of smoked oak and various incarnations of products that signify that this is a place of tradition. Wandering through each section, you are reminded of the impeccable skill and patience that lies behind the scenes in your typical woodturning workshop.
Then the final turn takes you towards the showroom, where you can admire the company's latest creations, including a significant collaboration with the acclaimed new Noma restaurant in Copenhagen and Studio David Thulstrup – an architecture, interior and design practice that is based in the city.
Looking back, Brdr. Krüger was founded in 1886 by two brothers, Theodor and Ferdinand Krüger. Over 130 years have gone by, yet the age-old traditions of woodturning are kept alive in these walls. Technology has evolved and globalisation has allowed for mass connectivity once unimaginable but, despite these changes, Brdr. Krüger is a company that's remained loyal to its craft and passion for creating with wood.
The ARV's Oak frame has been matched with Danish paper cord
The baton now rests in the hands of brother and sister Jonas and Julie Krüger. Both have varied backgrounds outside the woodturning industry: Jonas previously worked in graphic design, while Julie delved into costume and tailoring on Savile Row. Yet, having explored other industries, the siblings could bring new skills and a fresh perspective to the business.
"We call it a new turn of tradition. It's a word play on being an old woodturning workshop – one that has a philosophy based on traditional craftsmanship, but with a contemporary twist," Jonas says.
This turn made headway in 2013, after their parents, Niels and Jyliane, helped redefine the company's new direction as a design brand in its own right. "They looked at our past, looked at who we are as people, at this new-generation change that is going on with us now, how the world looks different than it did 30 years ago and also how it can fit in our time."
Brdr. Krüger's showroom was designed by OEO Studio
With this in mind, Brdr. Krüger's latest project, the ARV collection, reflects its forward-thinking attitude. The collection comprises bespoke furniture pieces for Noma commissioned from Studio David Thulstrup by its founder and head chef René Redzepi.
The ARV design process was short but highly effective: "We spent three months building a catalogue of what we knew. It took a week to sketch, and we knew we wanted to work with a smaller company that had the capacity and skill set to turn it out quickly," explains David Thulstrup from the studio.
"We invited Brdr. Krüger in, we showed them the sketches and in a week they came up with a prototype. It was amazing for them to do it so fast."
The result is a chair that sits somewhere between a dining and desk chair. Its striking qualities see a classic shape given a contemporary structure, with its branch-like formation connecting 15 different parts with precise joinery and CNC milling – similar to a tree trunk.
The highest level of quality craftsmanship and use of modern technology has been achieved: the frame is made from oak, while the backrest is sculpted into fluid curves with hand-woven Danish paper cord, designed to support the back in its most natural form.
This approach also resonates with the ARV table, which comes in both round and square options where the same branch detailing can be seen in the joinery.
Hans Bølling's tray table has been made by the company since 1963
In terms of materiality, it was vital that the ARV collection fitted well with Noma's Danish design heritage. The collaborative team wanted to create something that had character, so rather than just using plain oak to construct the tables in the main dining room, they managed to source a 300-year-old tree that had seen 200 years under water before it was pulled to shore.
"The design is more contemporary but it's also something from the past – it's how these things have been combined," says Thulstrup.
The complexity of the ARV collection accurately portrays the personalities of this distinctive trio: René Redzepi of Noma, Studio David Thulstrup and Brdr. Krüger. Setting out with the aim of designing what Thulstrup describes as a "home for many years", the sense of achievement at the new Noma is astonishing. It's a welcoming place of design, food and tradition, with materiality and wood taking centre stage.
Brdr. Krüger's updated and modernised approach is certainly something that we can all relate to: it's about keeping the family tradition alive in a modern era, and collaborating with likeminded creative people.
Have you subscirbed to the OnOffice newsletter yet? Do it now!
Danish family woodturning business Brdr. Krüger is moving forward as a design brand, with a new collaboration with world-class restaurant Noma