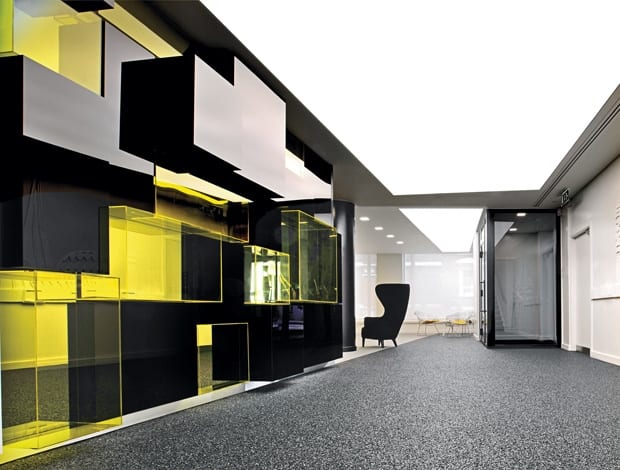 The Interiors Group's yellow and black logo provides the theme – here, in a wall of acrylic|Artist Dan's Flavin's work using fluorescent tubes inspired the yellow lighting throughout|Shiny Tom Dixon pendants bridge the workstation area above and the meeting areas below|For large presentations, the meeting room's doors fold back to unite with the reception space||
Like the distinctive shopping bags from nearby Selfridges, it's all about the yellow and black at The Interiors Group's new headquarters in London's Balderton Street. The dramatic yellow recessed ceiling lights that surround a massive media wall in the informal entrance zone perfectly echo the square brackets on the company's logo – and were what made me realise I'd arrived in the right place. These corporate colours are a little reminiscent of ITV's, and once you've got properly inside, with the bank of screens behind you, the effect is a little News at Ten-like. Bong! All this is part of The Interiors Group's plan to make this workplace "memorable yet functional".
Interior designers Scott Brownrigg were charged with consolidating the workforce from two sites, one from nearby Bruton Place and one from Sunbury-on-Thames in Surrey. Was it tricky having one of the country's best-known fit-out firms as a client, I ask Scott Brownrigg designer Renate Sa. Not at all, she insists. In fact, it allowed them to take more risks. Not to mention specify high-end products on more favourable terms than others might be able to manage, adds Interiors Group CEO Andrew Black. Hence the unusual black Flowcrete floor in the entrance, which could just have ended up resembling a Tarmac road but just about gets away with it, and the Vitra Alcove sofas, in a shade of white that one imagines must give the cleaners quite a headache. A Barrisol ceiling system here brings a light crispness to an area which had previously suffered from a lack of natural daylight.
The adjoining space on the ground floor is taken up by a pair of meeting rooms. The 'funky' room has tri-folding doors that can open up to accommodate larger gatherings and presentations in the reception. Here, the coolness of the white leather chairs and glass table is balanced by the warmth of the walnut panelling used across one wall. This is no ordinary timber wall, however. Using fibre optics, LEDs and other lighting gizmos, an infra-red photograph of a 1960s London bus can be summoned to appear on the wall, and with the twiddle of the controls, the ordinary walnut wall returns. It's a pretty neat trick, no question.
Adjacent to this meeting room is a transition zone featuring yet more talking points for visitors: yellow and black acrylic boxes of different sizes and depths dominate one side of the space, again referencing The Interiors Group's branding, while opposite is a white-on-white city skyline. In case you don't recognise all the iconic London buildings, there are a few from Abu Dhabi just to throw you, a reference to the company's other office in the UAE capital. Further back, the second meeting room also features a skyline motif. It has a more serious feel to it, with Fritz Hansen's Oxford chairs and a ceramic-topped meeting table by Methis making the space seem that little bit more corporate. Running longside the stairs there is a compact servery area. Staff can enjoy a cuppa at the stand-alone walnut bench, or hold informal meetings here – there are stools provided, but equally it fits in with the trend for stand-up working and gathering. There are subtle accents of yellow on the bench's storage inserts along one side and a bright, canary-coloured tap sat atop the sink. "We wanted to make this area quite moody and with the mirror at the back, it also gives a feeling of space," says Sa. A single yellow fluorescent strip on the wall is an homage to American minimalist artist Dan Flavin, whose work with fluorescent tubes was a starting point for the whole project. "The interior had to grab people's attention; it had to be inspiring," says Sa.
The skylines and acrylic boxes, as well as another piece of wall-art with copper piping fashioned into the word "innovation", are the work of Acrylicize, which worked with Scott Brownrigg on creating site-specific pieces. Look around and you can spy a few more pieces of art. There are two large egg-shaped sculptures by sculptor Andrew Sinclair: Going to Work has a roaring lion on the top, while The Big Idea features a spread-eagled cockerel. And instead of a rather ugly street view, those heading up the stairs are treated to photographer Barry Crawston's image of the Wills Tobacco Company in Bristol, sourced from the Affordable Art Fair.
The reflections on a set of suspended Tom Dixon's Mirror Ball lights add some distortion to the interior. They also provide a visual connection between the ground floor and what Black refers to as the "engine room", the first-floor area with workstations for the 50 or so staff plus the now-ubiquitous booths for privacy. Nothing too out of the ordinary here, but it's the client-facing downstairs that is the star attraction in this workspace. Says Black in conclusion, "We just want to show people what can be done."