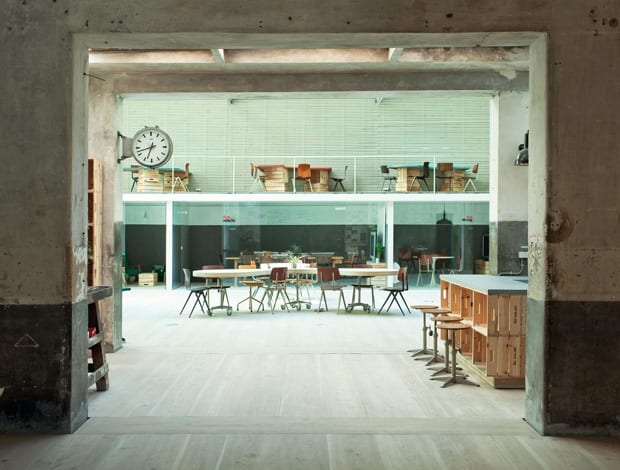 The Hub proves that low budget is no problem (as long as you have crates)|ch+qs's cloverleaf-shaped tables, dwarfed by the high ceilings of the former garage|Much of the furniture is second-hand – either donated by members, or a vintage piece||
The Hub is a social enterprise: a global network of people all working in some way for social or environmental good. The shared ambition of Hub members is nothing less than to change the world.
These socially minded individuals are innovators, founders of companies, drivers of new ideas and business models, or just those determined to use their marketing, finance or PR skills to ends such as propagating corporate social responsibility. And they need somewhere creative, cool and in-keeping with the organisation's principles to come together to work, learn and relax (membership of the Hub means you can lease work/meeting/event space on a flexible basis). It's much more fun changing the world together, after all.
The worthiness of such an organisation can, on some levels, make you squirm, but taking the founding of a Hub in Madrid as a case in point, it seems as though goodwill really does breed goodwill, and that ideas about change can inspire and encourage a certain degree of reciprocity.
A group of four young entrepreneurs set out to establish the Madrid headquarters of the Hub network (bases already exist in London, where the organisation was founded, Amsterdam, Johannesburg, Atlanta, Stockholm and Tel Aviv, to name a few). They held a small competition for architects, which resulted in a cooperative arrangement with architects ch+qs (Churtichaga and Quadra-Salcedo), a small but dynamic Madrid-based firm. It wasn't an ordinary kind of architect/client relationship, as Josemaría Churtichaga and Cayetana de la Quadra-Salcedo explain; it was more a collaboration of ideas. "They had a little budget but big dreams about this space. They wanted it to feel both like home and like work," says de la Quadra-Salcedo. "You had to be able to have a siesta here, but also a business meeting."
It was no ordinary space, either. The site that the Hub had found was a former garage in a residential area on Gobernador, off Paseo del Prado, the street that runs from north to south Madrid, and the main axis of the city. "It is very close to the main museums – a very lively area, full of tourists," explains de la Quadra-Salcedo. "It is unusual to get a space of more than 100sq m in this area, let alone 350sq m." The garage had not been touched since the 1940s, and still held a lot of history and character. Which is fortunate, since the budget for the revamp was low.
"We fought to keep the walls as they were, as they had such a rich patina – painting them would have been a terrible waste. But leaving everything concrete would have been too industrial," explains de la Quadra-Salcedo. " The space needed to be made warmer, friendlier, more insulated and more sound-absorbent." With the walls left untouched, the first major change was made to the floor. ch+qs had a long-standing relationship with Danish flooring specialists Dinesen, and approached them for help. "When they learned the nature of the project, and what we were doing, and on what basis, they came on board to install wooden flooring at cost price," says Churtichaga. Wide planks of Dinesen Douglas fir, treated with lye and white soap, were laid throughout. The wood complied with all the sustainability requirements, and an energy efficient underfloor heating system was also installed, keeping the space warm in winter and cool in summer. Additional ceiling insulation, made from recycled fibres, was added, while the glass roof that tops the seven-metre-high walls provided all the natural light needed.
"In terms of furniture, we wanted to reuse and reclaim whatever we could," says de la Quadra-Salcedo. "We asked members of the Hub to donate and bring in unwanted and second-hand furniture, and see what we could create through recycling. Not very pleasant for furniture firms, we know! But this was a unique project."
Some vintage pieces were thrown into the mix, and there was also a requirement for three grouped desks, for collaborative working, which were custom-designed by the architects in the shape of a cloverleaf. The lightweight table surfaces were laser cut in Bilbao, and wheels were added in order to encourage flexible use of the space.
Group desks were not the only additional furniture required. The project needed low-cost tables, partitions, screens, storage, bookshelves and desks, which led to another good relationship, this time with a crate manufacturer. "They made us 200 boxes, for a very small price," says de la Quadra-Salcedo. "We have used them in many ways, especially in the library and in the kitchen."
Other touches include a single orange tree over in one corner, which has been planted in the old oil-moat, to bring life (and fruit) to the studio-like set up. There was much brainstorming surrounding this tree, explains Churtichaga. "We originally wanted a vertical garden on the big front wall but this came in much too expensive, and we all wanted to bring some living nature into the space," he says. "We originally talked about having bamboo, but the tree brings much more life, and can survive indoors."
"Now that the space is up and running, when people come to this part of town, which they often do, they will automatically meet here, or hold presentations or events here," says de la Quadra-Salcedo. "Anything from ten to a hundred people may attend."
Churtichaga and de la Quadra-Salcedo may not have profited from this project in the traditional sense, but they have worked up some good relationships, and are now themselves part of the Hub network. So by changing a garage into a workplace, they might be said to have made a fundamental first step towards changing the world.