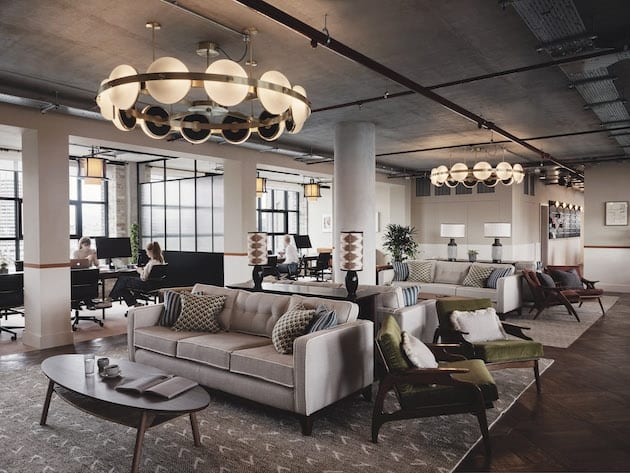 Working From_Southwark contains soft, autumnal furnishings.|||
Working From_, a coworking concept developed by The Hoxton hotel, has opened its first permanent London branch, named Working From_Southwark.
It follows last April's debut venture in Chicago, which was inspired by the popularity of the chain's open lobbies with freelancers and entrepreneurs. Working From_ formalises an activity that previously enjoyed an informal presence in The Hoxton hotels.
Working From_Southwark contains ample space for desk-hopping. Photo courtesy of The Hoxton.
Located on Blackfriars Road just south of the River Thames, the voluminious space is housed over six floors at the hotel's Southwark branch. It contains some 744 desks.
There are five meeting rooms, which members can book without limit. Photo courtesy of The Hoxton.
The workspace was designed by Ennismore Design Studio to capture the comfort and cosiness of working from home, while elimating the many distractions. With a warm, autumnal palette, soft, calm furnishing and an abundance of natural light that includes Thames-facing windows, Working From_Southwark aims to make is members both relaxed and productive.
A coffee shop offers £2-a-cup barista-made coffee. Photo courtesy of The Hoxton.
It features a broad array of working configurations: daybeds, library-style desks, communal spaces, phone booth sand meeting rooms. Private studios are available for those who prefer to work within an individual office.
A private studio membership option exists for those who want to rent their own office. Photo courtesy of The Hoxton.
It also contains numerous other amenities, including a stationary cupboard, unlimited printing, yoga and pilates classes by Homerton-based The Refinery, a cafe, and £2-a-drink coffee. Members also receive discounts on rooms and restaurants at The Hoxton — and will also be able to book hotel rooms for 'duvet days,' for when the idea of working from bed is too tempting to resist.
A winter garden provides abundant natural light and greenery. Photo courtesy of The Hoxton.
An open desk membership costs £200 per month, an 'Side Hustler' membership allowing access on evenings and weekends £75, and a day pass £30.
Working From_Southwark features 744 desks over six storeys, and aims to simulate the comforts of working from home