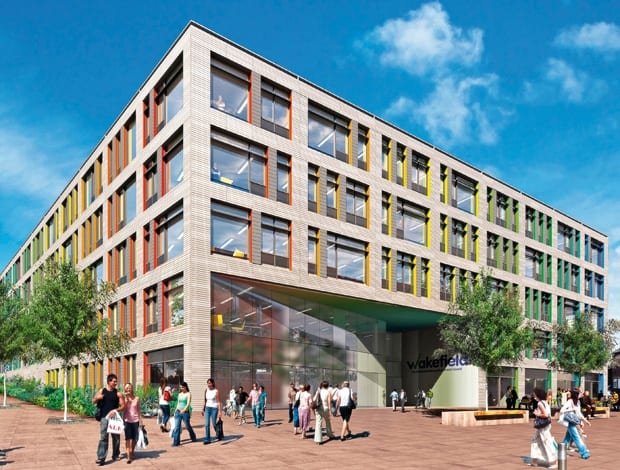 Cartwright Pickard's proposed development in Merchant's Gate, Wakefield, which features a large atrium and a café open to the public||
The public face of your local council is changing, with the opening of a number of new modern workspaces that aim to cut costs and bring services under one roof
At a time when public spending cuts, pay freezes and increasing accountability of the public sector are all hot political potatoes, the transformation of council offices into stunning contemporary places to work might initially raise a few eyebrows.
However, it all begins to make sense when, in the examples considered in the following pages (Newham, Southwark and Hampshire) one new or refurbished building replaces up to two-dozen smaller buildings, bringing with it all the economies of scale in terms of energy consumption and other building costs. Factor in some sustainable design features to conserve light, heat and water and you have a strong money-saving business case.
Further attempts to conserve costs include the second phase of Aylesbury Vale District Council's new council headquarters by architects Pringle Brandon, due for completion in March 2010. The building will feature state-of-the-art AV facilities in the council chambers that can be leased out for private use. What's more, there is a trend towards hotdesking and other flexible working methods.
Knowledge sharing and inter-departmental cooperation will improve almost organically, says Gregg Braden, IT project manager for Camden Council: "Hotdesking means staff are not necessarily going to sit with the same group of people, they are going to work with others, who perhaps they hadn't talked to before."
Camden may eventually move its 6,500 workforce to working this way, depending on business requirements, working on a ratio of around 7:5, using IP telephony.
Peter Cartwright, director of the Leeds office of architects Cartwright Pickard, observes that "councils are essentially looking to become more efficient and save money." His firm has two civic office projects about to go to tender, a fit out in Doncaster and a new build in Wakefield's Merchant Gate, the latter of which will enable some services to relocate and offer an atrium space and café open to the public.
"Civic offices can now provide a number of services under one roof and become a bit of a destination," adds Cartwright.
Case study 1 – Newham
Architect ID:SR
Client Newham Council
Cost Undislosed
Duration September 2007 – June 2009
Floor space 23,000 sq m
Newham Council's new offices in the Royal Albert Docks in east London have been designed to present a professional face to the business community, very much evident from the sharp, modern furniture and hotel-like reception as you enter the building. One the other hand, the space is also intended to promote a sense of community, mirroring the community its services help to underpin within the borough itself. Designed by ID:SR, Sheppard Robson's interiors division, and occupying eight floors, the office has different types of shared space. 'Cityscape' has a timber ribbon that wraps up, over and around the more intimate 'Living Room' and 'Study Space' areas. The ribbon also creates a natural screen to the clusters of workstations. Meanwhile, 'Town Square' areas are designed for more formal gatherings, and the rather fun 'Parklife' areas, with their mix of seating, are intended for more casual meetings.
Flexible working, on a ratio of 10:7, has been put in place. Says ID:SR's head, Helen Berresford: "We did an activity analysis and put a figure on how long people spend at their desks. We said 'trust us, we can provide you with the right amount of meeting space. It's not only desking that drives efficiency."
The finishes are impeccably sleek and the use of colour – mainly greens and the odd flash of shocking pink, combined with the light-filled floorplates, make this an incredibly uplifting place to work, and with a 30 per cent reduction in carbon to boot. And that's not to mention the provision of a large café on the ground floor, with its Wagamama-style benches. As Berresford adds rightly, "We are proud to have created an environment that is not just good for public sector, but good by any standard."
Case study 2 – Southwark
Architect BDG Workfutures
Client Southwark Council
Cost £12m
Duration September 2008 – August 2009
Floor space 17,500 sq m
"Essentially, we've asked people to give up their own desks and private space for excellent facilities and an efficient environment," says Stephen Platts, head of property for Southwark Council, when summing up its new 17,500 sq m headquarters in London Bridge. The 2,100-strong staff, moved from 27 buildings, now hotdesk, with substantial locker provision.
Platts adds that "meeting rooms were one of the key requirements – people didn't want to feel crowded." Clive Hall, director of BDG, which oversaw the fit out, explains how it works: "Each floor has a variety of working settings and meeting spaces with some 20 meeting rooms per floor. These range from a number of two-person rooms through to 16-plus person rooms.
The office combines four floors of an older building (which has a listed elevation), with new office space elsewhere. Achieving a seamless navigation between the two meant significant outlay on lifts and ramps.
"One of the key drivers for the project was its green credentials," explains Hall. The building has a biomass boiler, rainwater harvesting, solar panels and light monitoring, plus part-natural ventilation. The council's green travel plans means there is a generous shower provision, plus a drying room.
The project more than holds its own aesthetically too – the reception is large and light, giving a professional, almost blue-chip impression, with details such as the pops of colour on meeting room areas and a beautiful barrel ceiling on the top floor. "We had to work to a specific budget, and value engineering was crucial throughout the project," says Hall.
Case study 3 – Hampshire
Architect Bennetts Associates
Client Hampshire County Council
Cost £40m
Duration February 2007 – July 2009
Floor space 12,600 sq m
When pitching for Hampshire County Council's civic office project, architects Bennetts Associates opted to transform an existing 1960s structure.
"Underneath its ugly clothes, it's actually a pretty straightforward, good building," says Bennetts director Julian Lipscombe. Elizabeth II Court, as it is now known, was re-clad using local brick and completely refitted inside, taking out the suspended ceilings and exposing some services. Retaining the concrete frame saved 50 per cent of the energy required for a new build. Further environmentally friendly measures include natural ventilation (air is drawn up from internal courtyards and expelled through chimneys along the new facades), using the heat wasted by cooling the data centre to warm other areas of the building; and water-saving devices in washrooms and toilets.
Again, flexible working ensures that more staff, in this case 500 more, can work in the same amount of space, with the council able to offload 30 per cent of other office space as a result. "We've taken people out of a disjointed environment and created a real feelgood factor," says Lipscombe. An adjacent 250-space car park has been removed to make way for a prominent new entrance, plus a raft of new amenities including a 200-seat auditorium, meeting rooms, a café and a restaurant, arranged around landscaped courtyards.
Lipscombe concludes that the building "looks better and functions better than it did before. It's gone from being a gas guzzler to one of the most sustainable buildings in the country."