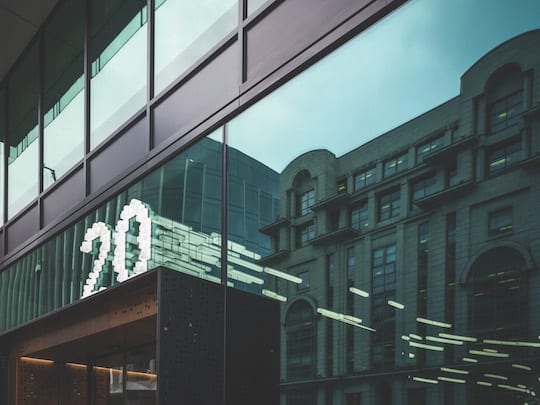 |||
Submotion is a new installation piece by London-based art collective and consultancy studio Acrylicize.
Commissioned by international developer HB Reavis for its 20 Farringdon Street building in the City of London, the bespoke installation arose from a desire to transform the workplace by fusing directional flow with unique lighting design.
As the second London development from HB Reavis – the first being a rebranded development at 33 King William Street completed in November 2017 – the new structure sees 8,000sq m of Grade A office accommodation arranged over 11 column-free floors.
The building's fully glazed wrap allows maximum natural light to enter the building, but housed in its voluminous reception, Submotion introduces an intricate yet impressive display of 650 LED light batons that floods from the reception through the building.
Inspired by the stream of water from the River Fleet that runs beneath Farringdon, Submotion flows throughout the building, showing the street number at the entrance (positioned on the facade) and moving further into the core – this means that visitors are led by foot to their destination.
Alongside its visual influences, the installation is an extension of the studio's ethos: Acrylicize strives to combine both creativity and commercialism, all the while "exploring the accessibility of art", explains James Burke, its founder and creative director.
The building's street number marks the start of the lighting flow
"We love projects that enable a different level of thinking and approach, and Submotion is a brilliant example of this; it's a bespoke light feature that incorporates the facade and signage of the building with a wayfinding system and an 11-storey stairwell."
Burke continues: "[Submotion] has actually aided the energy flow of the building, and thanks to the dedicated team of architects, Denton Corker Marshall, the design of the building and our artwork beautifully complement each other.
"This has created a truly original space, informing the wider visual brand of the building's identity through the signage and wayfinding."
The piece is designed from vacuum-formed PETG with aluminium, and uses LED light batons – the lights gently pulse, as if experiencing the movement of water, but have the option of being set to a steady flow light.
Burke sees this as a reflection of Farringdon's "perpetual flow of energy and movement, echoing the motion of passers-by outside".
As the workplace constantly evolves, so does the role of art and design. "The ability to integrate art into the fabric of the space is something we always try to do," says Burke, when discussing how his work with Acrylicize can influence the workplace.
"Our workplace environment is now more important then ever, given how much time we spend at work. Art has the power to take us to places outside of the everyday and it's usually in these 'spaces' that creativity happens.
"If art can trigger that in any way, then that's got to be a good thing."
Acrylicize's pulsing Submotion installation flows through the heart of HB Reavis's new office development at 20 Farringdon Street