The Hamburg-based studio developed an innovate design concept for a new work-life space in Germany's future-living Apartimentum
Multidisciplinary Studio Besau-Marguerre has recently realised an innovative interior design concept with Vitra for the home of 'new-work' specialist and founder of Thjnk, Michael Trautmann.
Housed inside Hamburg's smart home Apartimentum, the historic building features an intricate Wilhelminian façade dating back to 1906. Inside, however, Trautmann's 225 sq metres living and working space spanning two floors, is designed as both a contemporary living and working environment for himself and other coworking enthusiasts.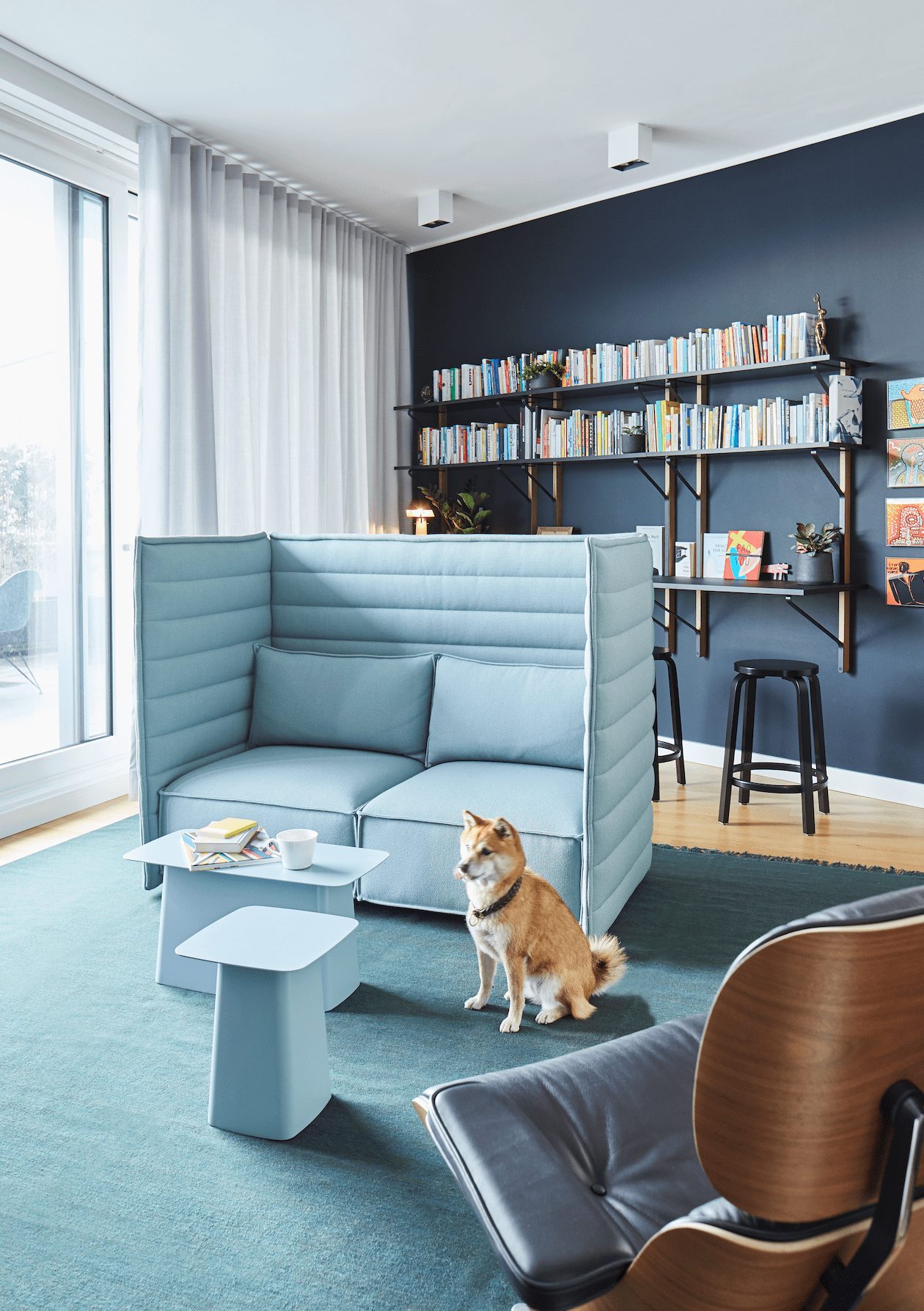 To fulfil the client's desire to create a space that meets the requirements of new work and modern life, Studio Besau-Marguerre developed a unique concept, which allows Trautmann's 'WorkLifeSpace' to be rented out as an exclusive workshop space. Anyone interested can do so – including those who do not live inside the Apartimentum – and are welcome to use the space for a variety of events, from intimate lectures to workshops and private dinners.
The objective was for each room to have hidden and surprising functions. Every inch within the WorkLifeSpace can be easily adapted to suit the needs of the respective user. This is in line with the core idea of the building's smart home ethos as behind its Wilhelminian façade, the Apartimentum hides a vibrant new world inside, one that is in a class of its own with numerous technical refinements.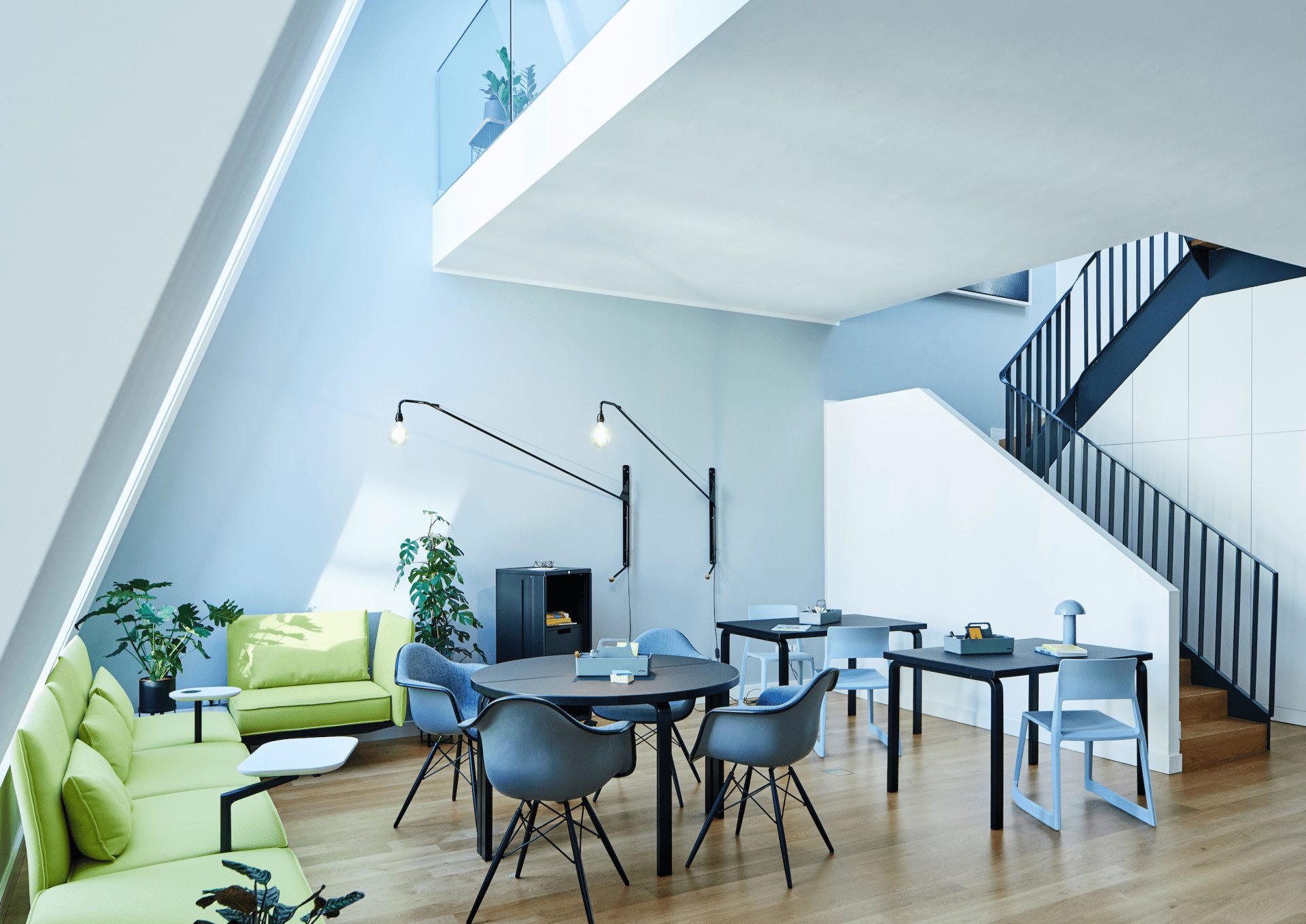 At the heart of the interior is a large living space, which both connects the two floors of the maisonette, but also boasts plenty of flexibility. Furthermore, so-called 'communication spaces', such as classic dining or meeting rooms, other study nooks and workshop settings, can be easily and flexibly reconfigured and adapted to each individual's needs, thanks to stackable chairs, folding desks and portable lights.
For the furnishings, the Hamburg-based design duo collaborated with renowned furniture manufacturer Vitra and selected modern pieces that promote casual, open and productive interactions. Studio Besau-Margeurre also developed a carefully selected colour palette, comprising soft blues and mint tones, dark green and anthracite, contrasted with bright pieces of furniture like Vitra's bold Soft Work Sofa.
Initially commissioned by entrepreneur Lars Hinrichs, founder of the Xing portal, the German equivalent to LinkedIn, Hinrichs hoped to give the building a new lease of life with a focus on state-of-the-art technology. To add to this, Studio Besau-Marguerre created an innovative hybrid between living and working, further highlighting the Apartimentum's future-focused concept.
As we continue to navigate this new world of uncertainty due to Covid-19, flexible space is becoming increasingly important to adapt a space layout to evolving and ever-changing needs. Apartimentum's WorkLifeSpace proposes a new open concept workspace that effectively organises spaces to encourage interaction and collaboration, as well as recognising the need for privacy and space.
Studio Besau-Marguerre has made a name for itself in recent years with numerous projects. The team has developed the interior design and furnishing concept for Hamburg's renowned Elbphilharmonie concert hall, as well as having realised the studio for fashion label About You.
Having successfully collaborated with renowned design brands in the last few years, such as Vitra and Artek, Studio Besau-Marguerre is responsible for the design of numerous stores, trade fair stands and the Vitra Museum exhibitions across Europe.
All images courtesy of Studio Besau-Marguerre and Apartimentum