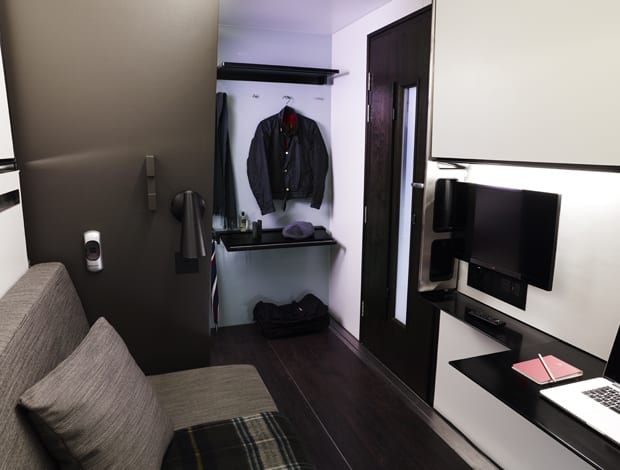 Snoozebox sports-enthusiast living|Snoozebox sports-enthusiast living|Snoozebox sports-enthusiast sleeping|Snoozebox family sleeping|Snoozebox culturalist living|Snoozebox festival-goer living|Snoozebox festival-goer living|The Snoozebox bathroom|The Snoozebox bathroom||
Design firm Tangerine has reimagined Snoozebox's temporary portable hotel units to maximise the guest experience within a very limited space – 7.5sq m to be exact.
Snoozebox provides en-suite rooms with all the mod cons of a hotel 'right in the heart of the action' at festivals, sports events and special occasions.
The newly designed hotel rooms measure 7.5sq m and are mounted on a trailer in a configuration of two lines of three back-to-back. Additional rooms can be placed on top, creating a two-storey structure. Previously, the units needed to be craned into place, which meant they could take up to a week to set up; however, a 100-room temporary hotel can now be transported and set up within 24 hours.
During the day, each unit contains a sofa and table in the main room, and an en-suite bathroom, complete with a basin, toilet and rain shower. At night, the units can be reconfigured without any additions to provide four single beds, a double and two singles, or a king-size bed. Other mod cons include free wifi, a TV, air conditioning, heating and a safe.
The rooms are designed to offer maximum flexibility and comfort within a very compact space. To optimise space, the beds fold up flat against the walls and are disguised by shadow lines; and the table and storage section can be folded away. The fold-down beds presented the biggest challenge, according to Tangerine, and were initially deemed 'impossible' by the coachbuilders. However, by exploiting manufacturer PressFab's specialist laser-cutting and -folding processes, Tangerine's design concept became a reality.
Monica Sogn, senior designer at Tangerine, explained that the studio used quality materials and fittings, combined with clean lines for the basic fit out.
"We spent a lot of time getting the fittings right, there's lots of storage behind the door and everything just folds away so it doesn't feel cluttered or claustrophobic," says Sogn. "The bathroom has a slanted wall, which gives extra shoulder room and makes space for shelving." High-tech Dumawall tiling is used in the bathroom, which looks and feels like ceramic tiles, but can withstand vibrations during transportation. Similarly, Amtico flooring in the kitchen closely resembles wooden floorboards, but is waterproof and easy to clean.
Upholstery and soft furnishing have been incorporated into the design to add texture and colour to the space.
"We translated the luxury of a hotel into a small space by getting the bedding right [using bedlinen from nauteriors]; having curtains and upholstery to soften things up; and using good quality materials," said Sogn.
Windows were not permitted, due to health and safety restrictions, but the far wall is covered by a curtain that's lit from behind to simulate light streaming in through a window behind.
There are three different styles of curtain available – a purple one and a sheer white one from Kvadrat, and a pale green, bespoke curtain with a faint geometric pattern that was woven in Ireland by Botany Weaving. Kvadrat fabrics – this time in a textured chocolate brown or bright green – are also used to upholster the sofas, which are scattered with a range of cushions.
"We built up layers of LED lights – either concealed or inset ­– to create a harmony within the room," says Sogn. "The wall lamp is a 1950s design classic called 'Birdy' by Norweigen company Northern Lighting."
Since its inception in 2011, Snoozebox has received serious demand for its portable hotel rooms, which have been deployed at a number of high profile events including the London 2012 Olympics, the Ryder Cup in Gleneagles, the Goodwood Festival of Speed and the World Equestrian Games in France.
With the prototypes built, manufacturing plans are now underway and the new designs with debut at 2015 events in the UK.