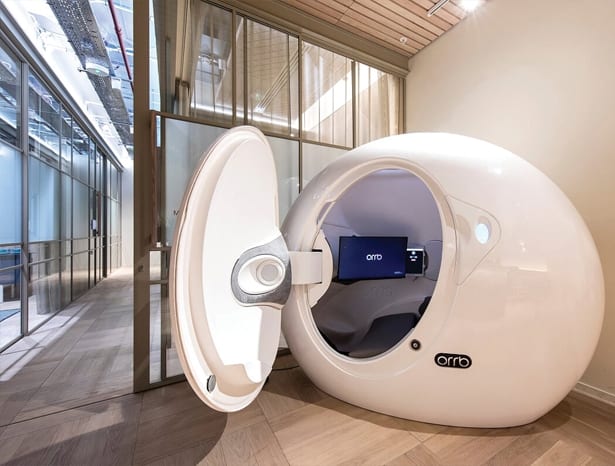 The Orrb|||
The roots of my co-working collective go back to 1998. Ergo, while we may have been spring chickens back then, we're now longer in the tooth. Our current environment comprises three smallish rooms, two of them on the third floor. There's no lift, so more wizened members can be heard wheezing as they struggle up the stairs.
The combined age of three (male) members in one top room is 165. That changes when a newcomer in her mid-twenties is in. After lunch, when two old boys are tapping at their keyboards ever more slowly, and the third has his feet on his desk as he snoozes, the room resembles the residents' lounge of an old folks' home, complete with a young carer on hand. Now there's a business idea for WeWork.
But it's not only the aged who lack energy at work. There are plenty of studies out there suggesting that loads of office workers don't get enough good quality sleep. And yet, beyond the laissez-faire culture of my own workspace, there's a taboo around kipping on the job, the assumption being that it's synonymous with slacking.
Or is that old hat? In recent years, we've seen the dawn of the sleep pod. Facebook in Seattle has three Podtime pods, and now Fora in Borough has installed an Orrb in its basement. A bit like a big shiny white egg, or womb (to borrow from the mammal class) the Orrb is described as a hi-tech relaxation room and private sanctuary.
"By controlling the fully immersive space, it is possible to deliver experiences including a range of relaxation techniques, guided meditations, mindfulness training, performance training and videoconferencing," says the Orrb's designer, Lee McCormack.
Fora's co-founder Katrina Larkin says that in the Orrb you can "cocoon yourself from the outside world and take time out". She expects Fora "residents" to take five-, ten- or 15-minute relaxation or learning sessions, as well as consultations and online appointments.
Clearly Larkin thinks highly of her "residents". If one were installed in my office, it would be oversubscribed for siestas. However, as sleep expert Dr Neil Stanley says, "the natural dip in our mental performance comes between 2pm and 4pm." And the ideal nap length is either 20 minutes or two hours. Even for the shorter stint, "you need to allow a period of 30 to 40 minutes to allow for the time taken to actually fall asleep," warns Stanley. Meaning if a pod proves popular at my place of work, we'll need one each.
The Orrb is a place to "cocoon yourself from the outside world". Could it take off in London offices?