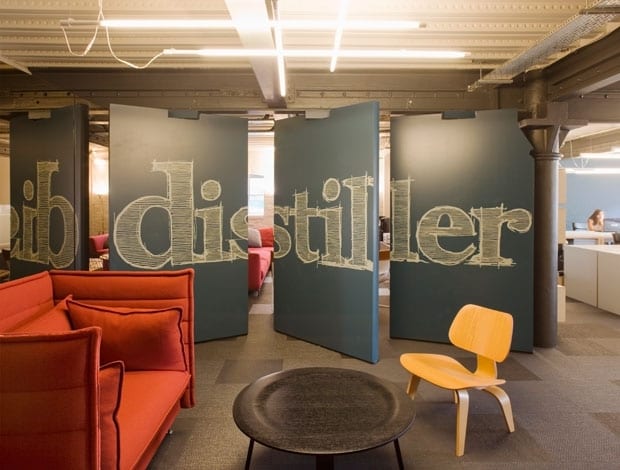 The breakout area picked out in red, yellow and black|Pivot doors affords privacy to the meeting and listening room without dividing the space up with a fully enclosed room|A fish-tank window allows the light to penetrate the meeting room|The meeting room contains classic, yet informal designs|Bolon carpets and a pared back colour palette links the various areas|The bespoke window seat/filing cabinet|Record cubes neatly contain memorabilia|Bright bar stools in the 'floating' kitchen unit|The matching colour kitchen unit stops it from imposing itself on the space|||
A parody of an indie record label's HQ would likely include peeling posters and a clutter of memorabilia, fag butts, rancid coffee takeaways, and maybe a bottle of JD thrown in to ramp up the clichés. Thankfully, Distiller's office in West London designed by Alexander Martin Architects (AMA) couldn't be more different.
Practice founder Alexander Martin, himself a drummer in a band, describes the design as "rock and roll meets Modernism". These unlikely bedfellows translate into a refined mix of clean lines, rich jewel-like colours and the occasional flourish of sumptuousness.
Measuring just 100sq m, AMA's main challenge was to divide the space into various different areas, without making it feel too dark, cramped or corporate. Additionally, the landlord had specified that nothing should be attached to or obstruct the shell of the building or original features.
The meeting (and listening) room, where music artists play their demos and "sign on the dotted line", is sectioned off from the desk area. However, a long fish tank-like window links the two, allowing light to pass through and a glimpse into the goings on.
The adjacent wall is made up of pivoting door panels. Painted in a matt teal blue, they've been hand-painted with an oversized company logo – the only discernable piece of branding.
The kitchen and bar room are contained with a floating structure, which blends into the teal-blue wall that it runs alongside. Within, a small kitchen is brightened up by bright yellow bar stools that pop against the blue.
Within the meeting room, one wall is covered by a dark, velvet curtain, a reference to the rock and roll museum that is the Hammersmith Apollo, while the black Bolon floor is populated by classic, if informal, furniture designs. A red B&B Italia sofa and leather Marten Van Severen Low chair surround a custom-made table mounted on castors. Since lighting couldn't be embedded in the ceiling, Toio for Flos standing lamps take their place. The 1962 light was designed to resemble a car battery, a fishing rod and a car headlamp.
Tom Dixon's Mirror Ball light hangs from the ceiling, adding a touch of glam rock. (In a loosely related aside, don't miss out on Dixon playing bass in his band Funkapolitan on the defunct Top of the Pops in 1984 – still available on Youtube.)
The main office area has been kept simple; the bespoke birch-plywood desks, used for hot-desking, are kept clear of the standard detritus that tends to lurk around office computers as employees hot desk and use laptops. Overhead lighting is provided by boxed florescent batons hung from the ceiling. Storage is concealed behind a mirrored wall and within a continuous oak window seat that doubles as a filing cabinet.
Music regalia is contained within £30 iCube record cubes affixed to one wall. Made from laminated plywood, the box interiors have been specified in various colours to tie in with the yellows and blues used in the rest of the design.
Office area
Cube storage: iCube
Office Chairs: Vitra Eames
Lights: Custom
Desks & sideboard: Custom
Meeting and listening room:
Sofa: B&B Italia Ray
Coffee table: Custom
Chairs: Maarten Van Severen Low Chair for Pastoe
Lights: Toio for Flos
Table: Screw Table Tom Dixon
Light: Mirror Ball Silver Tom Dixon
Chairs: SM05 chair by Pastoe
Stools to kitchenette: Miura Bar stools by Plank
Coat hanger: Annie Get Your Coat by New British Design