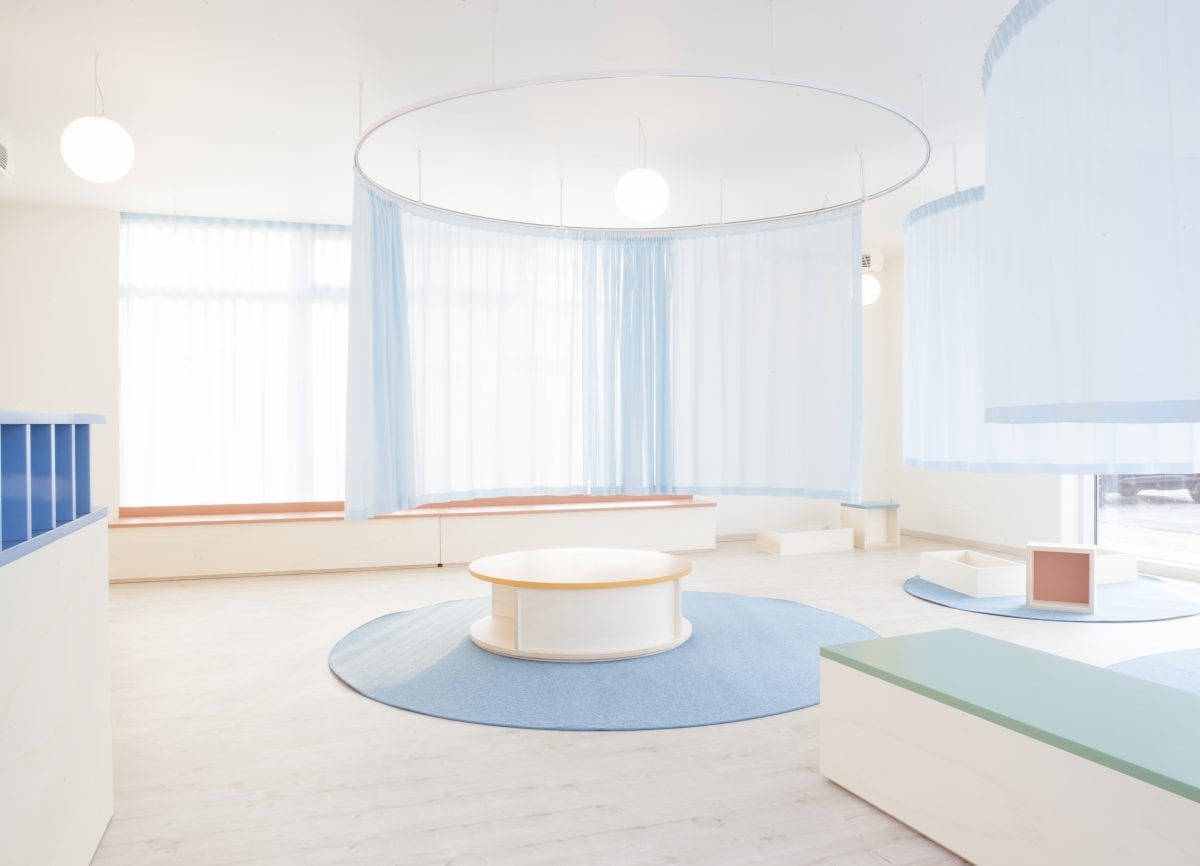 Architecture firm Atelier Giavenalei incorporated subtle accents and tones throughout this Italian clinic to create a calm atmosphere
A softly-hued dental clinic in Schio, Italy, designed by architecture firm Atelier Giavenalei, features a pastel-coloured palette and textiles to create a tranquil environment for its patients.
Taking cues from the on-trend hues gracing the pages of many an interiors magazine, Atelier Giavenale employed sky-blue shades with pops of coral and green across the dental clinic's waiting room.
Stark white walls – which also double as a blackboard to draw on with chalk – are paired with a warm, wood-effect floor and bespoke seating, featuring square and rounded colourful shapes, made specifically for the clinic's younger patients.
"The play of transparencies, pastel colours, natural materials and pure forms results in a calm and positive feel, detached from the chaos of the outside world", said Atelier Giavenale of the design.
The overall layout of the clinic is organised into three areas. Curtains, dotted throughout the space, are used to create a feeling of protection and intimacy for visitors, allowing children in particular, to feel more at ease while waiting for their appointment.
To further reinforce the limit of these curtained spaces, the designers decorated the interior with custom-made carpets, which add texture and a touch of homeliness, while the furniture – inspired by American artist Donald Judd – can be easily reconfigured and moved where and as needed.
Special attention was given to the versatility and flexibility of the interior: stools are utilised both for sitting and as large baskets containing toys for children, and different drawings appearing on the clinic's walls each day, decorate the otherwise minimalist expanse.
With a playful aesthetic and beautiful colour palette, the clinic enhances the visitor experience for both parents and children. By eliminating classic social barriers and mixing different 'worlds' within the same space instead, Atelier Giavenale was able to create a serene environment that soothes and inspires in equal measure.
All images by Brando Ghinzelli