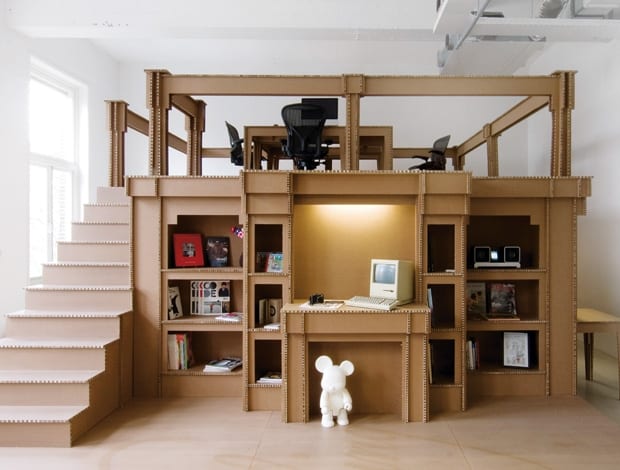 A freestanding cardboard fortress, with elevated work area and side alcoves for desks, is reinforced with medium density fibreboard|The elevated work area is reserved for Nothing's founding partners – Michael Jansen and Bas Korsten|Cardboard workstations are situated next to the windows and a cardboard planter box|The second structure makes a lounge area, enclosed by windows on three sides, and an informal meeting space underneath a cardboard pergola|'No screw, no glue' – the elements slot together to form ribs|Nothing co-founder Michael Jansen puts his stamp on the cardboard|Illustrations by Fiodor Sumkin give the space personality and humour|The Nothing logo||
An Amsterdam advertising firm is given the cardboard treatment
It would be an understatement to say that cardboard is the material of the moment. It is literally popping up everywhere – in furniture, in children's toys and, perhaps most poignantly, in workplaces.
Newly formed advertising agency Nothing Amsterdam is housed in the second cardboard office we've covered in four months – a signal that cheap, semi-permanent solutions are being sought for companies who may not know what the future holds but still want their space to look cool. Designed by Alrik Koudenburg and Joost van Bleiswijk, Nothing's new cardboard construction is an astonishing example of how well this can work.
The starting concept was the company's name and the foundation of it's business; making something from nothing. "That idea was stuck in my mind," says Koudenburg, who was recruited to help Nothing make their first tactile statement about who they are and what they can do. "I kept going back to this whole idea of 'nothing'. I immediately thought of white paper or a blank canvas. Then I thought of making a kind of dummy world or a paper world – an office where you could start sketching on the walls. Kind of like a simple maquette." In the end, Koudenburg settled on the most 'nothing' building material he could find – 500 square metres of industrial cardboard.
The dimensions of the rented space (based in serviced offices designed by Sevil Peach, onoffice May 09) were both quite wide and high, so the designers decided to make a stand-alone fortress. And since the company may or may not vacate this particular building in two years, it made sense to design a modular structure that could be moved.
To do this, Koudenburg enlisted the help of Joost van Bleiswijk and his 'no screw, no glue' technique that uses slitted ribs in the volumes for strength. Extra wooden beams have been added at various places – the stairs and floor-panels are made of specially coloured MDF – but other than that, it's just cardboard alongside select pieces of furniture.
The conceptualisation lasted only two weeks, then it took van Bleiswijk a month to draw the 1500 separate elements and a further month of construction. "I worked with van Bleiswijk because his design language is very monumental," says Koudenburg, who likes the inherent contrasts of the project. "It's a cheap material – 15mm reinforced cardboard that you can buy anywhere – but he applied a design language that is a bit fancy. The way the structure looks – it could almost be New York in the 1930s."
"You need to be a little more careful with the structure but hey, we're sensitive guys, we can handle that"
Clearly, a healthy dose of fantasy has been infused into this project – from the cartoon illustrations by Russian artist Fiodor Sumkin to the improbability that a cardboard office can hold up over time (it will last at least two years, apparently, if treated gingerly by cleaning staff). A varnish coating gives it extra strength and means spillages will not leave a mark. The fire risk policy is less comforting: "We did research with Flameguard – they're on standby. If we need to do it, we'll do it." No smoking allowed, one presumes.
What's more, Koudenburg believes people have an awareness of how fragile cardboard can be. "Everybody that comes in immediately has respect for the structure, so they walk differently and are more careful with it than they are with a regular building."
So why choose cardboard when so many other materials are cheap and interesting too? Aside from the obvious cost savings and the fact that it can be recycled, Koudenburg says that the choice of material was inspired by Michael Gondry's cardboard cityscapes in the film The Science of Sleep. "There is a scene where one of the main characters is drifting off into a dream world made out of cardboard, and I think that's when I fell in love with it for the
first time."
Fortunately, Nothing's founders Bas Korsten and Michael Jansen were happy to let Koudenburg run with the idea. "You need to be a little more careful with the structure but hey, we're sensitive guys, we can handle that," says Jansen.
As its turns out, the result has garnered massive media attention and turned Nothing's clients into 'brand advocates', which is the basis of the company's approach to business – all with a material that is inexpensive. "Why should offices just be a cost?" he asks. "You can make them part of your marketing, they should pay themselves back in whatever way, maybe by being more than just a place to work. You could spend five times as much and get no attention – so why not make it work for you?"
They won't be heartbroken if and when the cardboard takes its natural course, either. "We're not married to cardboard and we don't have to be known as the cardboard guys," says Jansen. "It wasn't that expensive to build so if it comes to that point of looking too shabby, we can just recycle it and come up with something else. That's the fun of it. You can make something out of nothing, and that's our point."