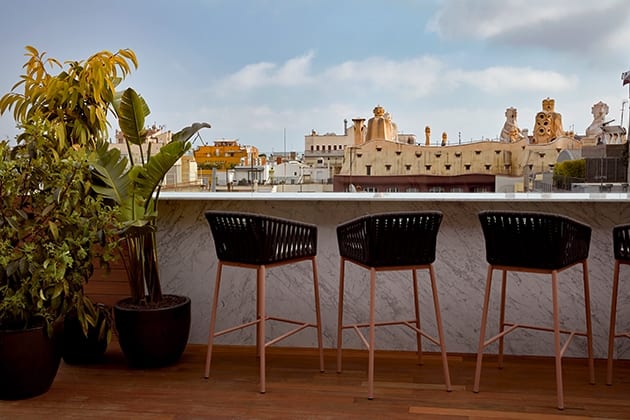 |||
Nestled in Barcelona's bustling and majestic Passeig de Gràcia, home to some of the city's finest modernista architecture, Sir Victor hotel is the Catalonian capital's latest stylish addition.
Housed in an ultra-modern landmark building, designed over a decade ago by local firm Capella Garcia and originally home to Barcelona's first-ever design hotel, OMM, Sir Victor's cube-like limestone façade is a testment to Catalonian architecture and design.
Upon entering the building, the bright interiors recall the city's sweeping coastlines. Devised by Telavivian interior and architecture studio Baranowitz + Kronenberg, the multifaceted ground floor takes its inspiration from Barcelona's spectacular natural surroundings.
The landmark building was designed by local firm Capella Garcia
A copper mesh ceiling is paired with locally sourced oak parquet flooring, which beautifully accentuates the dark walnut furniture and tasteful Bocci light pieces. Meanwhile, earthy hues add warmth throughout and especially at the sleek MR PORTER lounge, bar and restaurant, informed by the mountainous terrain of Mount Sant Llorenç Natural Park.
The latest manifestation of The Entourage Group's award-winning contemporary steakhouse concept, the restaurant's menu reads wholesome but indulgent here. An ideal haunt both for daytime meetings or evening drinks, MR PORTER offers a variety of succulent dishes like zucchini carpaccio, as well as tempting desserts – think white chocolate mousse, filled with a passion fruit cream and pistachio crumble filling – promising to please health-nuts and hedonists alike.
At the hotel's breezy rooftop, expect tapas, signature cocktails and a selection of healthful soft drinks like kombucha and kefir smoothies. Designed to encourage conversation, the hotel's open-air lounge features a small but functional plunge swimming pool, hugged by lush plants, shrubbery and bold textiles.
The hotel's sleek MR PORTER lounge, bar and restaurant
Inside, a strong sense of location is engrained in the visual concept of the hotel's rooms, suites and interiors. Devised by Sir Victor's in-house creative team, each guestroom features artwork by Bernat Daviu, most notably known for his diverse work spanning the realms of painting, costume design, performance and video, which, as a whole, confront the everyday with avant-garde art historical developments.
Handcrafted rugs by Spanish designer Nani Marquina add texture, enhanced by a neutral colour palette and simple layout that bring the elegant pieces of furniture by the likes of B&B Italia and Cassina to the fore. In addition, the rooms boast picturesque views of the hotel's green gardens and the charming avenues off Passeig de Gràcia, while suites include spacious balconies that are perfectly placed to soak up the sun.
What makes this snazzy stamping ground in the happening Eixample district stand out, however, is its involvement in Barcelona's creative scene. At the hotel's street-level boutique, Sir Victor showcases some of the city's breaking independent designers and studios, including Gonzalo Cutrina, Ölend, Hey Studio, Curated By and Lydia Delgado, who are at the forefront of creative and innovative design.
Guest-rooms are embellishedwith artwork by Bernat Daviu and handcrafted rugs by Nani Marquina
What's more, local musicians and artists are invited to join the hotel's exciting cultural programme, live performances, events, and artworks from leading Catalan artists, including Antoni Muntadas and abstract painter Alfons Borrell, exhibited throughout the hotel.
To build on this, Sir Hotels' signature series of hyper-local experiences, Sir Explore, will also be available for guests seeking to connect with the neighbourhood and its local people, proving that experience-based hotels trump more traditional models.
Bound to become Barcelona's hippest new landmark for art, food and design, Sir Victor is a uniquely design-led hotel that puts the city firmly in the limelight where it deserves to be.
Rooms start from 220 EUR per night.
For more information visit sirhotels.com