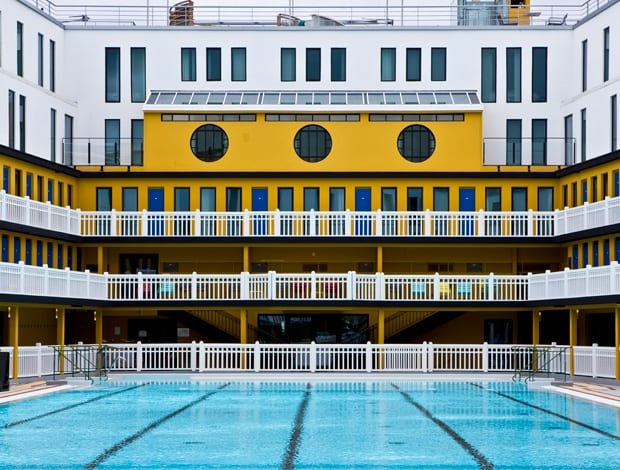 The Molitor, an art-deco landmark building in 1929 © Gilles Trillard|The Molitor spa with a 1920s-style mural of bathers at the pool © Gilles Trillard|The rooms at the Molitor encapsulate the "unthreatening modernity" and appeal of art deco ©Gilles Trillard|The original art-deco features in the Molitor restaurant, such as the ceiling, lighting and decorative terrazzo floor, have been restored © Gilles Trillard|Mixing 1920s details with bold colours and contemporary lines © Gilles Trillard|Stained glass bathers at Molitor © Gilles Trillard|Nuel's approach is to draw on history, without ignoring 21st century lifestyles © Gilles Trillard|Mondrian by Tom Dixon's Design Research Studio © Peter Lindgreen|Mondrian's copper 'hull' hall leads to the riverfront © Peter Lindgreen|Mondrian's racing green Dandelyan bar echoes British members' clubs © Emily Andrews|Art deco with a Tom Dixon-style edge © Peter Lindgreen|The Mondrian cinema © Peter Lindgreen|Located in Mayfair, The Beaumont is the first hotel by Corbin & King © Nick Ingram|The Beaumont lobby © Nick Ingram|Jimmy's bar at The Beaumont © David Loftus|"We didn't want [it] to be just another contemporary interpretation of a 1920s hotel." © Nick Ingram|Bold patterns and luxurious finishes inject art-deco glamour into the en-suite bathrooms © Nick Ingram||
The Beaumont, London
This 1926 Wimperis & Simpson-designed car garage has been given an authentically art deco scheme by hospitality designers Richmond International (in collaboration with ReardonSmith Architects) for Corbin & King and Grosvenor. Original facades were retained according to the Grade II listing, with the addition of an Antony Gormley-designed stainless steel extension, but the interiors are new with a classic feel.
"We wanted to capture the charm and richness of the era; its elegance, comfort and lavish ornamentation," says Fiona Thompson, principal at Richmond International. "We didn't want [it] to be just another contemporary interpretation of a 1920s hotel."
Antique furniture and vintage art have been restored, and bespoke pieces commissioned to replicate art deco originals, while rosewood and cherry timber, bronze details and reeded glass panelling all create an opulent backdrop in the communal areas.
"As soon as you step through the revolving glass door and onto the chequerboard black granite and gold travertine floor, you're transported back to the 20s," says Thompson of the lobby. Art deco, she says, was a rich period that combined geometry, bold pattern and edgy shapes with paired down classicist elements, hence its lasting impact.
"[Design] was inventive, exploring new innovations, and people celebrated luxury in an exuberant way. The appreciation of beauty and glamour were key."
Mondrian, London
Tom Dixon's interior design firm Design Research Studio (DRS) has given London's first Mondrian hotel a nautical theme. Occupying part of Sea Containers House, a 1970s office building by American architect Warren Platner, it takes inspiration from its namesake tenant, location and Anglo-American history in referencing transatlantic travel and its golden age, but with a Tom Dixon-style edge.
Imagining the hotel as a boat, the ground floor has a giant copper 'hull' that leads from the main entrance to the riverfront, using trademark Dixon copper finishes at impressive scale. The rooftop bar design is based on the ballroom of an ocean liner, with a chandelier, brass feature bar, tinted mirrors and 1930s-inspired furniture, but with a disco slant to the design, perhaps a reference to Dixon's Top of the Pops history. "We wanted to do a rebel sibling to what would be a sensible deco ballroom," says Helen Arvanitakis, head of interior design at DRS.
The restaurant has the feel of an American diner with banquettes and a stainless steel bar, whereas the Dandelyan bar draws from British members' clubs with racing green panelling and buttoned upholstery. In the bar, an electric blue feature wall is more Studio 54 than Titanic. "This is more 80s-does-deco," says Arvanitakis.
It is a contemporary take on a deco typology, she says; an interpretation of those themes driven by how people use it today. "It was about taking the aesthetics of that era to help shape the interior and products, rather than do a complete pastiche. That would be beautiful, and easy, but not particularly new or interesting for anyone using it."
Molitor, Paris
Built in 1929, the Molitor swimming pool in Paris was once an art deco landmark and stomping ground for the city's most fashionable. It had fallen into disrepair until being redeveloped this year by hotel group Accor for its MGallery chain, which tasked French architect Jean-Philippe Nuel with its revival. His approach was to draw on history, without ignoring 21st century lifestyles. The result is a daring mix of art deco patterns and iconography, used with bold colours and clean, contemporary lines.
"The design traces a path through the Molitor's history," says Nuel. "A balance between history and modernity had to be found in each space and the historical details needed to be legitimate."
He points out art deco details like the restaurant's ceiling, lighting and decorative terrazzo floor, which have been restored to their original condition, and desks that are inspired by 1930s pill boxes. Stained-glass windows depict 1920s-era bathers at the pool, and contrast sharply against modern red and black furniture. In the spa, a similar style mural engulfs an entire wall.
"I think art deco as a style has an unthreatening modernity," says Nuel of the style's popularity in hotel design. "It responds to the expectations of a new generation without scaring a client with more conventional tastes."
Heralded as the golden age of luxury, it's no wonder that art deco is consistently referenced in hotel design. In three recent projects, however, that nostalgia comes built in, with designers channeling the glamour of 1920s hospitality and travel to revive art deco buildings in Paris and London