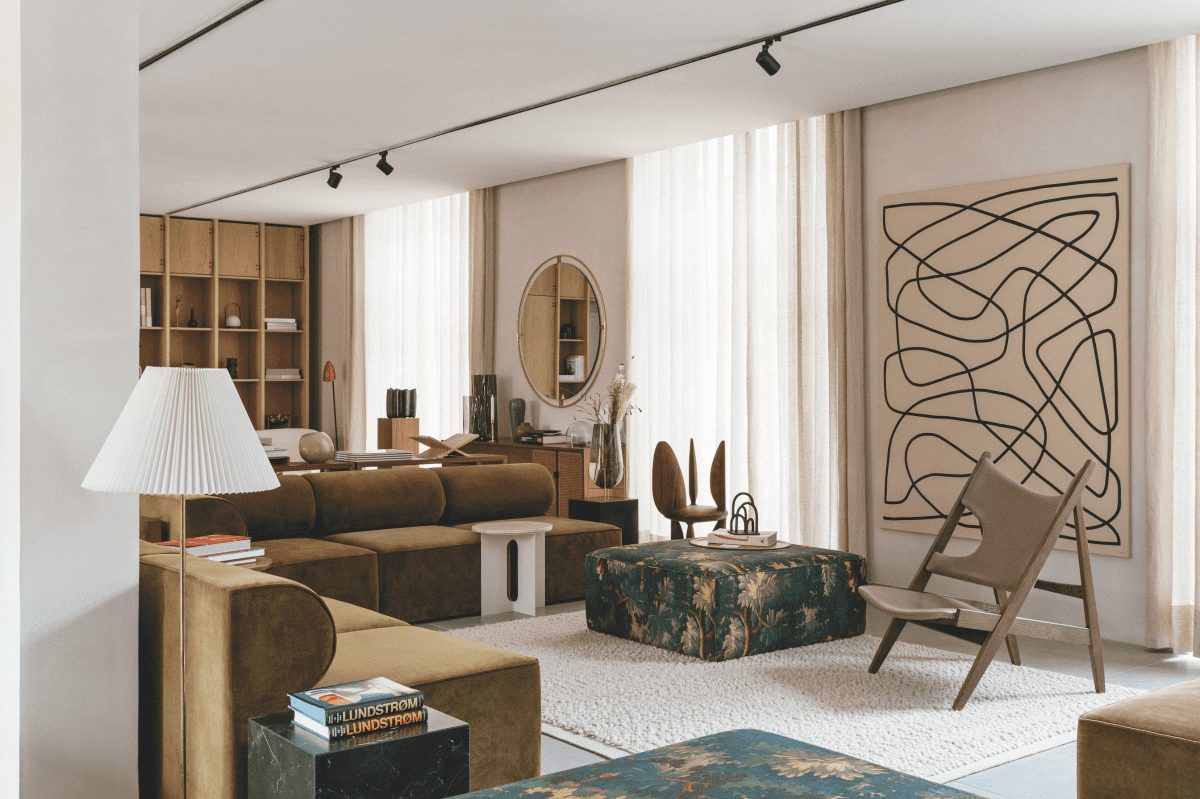 The Audo – Menu's hybrid space for work, play, eat and sleep in Copenhagen – creates a design-led experience that you can even bring home with you
Opened in the summer of 2019, The Audo was as highly anticipated in Copenhagen as it is now sought-after. Commissioned by Danish design brand Menu, which itself has undergone a massive relaunch over the last few years, The Audo is a concept space that includes a hotel, event space, cafe, concept store, creative work space and material library. It's also Menu's headquarters, with separate office space for the staff.
The building, which was formerly a disused merchant's house in the waterfront Nordhavn neighbourhood of Copenhagen, was in disrepair before Menu took it over. Having been on a hard-hat walkthrough of the space during construction, I can attest to the fact that it was gutted, torn limb from limb, leaving only the facade intact and rebuilt into what it is today. Months before it opened it was only piles of rubble and the bare bones of the building.
The strength of The Audo lies in the fact that the sum is greater than the parts; though there are many facets of the location, the overall space is cohesive and inviting, with functionality and aesthetic in perfect harmony. All 2,500sq m of The Audo blend into each other, a symphony of understated elegance and subdued tones.
Designed by Copenhagen-based architecture and design firm Norm Architects, with a team led by Jonas Bjerre-Poulsen and Peter Eland, The Audo continues the red thread of Norm's myriad of work for Menu – including designing its previous Menu Space location. But The Audo is a much more ambitious project, one that requires an understanding of how multi-use spaces function, and how a variety of users might interact with a space as their needs within it evolve.
To that end, Kinfolk co-founder Nathan Williams acts as creative director, imbuing the concept space with his signature sense of calm and minimalism. The interior is by turns a living room, a gallery and a studio – the home of someone with impeccable taste and access. It would almost be too perfect if it weren't for the neo-baroque exterior, exquisitely but not preciously preserved by Norm Architects.
Danes, known for their work-life balance, will instantly understand the appeal of an all-in-one space like The Audo. Though the areas aren't necessarily strongly demarcated, there are distinct feelings for localised usage: where to eat and drink, where to work, where to relax, where to stop. This allows you to exist in the space without feeling overwhelmed, or as though you 'should be' doing something else. Rather than having the work and play aspects of The Audo bleed into each other, they stay surprisingly separate, offering instead a place where life unfolds.
The name Audo is an abbreviation of the Latin phrase Ab uno disce omnes (from one, learn all). This speaks to The Audo's core vision, which is to create a meeting space that encompasses many areas of life – a place where people can learn, be inspired, be creative, and also be at peace.
Even the concept of shopping has been updated here. Rather than a conventional store, the entire interior of The Audo can be purchased. Love the robe in the hotel room? The mugs at the cafe? How about the chair you're sitting on in the lobby? You can buy them all. The concept is that everything is for sale; the experience itself can be wrapped up and taken home. Rather than engender a feeling of exclusivity, as some galleries or boutique hotels might, this allows visitors to feel as though The Audo universe can be made into their own.
Brands available include Menu (of course), sustainable Danish clothes and home goods brand Aiayu, Swedish slipper brand Inabo and Danish textile brand Tekla Fabrics. From furniture to towels to books, anything that catches your eye at The Audo can be yours. There are also a number of artists featured throughout the space whose work can also be purchased: sculptor and designer Nicholas Shurey, ceramicist Sofia Tufvasson and artist Benjamin Ewing, to name a few.
Much of the joy and leisure of The Audo can be found in its objects, to be sure, but it is the entirety of the place that has made it so instantly celebrated. Go there to work, relax, dine or soak in the artistry of the interior. It is a unique experience, and through its uniqueness you are able to have a completely individual experience each time you find yourself there.
All images by Jonas Bjerre-Poulsen