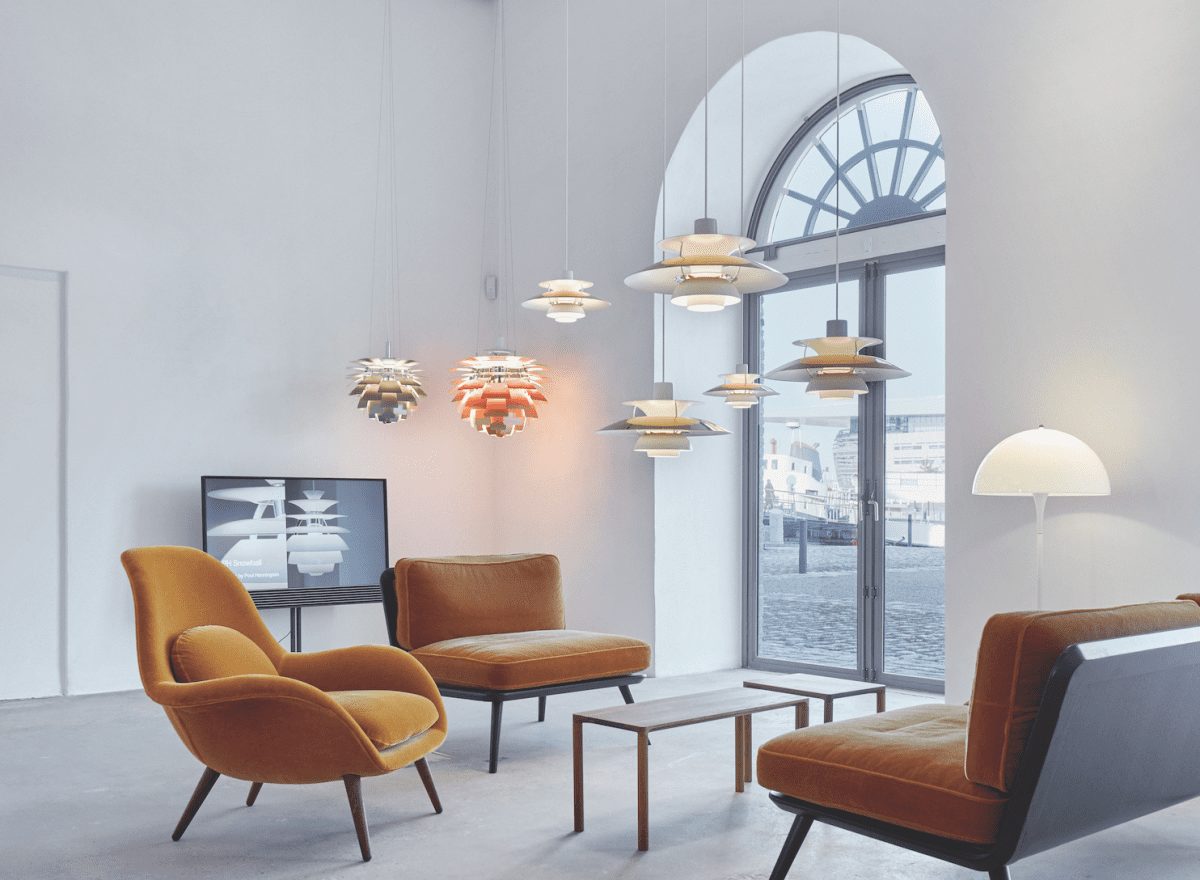 When Louis Poulsen moved its headquarters to a historic naval quarter of Copenhagen, the Danish lighting company's focus was on maximising brightness and a sense of space in a solid 18th century quayside building
To create a space in perfect harmony can be somewhat of a challenge. For Louis Poulsen, however, the famed Danish lighting company founded in 1874, this was rather simple when it moved into a new headquarters at Kuglegården in Holmen – a former naval base for the Royal Danish Navy in Copenhagen.
The historic building had been renovated by developer Byggeselskab Mogens de Linde who was briefed to create Louis Poulsen's new workplace and showroom. The outcome features a bright, spacious and open-plan office, a public showroom where visitors are able to experience the company's new and old design classics, set in a serene environment that gives visitors an insight into the brand and its products.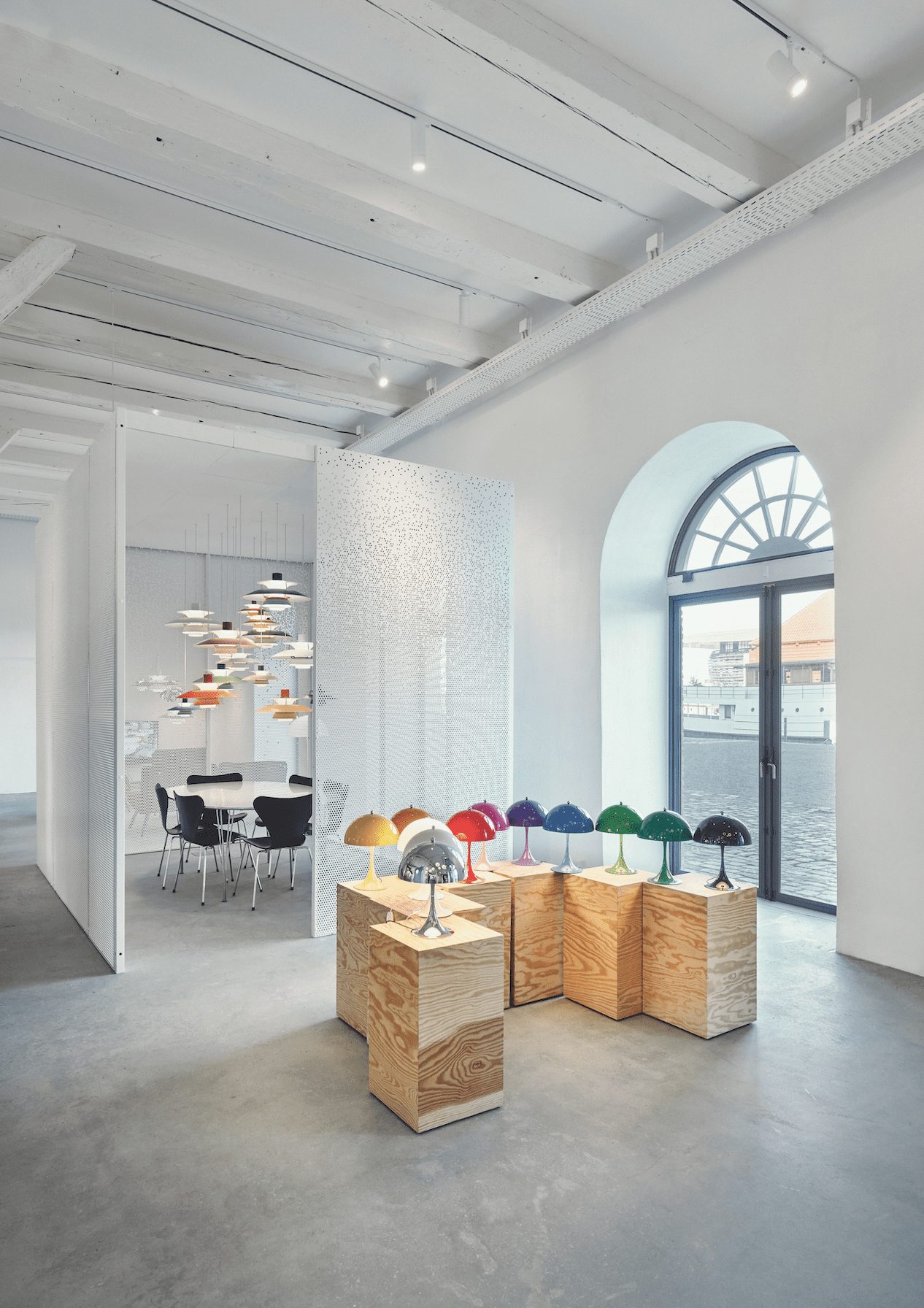 Holmen was an ideal fit for the move. As you step into the courtyard of Kuglegården, the Naval Arsenal, you're welcomed with a feeling of bygone times. The cluster of buildings, built in 1742, was home to the Royal Danish Navy's Materiel Command, and later the Defence Command Denmark, for 250 years. With its solid workmanship and quality materials, the site played a vital role in the history of the country.
Like the building, Louis Poulsen is a brand with a vast history, known for what it describes as "designing products tailored to support the rhythm of natural light". After occupying its last workplace for 10 years, the company needed a new space that reflected its background – an incredible 144 years of designing quality lighting with craftsmanship and highly executed designs.
"We had the office for 10 years and that worked very well, but we actually had too much space," says Finn Jensen, Louis Poulsen's visual concept manager. "We used to have 2,700sq metres and in the new office we only have 2,000sq metres – we went down by 700sq metres, but we don't feel it in daily life because it's a more practical floor plan. Plus, ten years in the same location is a long time, so we needed to move the skeletons out of the closet. And this location is a little more sexy, I have to say."
The Holmen area was previously used to direct military operations, says Lars Kirkeby, project manager and architect at Byggeselskab Mogens de Linde. As part of the team that spearheaded the renovation project, he explains how the building "had deep flooring, acoustic walls, glass ceilings and lots of blue carpets – so we had to take a lot of that out to get down to the original structure". It was very much a renewal process, where small changes were made to respect and preserve its pre-existing shell.
In terms of the brief, Kirkeby says: "There really wasn't very much of a brief from Louis Poulsen, because the existing structure of the building was an important role in the design. It was more a question of how to highlight the qualities of the existing building. When you examine a building, you have to read it, interpret it and adopt the history."
After considered observation, a large showroom has been developed on the ground floor, featuring high ceilings and a curated seasonal showcase of designs that will change several times a year. Upstairs, through the three storeys of the building, the visitor will discover the modern office, where Poulsen's range of design fixtures are displayed in the open-plan space, in meeting rooms, bathrooms and even the stairwells.
Kirkeby explains what has changed since the renovation, and what qualities were highlighted, by focusing on how the previous exterior walls are "very intact", which provides a solid base for the interiors. "At one time, they had large barn doors towards the quay side of the building situated close to the water – they were used to supply the ships. And on that side, we had very large wooden doors on the ground floor which we ripped off and converted into modern windows. We took them out so that we could re-establish the large open space."
Nonetheless, there were some limitations. "It's an old building that's protected by the government, so we couldn't make a lot of changes," says Jensen. "But we did decide to place an elevator in the house – that was a big thing, as was choosing the materials and colours that matched the house."
Jensen explains how they needed to search in the National Museum in Copenhagen for paintings to find out how many windows there were in each in room. "That was fun," says Jensen – "and we found old paintings which allowed us to see whether we could place more windows in the rooms, which we wanted to do."
The Kuglegården building may present a long history, but this does not restrict Louis Poulsen from making its mark. Technology and light are the priority throughout the new space, and Poulsen's designs, with Kelvin-adjustable light fixtures that cover a colour temperature spectrum from 2,700 to 5,700K – making it possible to simulate daylight and infuse brightness throughout the day. "We needed to have the best light," says Jensen. "And all of our workstations are by the windows."
Thus, by adding a modern touch to an archaic structure, Louis Poulsen has created a modern, efficient and, indeed, harmonious environment for its employees and visitors to enjoy. "We are very happy about having Louis Poulsen as a tenant", Kirkeby concludes. "It's nice to have a company here that has a history, as long as the building." So perhaps in time, this will be another chapter of history to unfold.
All images courtesy of Louis Poulsen
As featured in OnOffice 143, May 2019