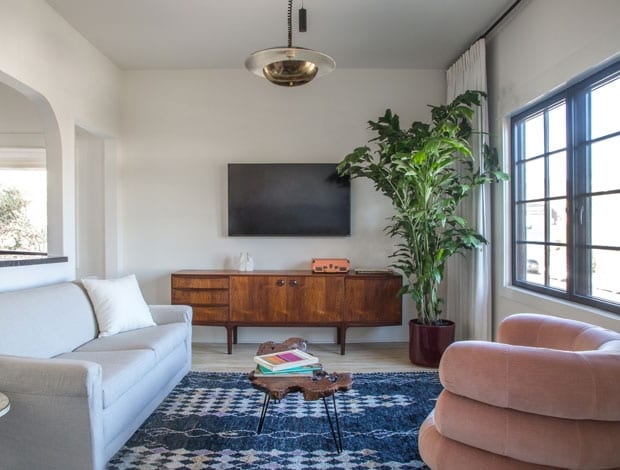 A pink Eileen Gray chair in a suite inspired by a Parisian atelier|Chapter 5, styled as the fictional home of Covell's daughter|The more feminine Chapter 3 is supposedly Covell's bohemian Parisian apartment, shared with his lover Claudine, and features softer colours and textures|The first apartment is inspired by George Covell's early life in Oklahoma|The materials are rustic, utilitarian, with a muted colour palette|"I tend to use more vintage than new; it's usually better made unless you have a huge budget"|The eclectic kitchen and sun room in the two-bed Chapter 4 suite|Breer hand-painted the upholstery for this sofa herself|Cement tiles by LA firm Kismet have been used throughout|The apartments lie in a 1930s building above the uber-cool Bar Covell in up-and-coming neighbourhood Los Feliz|The entrance is recessed within a brick alcove, so Breer installed a gold door to counteract its anonymity||
LA's Hotel Covell takes the life of the fictional George Covell as its design inspiration, outlining a chapter of his fabricated life in each suite. Thankfully, it looks like George had good taste
It's fairly common in literature to find author surrogates – a fictional character created by an author to tell autobiographical stories in the third person. Hunter S Thompson's alter ego Raoul Duke, for example, pops up in many of his writings, most famously in Fear and Loathing in Las Vegas.
It's less well known as a design device, though, but for the Hotel Covell in Los Angeles, interior designer Sally Breer has created her very own Raoul Duke, the comparatively less debauched George Covell, based loosely on the backgrounds of herself and the hotel's owner, restaurateur Dustin Lancaster. Having mostly designed residential projects until now, Breer used her fictional muse as the 'client' for her first hotel, basing each of its five suites on a different chapter of his life.
"It gave me lines to draw within,"says Breer, "otherwise it would have been five blank canvases. It's a concept with a soul behind it."
The apartments lie in a 1930s building above the uber-cool Bar Covell – Lancaster's first endeavour – in up-and-coming neighbourhood Los Feliz. The entrance is recessed within a brick alcove, so Breer installed a gold door to counteract its anonymity.
"It's subtle, not overt," she says of this semi-hidden entryway, "so you have to look a bit harder to find it. But when you do, it's something special." In this porch, visitors also get their first flash of local brand Kismet's cement tiles, which bring deco-style geometric pattern to the interiors.
The first apartment, called Chapter 1, is inspired by George Covell's early life in Oklahoma. "The materials are rustic, utilitarian, with a muted colour palette," says Breer, referring to the white clapboard walls, dark, grainy woods and black metal details.
Chapter 2 is 1950s-inspired, intended as George's bachelor pad; the smallest apartment, it has custom-built furniture, a herringbone timber floor preserved from the original building, and a pop of electric blue in the upholstery.
The more feminine Chapter 3 is supposedly Covell's bohemian Parisian apartment, shared with his lover Claudine, and features softer colours and textures. Breer called on her vintage furniture expertise to source a classic Eileen Gray Bibendum chair reupholstered in soft pink, a mid-century sideboard and 60s brass pendant light.
"Each piece has its own story and history," she says. "I tend to use more vintage than new; it's usually better made unless you have a huge budget, and it gives the space depth." The kitchen is backed by a hexagonal patterned tiled wall, also from Kismet.
The two-bedroom Chapter 4 represents the imaginary patron's later years. "There's a reverence and luxury to the space; it's bold and eclectic," says Breer. A malachite-pattern wallpaper (by Brenda Houston Collezione from Black Crow Studios) dominates the lounge area with its swirling green jewel tones, and influenced Breer's decisions for the rest of the space, including a bottle-green velvet banquette sofa.
Vintage brass storage units are dotted around the suite, in the kitchen and bedroom, more discoveries by one of Breer's pickers. Lastly, Chapter 5 is a fusion of Chapters 3 and 4, with 70s influences, and belongs to Covell's fictional daughter – suggesting that any future projects might take the form of a sequel.