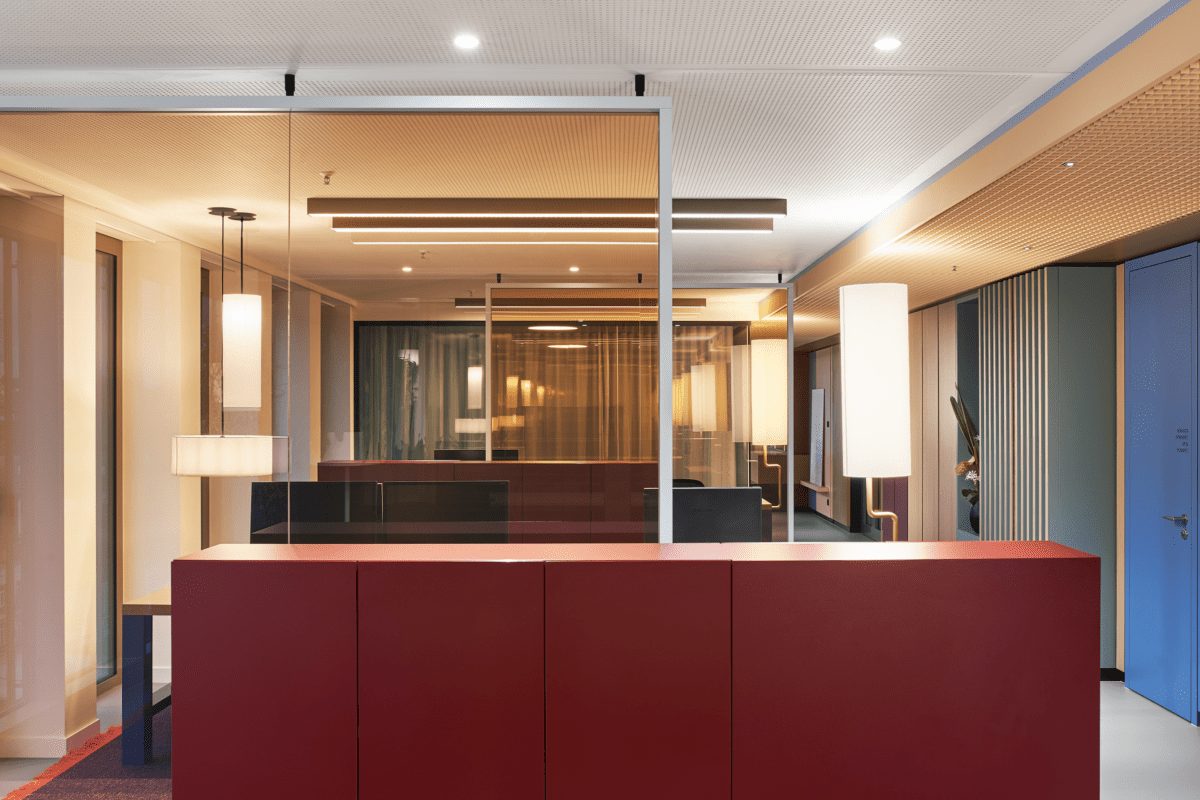 Realised for Schoeller Sl, the new space puts thought into desk arrangement
In recent months, when many employees moved their workspace from the office to the living room, the value of shared office space has become clear: while concentrated work is possible at home, collective work environments are places where co-creation, collaboration and communication prevail.
Here, companies live and shape their own workplace cultures, creating a sense of purpose thanks to the various people and disciplines we find at the office. Case in point is the newly opened office for Schöller SI in Reutlingen designed by Stuttgart-based design studio Ippolito Fleitz Group which emphasises the value of collaboration.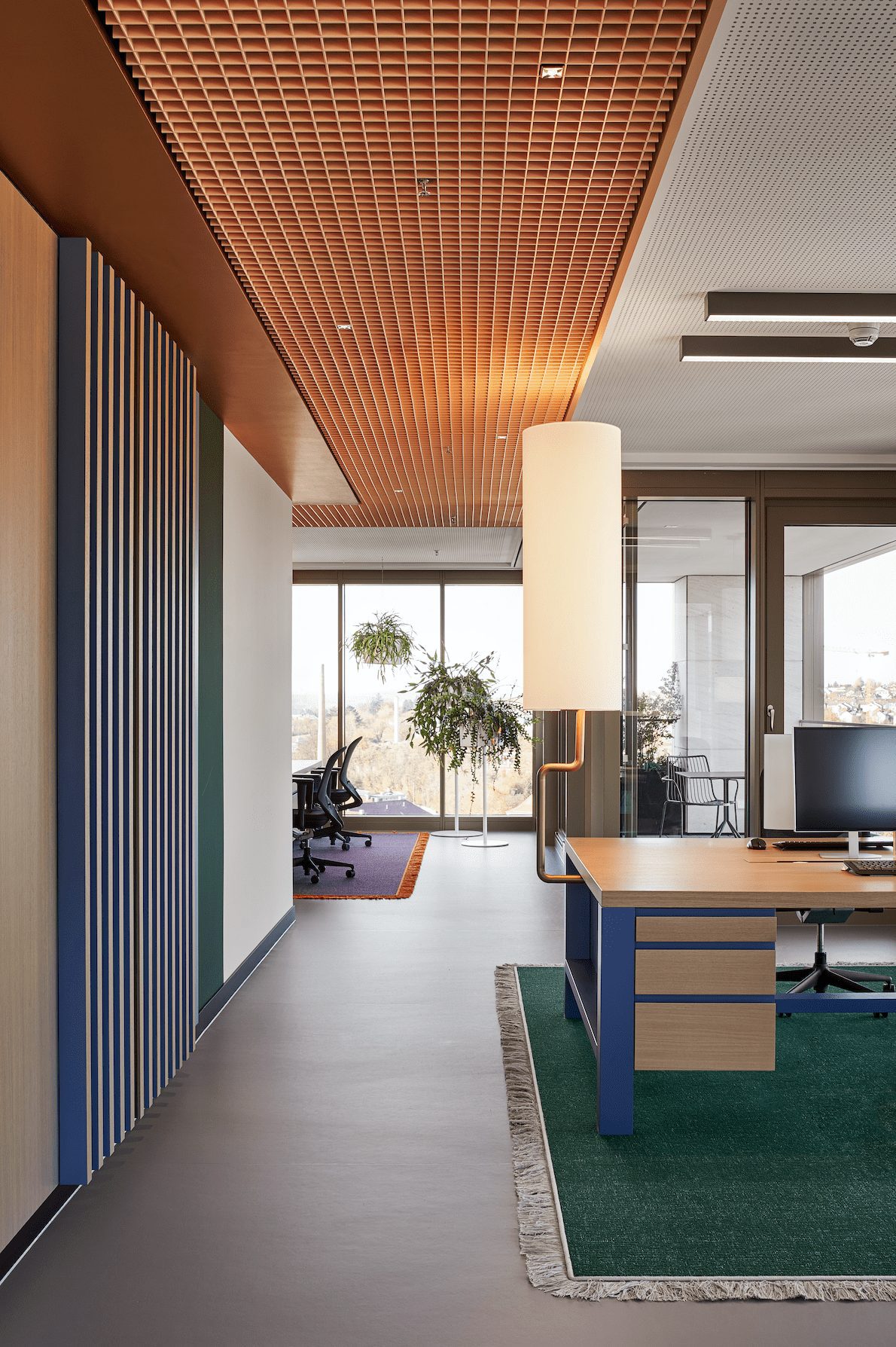 Demonstrating that workspaces can also be homey, Ippolito Fleitz Group used warm colours, an exciting material palette and natural look throughout the two-storey office. Not only do the careful design considerations create a pleasant working atmosphere, but it also reflects the wider values of an innovative project developer, whose core business is not just commercial, but residential real estate.
Across the office, tinted glass partition walls, pale curtains, linear storage units and fringed carpets zone the different areas, while both open-plan and more intimate areas allow for a variety of work styles. From classic workbench and large shared tables, to lounge areas and alcove retreats, the space is inspired by the slogan "Your office is where you are!", giving employees the choice where to work from to help them perform their daily tasks.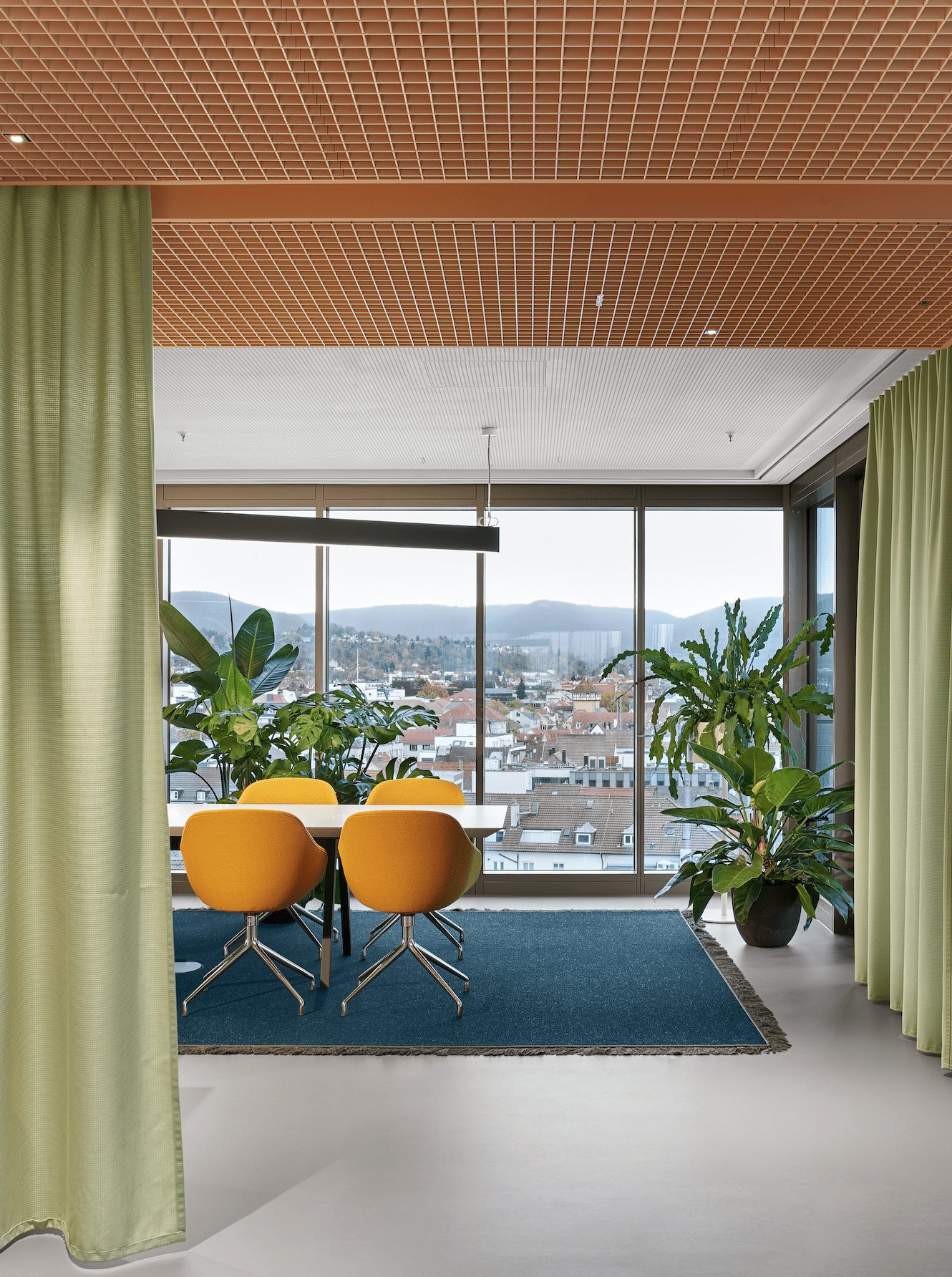 Despite these divisions, the space remains fluid and flows smoothly around a central core. To transform this closed centre into a lively focal point, the designers used bold colours, a diverse range of materials and textures, while shelves, picture rails and whiteboards activate the area. The space strikes the perfect balance between a collegial work environment and warmth without turning it into a living room at home.
"The fact that employees feel so comfortable and welcome here has a lot to do with excellent room acoustics and a pleasant interior climate – supported by the lush green planting in the space", shares Ippolito Fleitz Group. "It is also thanks to a superior depth of detail, which is expressed in the precise choice of materials and furniture, as well as in the lighting scheme, which combines natural light, ceiling lights and bespoke desk lighting."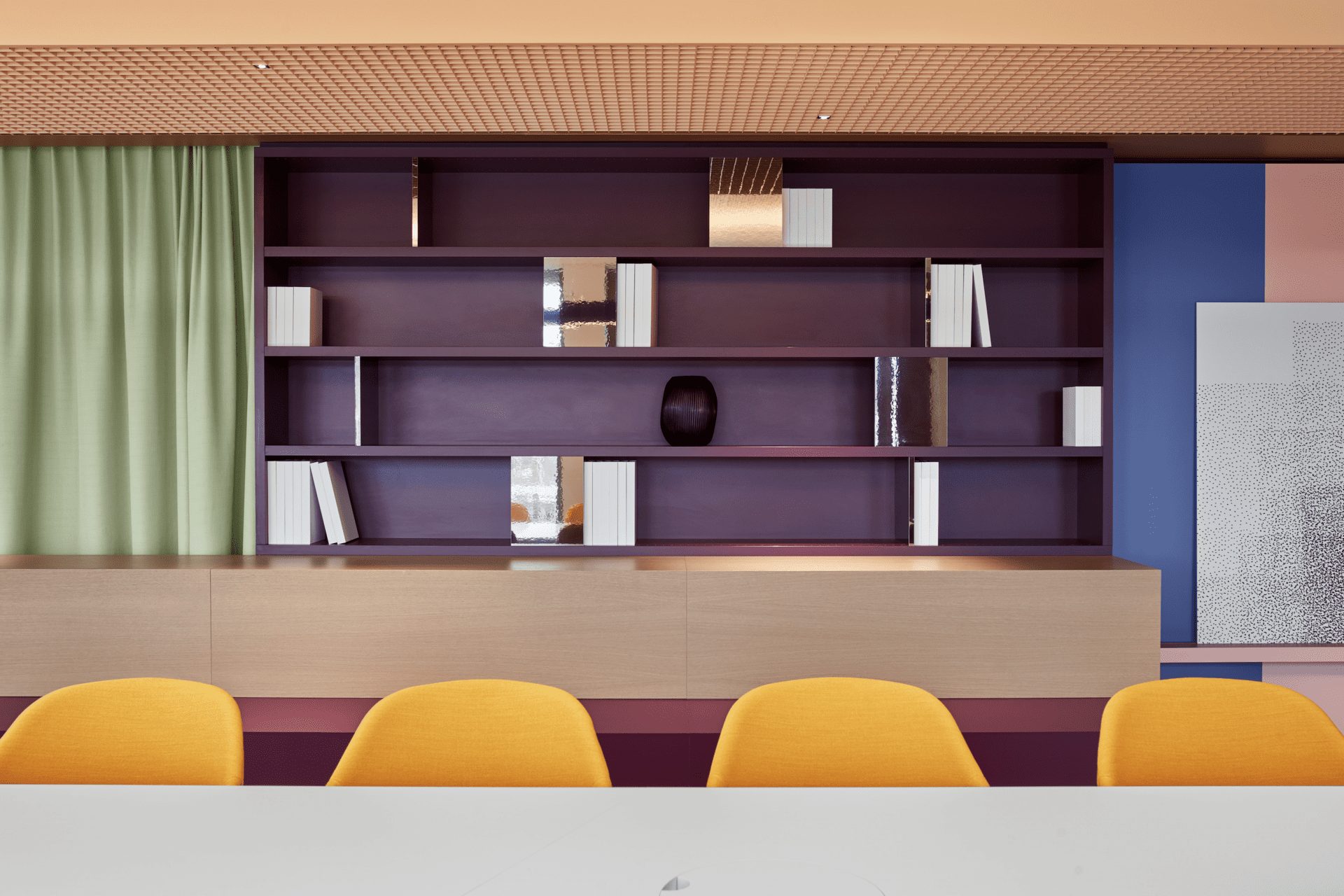 Both of these design choices ensure that employees understand their place of work as a landscape of values, endowing them with a sense of belonging and a purpose for their actions. Furthermore, and as the team was involved in designing the space, workshops with representatives from all three departments (real estate, administration, renewables) helped determine the table constellations, workplace-proximate exchange and meeting options, as well as the three colour worlds.
The latter vary in tone depending on the field of work, and form a visual unit with carpet, ceiling and a wall section in the hallway. In this way, employees – at their own workstation, in the direct team area or the office as a whole – are taken on a visual journey where they can create individual connections, discover new things and make the space their own.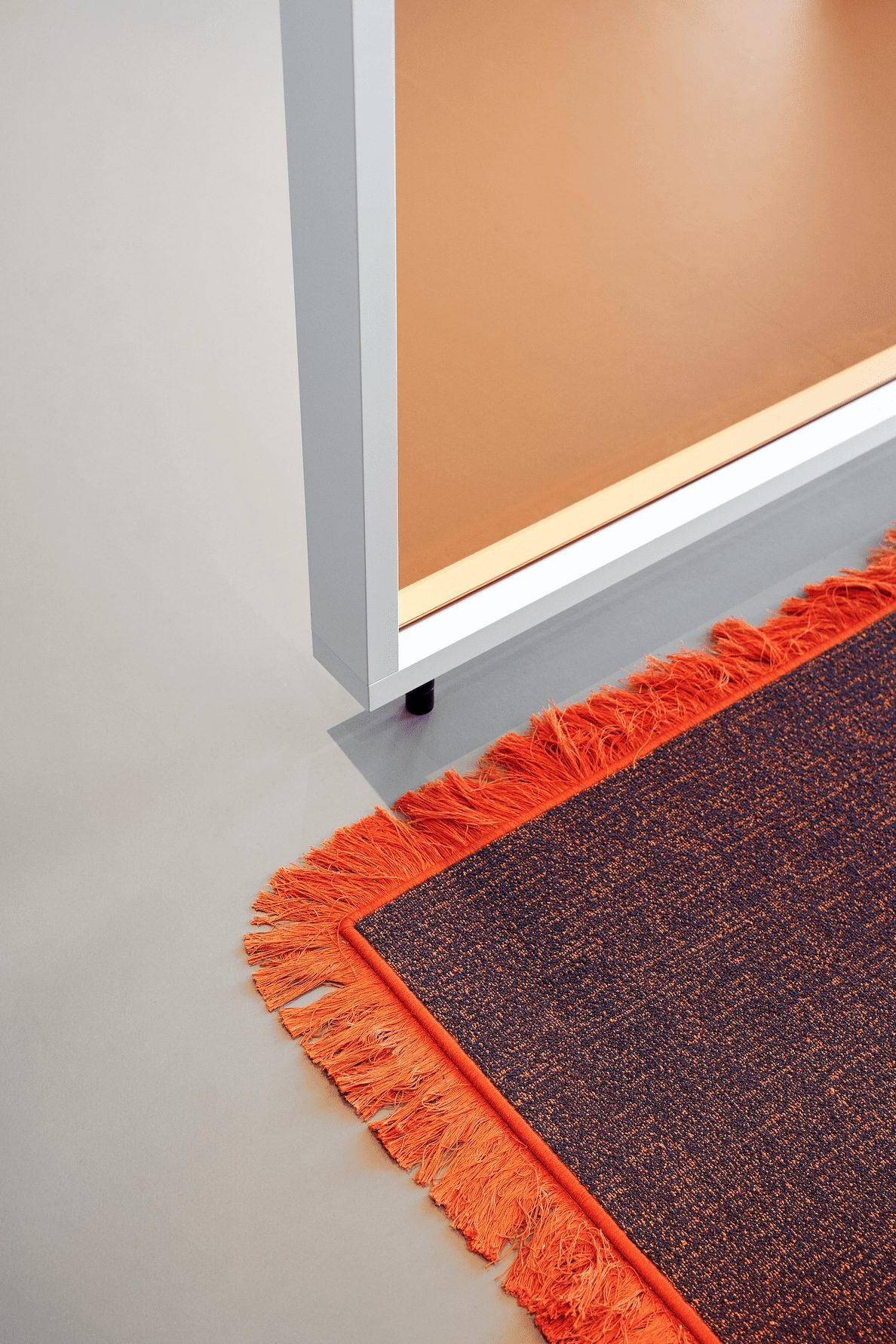 "Complete identification with the workplace is not only an essential cornerstone for a successful, solidarity-based work practice, it also forms the basis of a healthy corporate culture, with individual values that can be felt everywhere", add the designers.
"Schöller SI not only presents itself to the outside world as collaborative, family-oriented, reliable, traditional and modern; it's innovative and intimate as this meticulously designed locus of closeness, encounter and communication so beautifully demonstrates."
Images by Philip Kottlorz