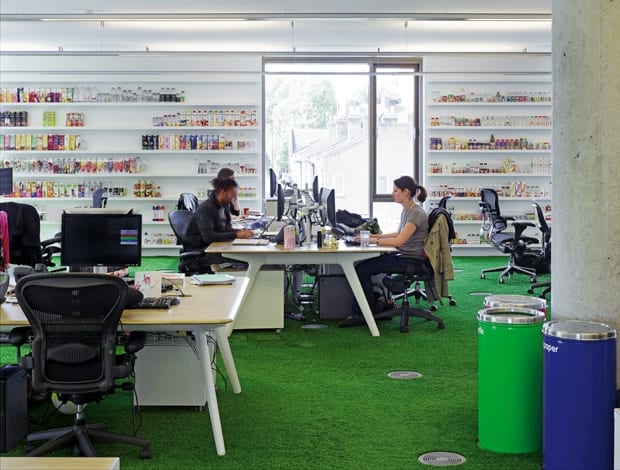 Artificial turf underfoot, and desks from new neighbour Tom Dixon|S+T cut away the floorplate to make way for a double-height canteen area|A meeting room, with colourful Canteen chairs by Very Good and Proper|Can't escape the fruit: a breakout banquette||
It's easy to take the mick out of a company like Innocent. Its yummy-yum-yum marketing spiel is patronising, as is the fun wobbly font on its website. But ever since I discovered that cider doesn't count as one of your five a day, Innocent Smoothies have become a regular feature in my diet. And I'm not alone. Founded in west London in 1998 by three friends, the company's rise has been meteoric. Today, Innocent claim to sell 2m fruit smoothies each week and turnover a whopping £100m a year. With numbers like these it is little wonder that the staff has swelled from three to 250. Until a few months ago they were headquartered in the Goldhawk Estate in Shepherds Bush. But Innocent's beloved warehouse, dubbed Fruit Towers, was beginning to creak under the weight of its personnel. Reluctant to leave its west London roots, they found a suitable home in Derwent London's Portobello Dock, a neat new building designed by Stiff + Trevillion on Kensal Rise. Overlooking Tom Dixon's studio on the canal, it presented a combo of flexible modern office space in among a gathering scene of hip(ish) young professionals.
Following completion, Stiff + Trevillion was invited to pitch for the fitout in a limited competition. Making an impression with its thematic designs, the practice won the commission, beginning on site last autumn. Today, project leader Joe Howland is taking onoffice on a tour (Innocent kept the name, so this one's called Fruit Towers as well). We meet in the buzzy reception and I'm given a sticky name badge stamped with Innocent's cartoon effigy. The company prides itself on its willingness to engage with the community, says Howland, and office tours are a regular thing. The reception opens out into a beautiful double-height space that houses the kitchen canteen and, in the far corner, the food lab. This is where the biggest structural changes were carried out. Originally two floors, S+T cut away a large section of the floorplate to create a bright social hub and mezzanine. "The old office was all on one level with no vertical divisions, and one of the biggest concerns here was how to encourage integration between the floors," says Howland. He toyed with the idea of smaller circular incisions on each floor before deciding on the one grand gesture ("much easier").
The floor is covered in artificial turf, a major element of Innocent's branding and something that's been carried over from the old office. The material's artificiality makes it a curious choice for a company that's so caught up on natural ingredients, but nonetheless it crunches pleasingly underfoot. Save for the odd fruit-munching soul sitting at the picnic benches, it's fairly empty today and feels more like a picnic spot than a workplace. In the corner behind some glass patio doors is the Innocent product testing room, populated by a gathering of lab-coated bods. "We were very keen for that part of the business to be conspicuously on show," says Howland.
On the mezzanine level, S+T worked the space hard. Three meeting rooms, a library and diner-style meeting booths all live up here, along with staff shower rooms. The meeting rooms, encased in glazed, steel-framed Crittall panels, are named after vegetables (again a motif from the old office) but the library is something of a first. "Spaces like this were very disparate before," says Howland. "The books were all over the place. We managed to pull it together with a bit more coherence." The company awards are also modestly tucked away here.
Part of Innocent's appeal is its happy-go-lucky image and the directors have worked hard to hold on to it. Howland was presented with a lengthy inventory, which needed to be transplanted wholesale into the new digs. Chairs, sofas and even a red phone box made the journey across, resulting in a predetermined palette for S+T to work with. This proved a blessing and a curse: on the one hand, it ensured a strong bond with the company DNA, but was inevitably restrictive when it boiled down to designing breakout spaces. Each office area begins with a small tea point/kitchen around and about the entrance, with soft seating arranged to form the breakout space. "As a designer it is always nice to bring in new furniture for those kind of key spaces. But we did not design those spaces with that furniture in mind, although we were aware of it," says Howland. Nevertheless, the comfy charm of the sofas and armchairs is pretty apt.
Together with Innocent, the practice worked with neighbour Tom Dixon to design the desks, the one real furnishing extravagance. The wood-panelled tops fit nicely with the company's natural ethos and come in a variety of sizes. "They wanted it to be as flexible as possible," says Howland. Indeed, this flexibility proved to be crucial in fitting all 250 staff over three-and-a-half floors, the biggest challenge of the brief according to Howland. On the top floor is the largest meeting room and a rather lovely outdoor terrace.
The project has also has some pretty dippy features. For example, a cartoonishly large lever emboldened with the mantra "last leaver, pull the lever" powers down the office at night for anyone staying late. Similarly, a green lamp flashes when the outside temperature reaches a suitable level, reminding the Innocent staff to open the windows as the air-con cuts out. Though slightly naff, the sentiment is laudable. Elsewhere, themed meeting rooms on each floor document different aspects of the business. In the History Room, for example, the walls are adorned with press cuttings, while another shows where in the world the ingredients are sourced. These quirks are intended to counter the stripped-out monochromatic base-build, and ensure that the company's character is not stifled. The result is a Peter Pan feeling to the office. And although there is no doubt Innocent is growing up, the company is doing so on its own terms.