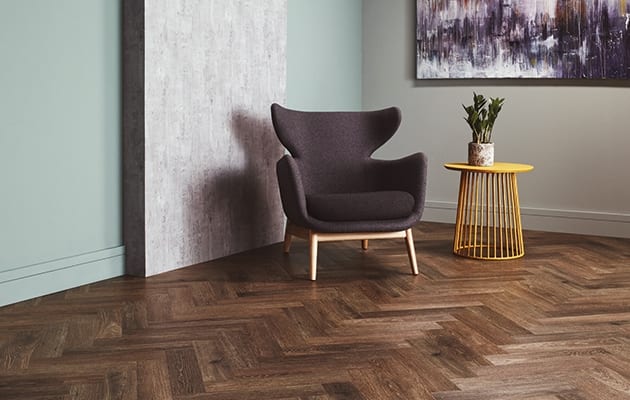 |||
When identifying current trends in workspace flooring, it's not all about simple, overly practical carpets, tiles and rugs any more. Instead what lies beneath us has grown into a visually led playground full of charismatic design. The materiality of a standard floor has evolved, with colours acting as key protagonists in the display of office design, and ceramics and forward-thinking technologies taking centre stage.
One designer in particular who's making headlines in the flooring- ceramics crossover is Patricia Urquiola. The Spanish-born designer, known internationally for her tiles, recently launched Cover – an innovative surface collection in collaboration with Italian ceramic design house Mutina, which is now available exclusively from Domus.
Patricia Urquiola's Cover ceramic slabs offer a range of textures
Crosshatched, dotted and infused with geometric and irregular patterns, Cover marks Urquiola's first venture into large ceramic slabs for the floor. It all started from an experimental project using Continua Plus technology – a technique that's "growing" due to its ability to work on a larger scale, as Urquiola explains during her speech at the launch event held at Domus.
This means the ceramics, usually associated with walls, can also be transferred to the floor: "The floor can be a big challenge – you cannot work liberally because you get dirty. You have to be very sophisticated to get something new," she says.
The aforementioned charismatic use of colour and unusual materials in office design enhances the staff and visitors' sensory response. Sivantos, a manufacturer of hearing aids, recently completed its new Singapore headquarters – a collaboration between Danish architecture practice PLH Arkitekter and local interior design company Geyer Design.
The concept for the office design stems from the idea of becoming "connected by sound", in the sense that the design manifests the physical experience through light, colour and materiality.
Bright blue enhances PLH Arkitektur's reception for Sivantos
This approach can be seen in the simple, understated and calm ooring found in the reception – complemented by an adjacent sculptural sound wall, timber cladding and royal blue textured circular rugs designed by both companies in the collaboration.
The sound-inspired workplace spans three large floor plates and, according to PLH Arkitekter: "The visual elements work aesthetically and acoustically towards transforming sound waves into physical form and bringing sound to life visually for an emotional and uplifting experience."
British flooring specialist Amtico has also announced two new releases in its ever- expanding portfolio. Its Amtico Access range of loose-lay luxury vinyl tiling (LVT) is designed to work with the company's extensive offering of carpet and other signature collections, particularly in the way it matches the thickness of its carpet tiles.
Amtico's Spacia LVT tiles replicate traditional parquet
The Access range is a useful addition to commercial environments, such as the office, due to its flexible approach and ability to be repurposed in various flooring options. Similarly, the manufacturer's Spacia Parquet LVT – a further supplement to its popular Spacia Collection with stone, wood and colourful abstract effects – provides a classically proportioned herringbone pattern, especially suitable for commercial applications.
Within the office, tones and shades are hugely impactful when it comes to portraying a company's identity – and they can be used to create playful interiors in order to enliven a workspace. Desso carpets and Tarkett vinyl flooring were recently used to refurbish the HQ of hotel design magazine Sleeper in Stockport's Strawberry Studios – a former recording studio – using stylised striped carpets to reflect the building's heritage.
Desso recently launched two ranges – Metallic Shades and Pixelate – as part of the company's Make It Your Own collection, emulating an experimental, unusual yet sumptuous matt tile nish that is recognisably part of the customised and theatrical trends shaping the flooring industry at the moment.
Desso's stripy carpet is a standout feature in Sleeper's Stockport HQ
Both Forbo Flooring Systems and Heckmondwike, two leaders in carpets, tiles and flooring solutions, have also embraced these trends by interlacing colour with geometric shapes for their recent projects.
Forbo's Flotex is a vibrant and intricately designed surface option, using new digital printing techniques combined with over 70 million fibres per sq m. The collection is available in various colourways in either plank tile or sheet format. Heckmondwike's chromatic carpet designs include the Supacord range, which is available in 10 shades of blue, creating feelings of "tranquillity, coolness and calm", according to the company.
Forbo's Flotex Terrace at Night digital pattern is inspired by Van Gogh
Inspired by the luxury red-carpet look, Netherlands-based wood flooring manufacturer Hakwood's latest project sees colour invigorate the Perception Bar in the W Hotel in London's Leicester Square, with teak flooring fitted in a radiating chevron pattern around the bar. This sleek treatment gives an elegant and natural-looking touch. The company has also added Reclaimed Antique Oak flooring to its high-quality collection. Meanwhile, global modular flooring manufacturer Interface recently transformed two Prezzo restaurants, in Winchester and Bracknell, with its LVT Level Set collection. Natural nishes have been used for the sleek interiors, marking a glossy contrast with the biophilic plant walls displayed among rustic brick. Quite the contradiction to its colourful predecessors mentioned earlier – yet an essential addition to the company's portfolio and to the flooring industry.
It's no longer enough to just slap on some drab carpet. The modern workplace is getting an underfoot makeover.