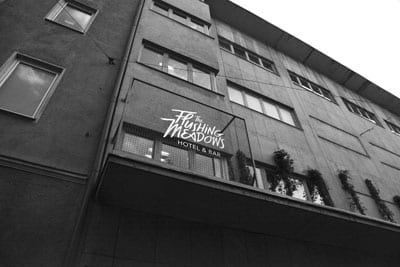 ||

The preponderance of chain hotels where it's hard to tell what country one is in, let alone what city, make the Flushing Meadows Hotel's close affinity with its surroundings all the more refreshing.
This Munich-based boutique property was formerly a Deutsche Telekom building dating back to the early 1960s. Flushing Meadows is the brainchild of architects Sascha Arnold and Steffen Werner, of Munich practice Arnold/Werner, and gastronomic guru Niels Jäger.
Located in the Glockenbachviertel – a hip part of town featuring all the bars, galleries and retail outlets that a cosmopolitan guest could require – the hotel gets its name not from the famous New York golf course but from the open fields surrounding the nearby Isar river.
A scan of the Arnold/Jäger/Werner website shows the trio have form for quirky interiors elsewhere in the city, including the Bob Beaman nightclub and the Super Danke! smoothie bar, of which Flushing Meadows boasts an offshoot on the building's ground floor.
On arriving, guests head to the top floor with the only discernible design nod to a reception being a small marble table. The hotel's bar and restaurant can also be found here. "Key materials include Kvadrat fabric and teak for the bar," explains Werner.
There is a state-of-the-art lighting installation by the Stuttgart office of Lebanese lighting company .PSLAB, while grey canvas panelling and an open fireplace maintain the moody look. A south-facing rooftop bar allows guests to make the most of the Munich sun.
Arnold/Werner has not only deployed its considerable design skills – including the logo by sister branding agency Fantomas – but also its little black book. A specially selected group of creatives, many of them Munich-based, were asked to create Flushing Meadows' distinctive look for the 11 loft studios on the building's third floor. These include Helmut Geiernaka DJ Hell, Viennese actress Birgit Minichmayr and Michi Beck, musician with the seminal German group Die Fantastischen Vier.
The design process for these rooms was very much a collective effort, says Werner. "We took their ideas and worked them up from an architectural perspective. Each one has very high 4m walls made of concrete and there are copper elements in each of the bathrooms." Other unifying elements include neutral wood hues, walls again featuring grey panelling, plus artwork by Berlin artist Maximilian Rödel.
There are an additional five penthouse studios on the upper level, three of which feature private terraces with views of the Munich cityscape or nearby Alps.
Werner talks of the popularity of the hotel bar not just with guests but locals too, so much so that a doorman has to keep the crowds at bay at busy periods – "if you're a foreigner visiting Munich, it's like the centre of the city has come to you".
Munich's latest boutique hotel draws on the city's creative talents to create an opulent interior that is a million miles from the big chains