The project is an imaginative retrofit of an existing 1970s building as a dedicated hub for collaboration, networking, events and wellbeing activities
Emerging London practice Fathom Architects has just completed 6 Babmaes Street, a new concept in social and flexible workspace for The Crown Estate, created in response to central London's evolving office landscape.
The standalone social space offers a relaxed environment for the client's city workers who can use the coworking hub for events, collaboration, networking and wellbeing activities.
Inspired by the heritage of St James's as well as art and furniture from the 1970s, the interior celebrates the raw concrete shell of the existing building. Local artists were commissioned to create bespoke rugs and paintings for the space, featuring bold colours and geometric shapes. The result is an inviting urban escape that is designed for connection and relaxation.
The practice created spaces of flow for ease of use. The interior includes a wellness studio, which also doubles as a space for exhibitions or pop-up events, banquette seating booths for informal get togethers, as well as meeting rooms, dining spaces, lounge areas and a roof terrace with planted screens and festoon lighting.
The latter, featuring 200sq m of ecologically rich space to enhance biodiversity and local air quality, as well as reducing rainwater run-off, provides the perfect setting for Thursday after work drinks.
"6 Babmaes Street is not only a great addition to our portfolio but a response to an evolving world, complementing our customers' existing office space," says Simon Harding-Roots, Managing Director for London at The Crown Estate. "It is designed to host meetings, enable collaboration and provide a different environment to more traditional office settings."
To create a calm and welcoming atmosphere, the interior design combines tactile finishes with a mixture of vintage and contemporary furniture and bespoke artwork created by local artists such as London-based artist Sophie Coe. For instance, Coe created three bespoke artworks inspired by seascapes for the ground floor wellness space, each approached in a different way and with different techniques to create a sense of escape and calm.
"There are elements that come back again and again in 70s design – the concentric circles aligned to one side, the quarter arc repeated shifted sideways to give those solid curves that start slim and become wider, the bold colours," shares Coe.
"I looked at various ways to bring these elements together, but with a more contemporary feel to make it timeless. It's an oil painting but I used blotting techniques to create a very flat surface that looks ageless, then used sandpaper and glazing on top to make various areas of the surface appear slightly worn, older. I hope my art will be enjoyed as part of the beautiful interiors Fathom Architects have created and I look forward to seeing the building full of people."
Furthermore, Fathom Architects incorporated a rich material palette, counterbalancing textured retro materials such as hessian, fluted glass and macramé, reflecting the coarse exposed concrete beams, with finer crafted finishes such as curved timber joinery, polished terrazzo and brushed metalwork. Suspended acoustic ceiling panels finished with timber and rattan hang within the existing structural frame.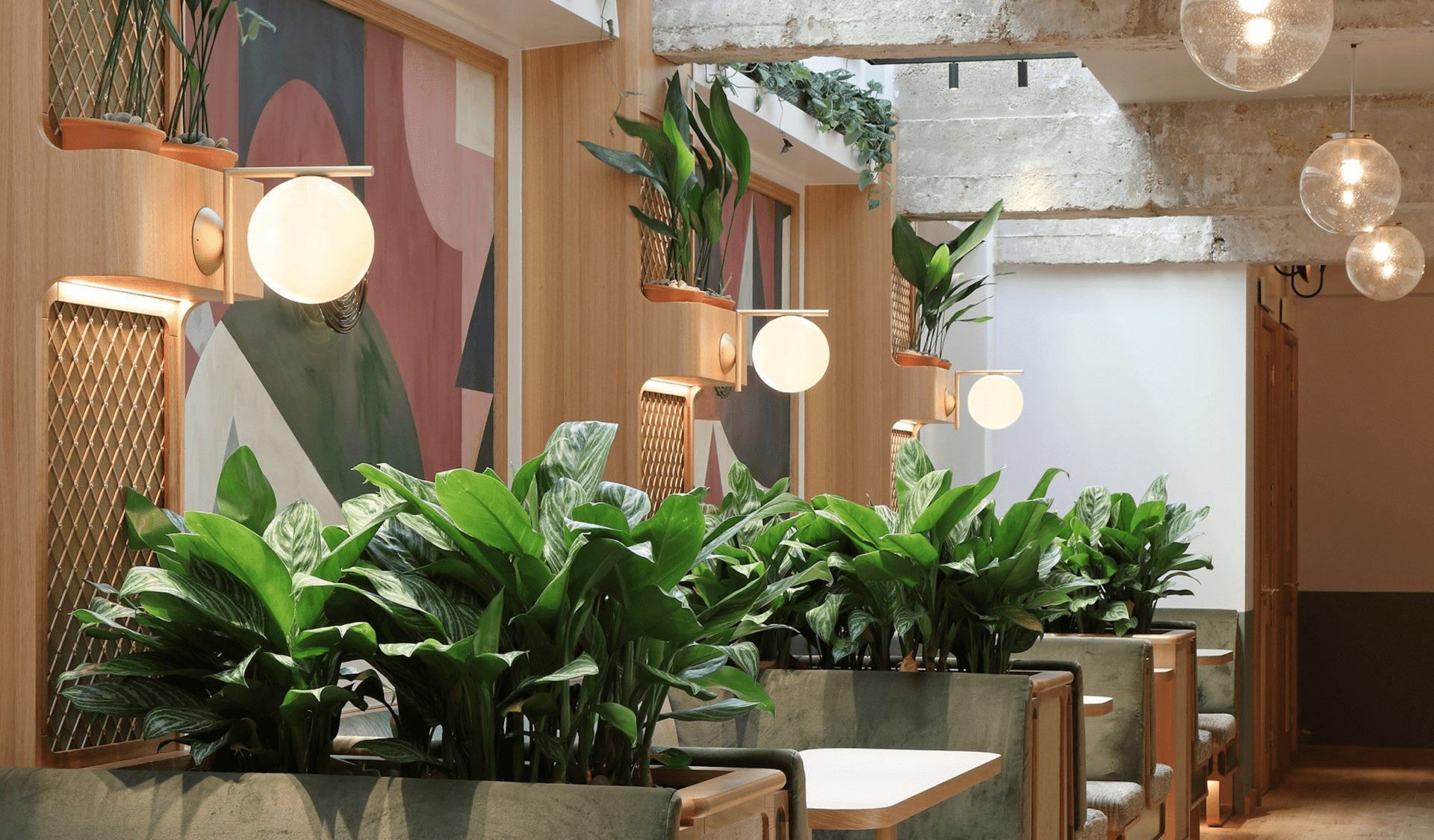 At first floor, informal co-working spaces are created in a series of intimate seating areas at high and low level. Four booths with sage green banquettes feature high level planting while opposite the booths, enclosed rooms provide a more formal space for meetings. Artist Rob Crabtree was commissioned to create a series of site-specific murals with motifs drawn from the building and interiors, applied directly onto the walls in the first floor seating area and rooftop Potting Shed.
Meanwhile, the second floor provides a more convivial lounge space for people to gather and socialise. With oak strip flooring, eye-catching rugs and carefully selected furniture and artistic objects, the interior feels inviting and homely. Sliding timber and glass partitions allow flexibility, and an open-plan kitchenette with a generous shared table, offers opportunities for communal dining.
"6 Babmaes Street is new type of space for The Crown Estate, so it was really important the architects were collaborative and understood what we wanted to achieve," says Mel Reeves, Workspace Operations Manager at The Crown Estate.
"Fathom came on the journey with us and embraced our vision down to the smallest details. The team understood that Babmaes not only had to be designed beautifully and sustainably, but had to be functional and appealing for our customers. It is great to see how Fathom's design reflects our vision for the space, celebrating the original structure, creating natural light, and designed to enable collaboration."
Images by James Balston for Fathom Architects